June is busting out all over. But enough about brides and diplomas. It's time to celebrate fathers everywhere, from George Washington -- Father of our country, to Alfred Hitchcock -- Father of the suspense thriller.
Talk about thrilling. In 1956, Alfred Hitchcock made a movie about a Queens jazz musician, an armed robber, and mistaken identity, starring Henry Fonda. It was called The Wrong Man. He also cast the Right Man. My father.
Real Deal Dad
Harold Berman was not an actor. But he was the real thing. A devoted father, he spent real quality time with his family, grilling charbroiled burgers in our tiny backyard in Queens, flying kites in the park, explaining winter sky constellations, playing catch, and letting go of the Schwinn bicycle seat, teaching us how to ride a 2-wheeler.
Real coincidence?
In 1953 -- the same year I was born -- devoted family man Christopher Emmanuel (Manny) Balestrero was working an $85/week gig playing bass at the swanky Stork Club. Call it star-crossed fate. Alas, Manny resembled the hoodlum in an insurance office hold-up the very day he walked in. He was wrongly convicted, and...well, I won't spoil the rest. Hitchcock plucked the story from Life Magazine, turning it from print to celluloid.
Harold, like Manny, was a jazz musician. He also happened to be a court reporter in NYS Supreme Court, Jamaica, Queens, the very courthouse where Manny's trial took place. Call it synchronicity. Yup. In 1956, my Dad was the court reporter assigned to the Balestrero trial. Hitchcock came scouting talent that February.
So... when my Mom found out they were going to film in my Dad's workplace, she rallied. "They've got to use you, Harold -- you're the real court reporter on the case."
What's a court reporter, you might ask? You know, the guy or gal that sits at the machine off to the side, silently taking down what everyone is saying. Every night at 6:00 p.m. sharp, my Dad would tell us hilarious stories around the dinner table about the courthouse antics of the day: the arrogant Judge X's remarks and the garbled words Criminal Z spoke that no one understood but that he'd have to get down on paper. Steno note paper. On special rainy days, my sister and I would pile into the Chevy and drive to work with him. He'd take us to the Mug Coffee Shop on Sutphin Boulevard, then let us bang out our gibberish legalese on the manual typewriters in the court stenographers' room.
Yup. My dad was the real deal. The real court reporter on the real case of the Wrong Man. They just had to cast Harold Berman for the part.
Real People
With the flood of "real people" in commercials (Flo from Progressive); on reality shows (The Voice); and on You-tube (girl-next-door Jenna Marbles), you'd think it's a recent trend. After all, we've got real desperate housewives; real singers crooning and real chefs from real kitchens sliced from the real world.

Aha. Think again. Director Hitchcock had been "going real" for years. He used everyday locations like roadside motels, cornfields, merry-go-rounds, and concert halls -- as well as ordinary people: the carpenter, the security guard... and, of course, the court reporter.
Naturally, Harold Berman got the role.
Fathers of Accuracy
Harold, like Hitchcock, was a master of detail. A Signal Corps Intelligence cryptographer in WW II, he was a consummate linguist, jazz pianist, water colorist and astronomer. He studied magic to perfection, priding himself on his baffling tricks.

But above all, he took his court reporting job seriously. Whenever the judge, plaintiff or attorney mumbled, he insisted they repeat their words until he got it right. His jazz pianist hands recorded rapid conversations on skinny cream-colored note paper. The transcript ruled. Accuracy was all -- in real life and on the silver screen.
At one point in the filming, according to Dad, Mr. Hitchcock & Co. could not recall whether or not they had filmed a particular scene. My father, a soft-spoken man, with a reputation as the fastest court stenographer in NYC, spoke up. "I can tell you if you filmed the scene, Mr. Hitchcock, because I've been transcribing it in real time." My Dad was not method acting. As the actors were speaking their real lines, he was doing his real court reporter thing -- taking down the actual words.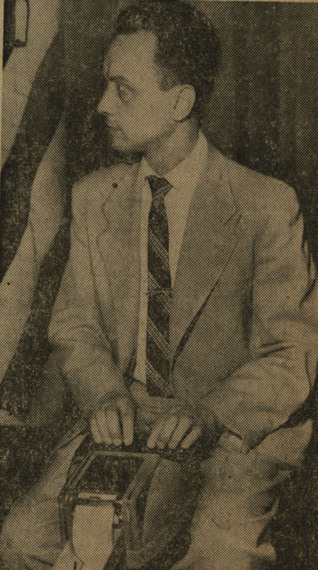 Harold Berman, Long Island Daily Press, April 22, 1956 - Courtesy of the Queens Borough Public Library Archives, Long Island Daily Press Collection
Turns out they had filmed the scene. Harold Berman piped up, "Mr. Hitchcock, you could use a guy like me. I could save you lots of money." Smiling that beguiling Cheshire cat grin, Mr. Hitchcock replied, "Thank you, Mr. Berman, but no thank you."
Real Father Crush
True -- that could have been an amazing start to a new Hollywood career for my Dad. He even looked like a romantic lead. I still remember staying up with my sister until 3:00am in the '60's (decades before on-demand), waiting for my Dad's 18 seconds of screen time on WPIX-TV's broadcast of The Wrong Man. I'd watch his graceful, nimble fingers flying over 100 words a minute on the stenograph machine. He was focused and brainy, a dreamy blend of Sinatra and Clooney. Thankfully it didn't pan out. It would have meant missing so many adventures we had together: twilight walks around our Queens neighborhood spotting pet ducks in backyards; midnight tutorials about the phases of the moon; low tide beach walks in Provincetown, Cape Cod; and the unforgettable drive up to my freshman dorm, the turquoise Bel-Air stuffed with hot plate, stereo and typewriter.
However, for a brief star-struck moment, Harold was surrounded by movie cameras seeking the truth. The stars aligned for my astronomer father. Filming of The Wrong Man started on March 26 (my Mom's birthday), ending on Father's Day, June 17, 1956.
In Search of Truth - The Child is Father of the Man
For Hitchcock, it was about an honest working man's word vs. the cops' testimony. As a little boy, Alfred had been locked in a police cell by his father for five long minutes, punished for misbehaving. Forever after, Hitchcock took cinematic revenge on law enforcement. He even filmed a long shot of the criminal superimposed over Manny's face in a dissolve, substituting right for wrong.
For Manny Balestrero, it was about giving cops the real story, telling the facts and details to gain credibility and justice. For Berman, it was about getting the words down correctly to preserve the truth. The transcript was all.
And there was nothing Hitchcock wanted more than to prove Manny's innocence. Harold Berman, Alfred Hitchcock and Emmanuel Balestrero were like the Holy Trinity -- a jazz trio of Dads, divinely destined to cross paths. Three fathers, two musicians, one cause: justice.
The Case of the Missing Photo
In April 1956, a publicity shot of Harold Berman, court reporter, was taken on the set of The Wrong Man. It appeared in the Long Island Daily Press, and was later re-printed in The Transcript, (wrongly) dated April 14. My parents had carefully placed the original glossy into their family photo album - the one with the black photo corners.
For Father's Day, 1995, I was going to surprise my Dad. I snuck the album out of my parents' bedroom, removed the photo and took it to a specialty shop to enlarge, add sepia tones, and frame. My heart stopped when they told me that they'd lost the photo.
Penn and Teller or Berman and Hitchcock?
For 20 years I've been searching for that photo. And then the Hitchcock and Harold magic happened.
It was a last ditch effort. On a tip from my Woodstock librarian friend, I contacted the photo archivist at the Queens Library, Jamaica branch. On April 10, 2015, I received a call from a very detailed Mr. Erik Huber. After reviewing various editions of Long Island Press microfilm from April 14 1956, searching for that picture (no luck), he finally resorted to the clipping file.
Eureka! He found it! Mr. Huber sent me the CD and JPEG portrait of Harold Berman from the Long Island Daily Press, April 22, 1956. I received it on April 22, 2015, exactly 59 years later to the day. 59 -- my Dad's age when he retired from the NYS Supreme Court.
We'd had the wrong date. But we had the right guy. From The Wrong Man. And the right father, paired with the right director. Just in time for Father's Day.