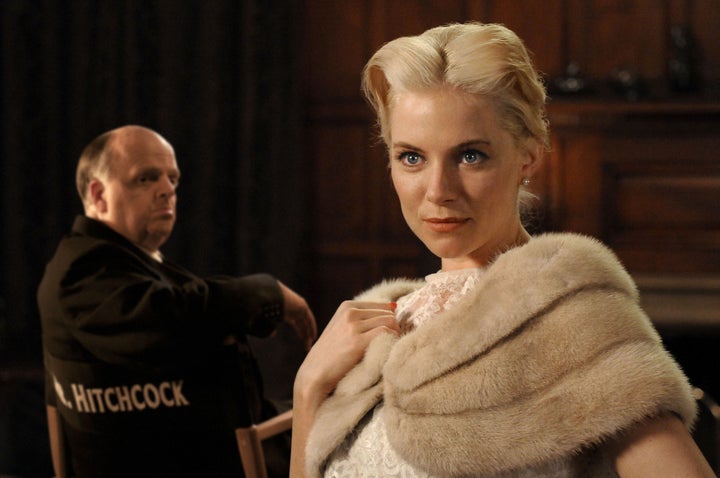 Although the BBC/HBO Hitchcock drama, The Girl, starts with a bold claim that's it's based on interviews with the surviving cast and crew, many of those close to the director deny the film's portrayal of Hitchcock physically abusing and sexual harassing his actress Tippi Hedren on the set of The Birds and Marnie.
First, Nora Brown, widow of Hitchcock's Assistant Director Jim Brown on both films, who is also credited as being a consultant, complained to The Daily Telegraph:
"He had nothing but admiration and respect for Hitch, understood his clever cockney sense of humour, and thought the man a genius. If he was here today, I doubt that he would have any negative comments and would be saddened by the image portrayed of his friend and mentor."
Nora's words are supported by taped interviews with Jim Brown for two books on the making of The Birds and Marnie. "Some of the things that are expressed about him are highly over exaggerated," said Jim. "I think Hitch became upset because he thought Tippi wasn't fulfilling the star quality that he thought she had or was looking for." Surviving Assistant Director on Marnie Hilton Green agrees; "As far as any anxiety between the two, I didn't see anything. Marnie was a very strenuous part for Tippi to play. Hitchcock liked to test his actors, he was very good at things like that and he gave her a lot of direction because she needed it."
Other crew members credited as being consultants on The Girl also denied the accusations of physical abuse and harassment. Wardrobe supervisor Rita Riggs remarked, "I told the BBC when they came to interview me, 'I will not dish the dirt'." According to the drama, Hitchcock punished Tippi for rejecting an alleged kiss in the car, by harming her with broken glass when filming the telephone booth scene and enjoyed torturing her in the famous attic scene by throwing live birds at her. When questioned Ms. Riggs dismissed both, "I really don't buy that and I'm sorry the BBC has taken that line. I was on set all the time... And I have nothing but kind words to say about Mr. Hitchcock."
Virginia Darcy, Tippi's hairdresser, who wasn't interviewed for the drama, agrees. "That was the prop man's fault because he didn't have unbreakable glass. Mr. Hitchcock didn't have anything to do with it. Why would he endanger his lead actress on a $3 million film so that she's deformed for the rest of the movie?" And of the notion that Hitchcock was sadistic during the famous attic attack, Virginia says, "That's all about not knowing Hollywood and not knowing him. Hitchcock was a perfectionist he's not thinking about her at all, he's thinking about what's on the screen."
It was during the production of Marnie that the sexual harassment charges are most evident in the BBC drama. Acclaimed stage actress Louise Latham played Tippi's mother in Hitchcock's film:
"I find some of the allegations hard to believe. My observations are so far from what Tippi claims, and I'm a rather observant person, and was trained in the theater. She's a lovely woman, but I don't think Tippi should have said those things about Hitch. If you have some guy come on to you, and it happens all the time, a bright woman knows how to deal with it. Because she was so ambitious and dependent on Hitch she didn't dare to say what are you doing? But I wasn't aware of her being hassled on the set."
"I think it's gotten a little more exaggerated over the years," agrees Veronica Cartwright, Tippi's co-star in The Birds. "She is convinced that Hitchcock ruined her career because he had her under contract and wouldn't let her do anything else after Marnie. But I don't think she was that good in Marnie. I think she's a lovely person and a really good heart. Tippi was a look. You watch that movie, and who is fabulous, is Jessica Tandy."
The publicity campaign for The Girl also repeatedly claims that Hitchcock discouraged other directors from hiring Tippi after Marnie. In particular the director Francois Truffaut is cited as wanting her for his film Fahrenheit 451. When interviewed daughter Laura Truffaut denies this: "I asked my mother and she was just as surprised as I was. My parents had a close relationship and it is extremely unlikely in my view that my father seriously entertained this project without sharing it with my mother as he was not secretive about the other actors who were considered for casting." This view is confirmed by the film producer's daughter Brooke Allen, "My father (Lewis Allen) produced that movie and never mentioned any such thing. They were very excited about working with Julie Christie."
In the end, despite the BBC's claims of extensive research, the accuracy of The Girl is really reliant on Tippi Hedren's memories, with author Donald Spoto acting as consultant. Many of the scenes depicted in The Girl, especially the chronology, are contradicted by the production archives held at the Margaret Herrick Library in LA. Why, for example, would Hitchcock offer Tippi the coveted part of Marnie on June 7, 1962, during filming of the sand dune scene, only to deliberately attempt to physically harm her (as depicted in the drama) by smashing the glass telephone booth, which was filmed on June 12 -- only a few days later? While it's OK to be fictional, it's dishonest to pretend the drama is indisputably factual.
Popular in the Community