According to the BBC News, the British Jews organization claims that the Hitler statue, which raises its arm in a fascist salute and shouts "Nein Nein Nein" when a ball passes through it, "has absolutely no artistic value whatsoever."
The work is part of an exhibit at Grundy Art Gallery in Lancashire involving a number of artist-designed golf sculptures displayed together in an installation called "Doug Fishbone and Friends: Adventureland Golf." Some of the various works on display confront serious topics like politics and morbidity while others are tongue-in-cheek designs. For example, David Shrigley's hand written instructions for the course assure viewers that "Golf Isn't Boring."
The gallery supports the Chapman brother's work, stating to the BBC that the use of the Nazi leader's image in the context of recreational fun makes "reference to the British wartime spirit of making humour at the Fuhrer's expense." In an email to the Huffington Post, the gallery acknowledged that the exhibit won't be universally received, writing, "Adventureland Golf won't appeal to everyone and we understand and respect that."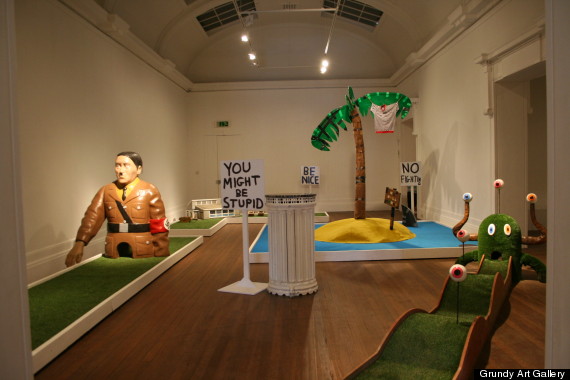 Despite what the gallery claims is an intended playful spirit, members of the Board of Deputies of British Jews are not pleased. "He's not somebody that you would make a joke of -- Hitler was responsible for the murders of many millions of people," board member Michael Samuels stated to the BBC News. "If I were the gallery, I would give it back to the artists and tell them to keep it in the shed."
The Chapman brothers earned a reputation for controversy long before the "Adventureland" exhibit. In a 1999 exhibit titled "Hell," they created a large-scale tabletop tableau of more than 30,000 miniature figurines, many of which were dressed in Nazi uniforms and performing acts of cruelty. In 2008 they continued on the subject of German fascism with a a presentation of 13 watercolor paintings allegedly painted by Hitler himself, which the brothers then modified with hippy motifs in an aptly named exhibit called "If Hitler Had Been a Hippy How Happy Would We Be."
Hitler is actually not the only despot represented in Adventureland, however. Iraqi dictator Saddam Hussein is also depicted in the golf art exhibit, though his animated statue has not garnered as much controversy.
Check out the images of the "Adventureland" exhibit below and let us know what you think of the Chapman brother's work. Do you think the Hitler golf ornament has any artistic value, or is it just a tasteless joke?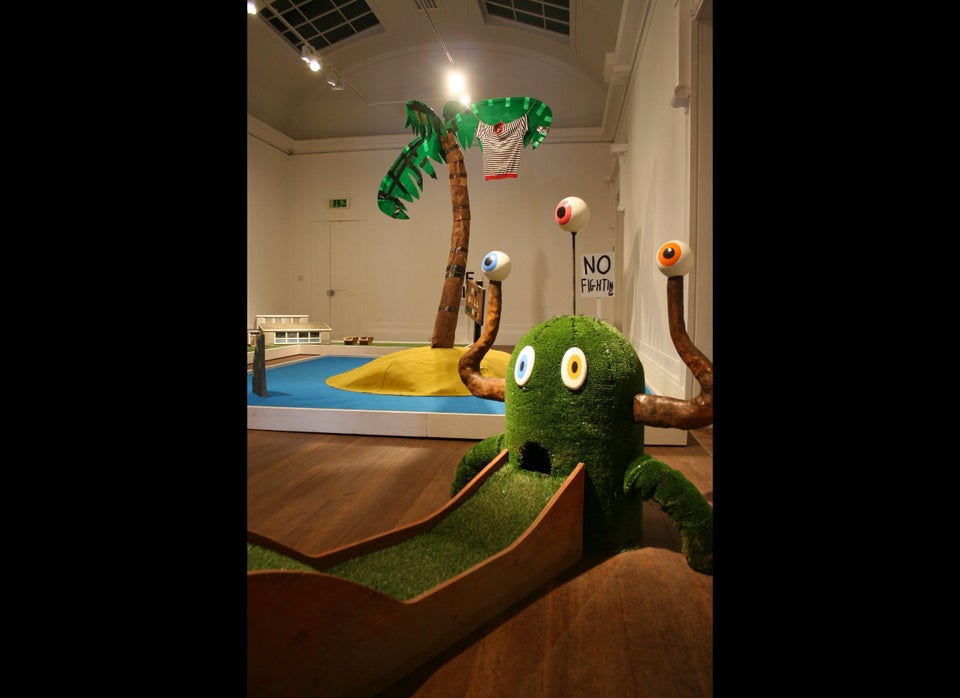 'Doug Fishbone and Friends: Adventureland Golf'
Support HuffPost
The Stakes Have Never Been Higher
Related
Popular in the Community