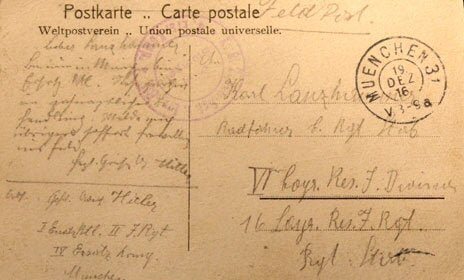 Unearthed as part of a European history project, a postcard sent during World War I by a wounded Adolf Hitler has brought attention to the earlier years of the German dictator's life -- and to his shortcomings as a speller.
According to the BBC, the 27-year-old Hitler mailed a postcard to Karl Lanzhammer, a dispatch runner in his regiment. At the time, The Independent notes, Hitler was on the mend in Munich after suffering a wound at the Battle of Somme.
"Every other soldier would have been writing back home," Dr. Thomas Weber, a Hitler expert, told the BBC, suggesting the future dictator saw his military peers as a "surrogate family."
The postcard, dated December 1916, showcases Hitler's zeal for military action, saying he will "report voluntarily for the field immediately," according to The Telegraph. Aside from expressing his zeal for returning to action, the postcard also displays a fit of poor spelling, as Hitler mistakes the spelling of "sofort," the German word for "immediately," as "soffort," with two Fs instead of one, The Daily Mail writes. Dr. Weber explains that such errors were not uncommon for a soldier of Hitler's background.
Such WWI finds about Hitler are rare, the expert explains, as Hitler attempted to reinvent his wartime history, according to the BBC.
The document surfaced when its owner brought it to a Munich roadshow run by the Europeana digital innovation service, a project run by Oxford University and the British library, The Independent reports. The project, according to the BBC, has brought together 45,000 objects dealing with wartime stories.
Calling all HuffPost superfans!
Sign up for membership to become a founding member and help shape HuffPost's next chapter
BEFORE YOU GO