While LA braced for an onslaught of taggers hitting up the city in advance of "Art in the Streets" opening at the MOCA, it materialized as a relatively minor uptick in incidents reported while the show drew in a human river of thousands to see what was inside the museum doors. We had a great opportunity to look at the LA Street Art scene at this moment, which is largely unrepresented by the more historic show behind closed doors (see our review for Huffington Post here) and of course it is uneven, as the street show always is. It is also incredibly vibrant, valid and vital.
Take a look at some of the more notable work on the streets of Los Angeles in the Downtown Arts District, Culver City, West Hollywood, Echo Park, and Venice.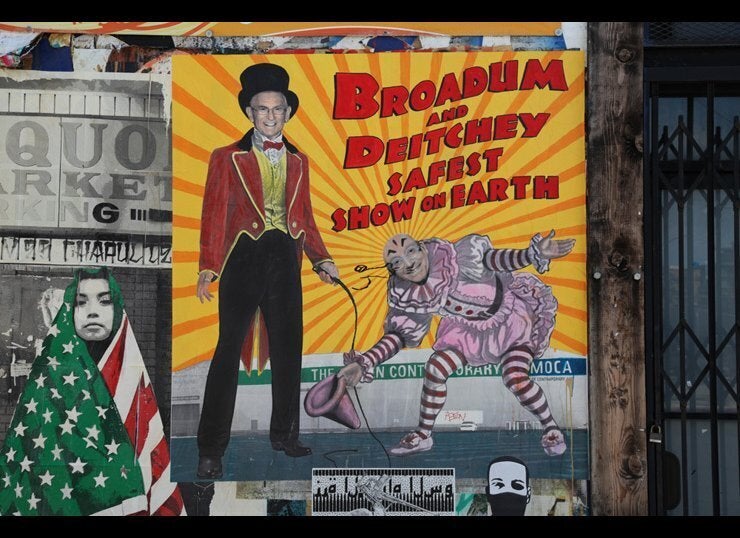 Hitting Up LA: The Streets Outside
We were fortunate to see a number of these pieces with Daniel Lahoda, an Angelino who has procured walls for visiting and local street artists in a few neighborhoods of the city since 2009. With no membership fee or admission, everyone is able to see the work of a whole lot of street artists where it was originated thanks to his vision. Included in the LA Free Walls project are the gargantuan wall mural finished this week by Dabs & Myla with How & Nosm and the still fresh 42nd LA Free Wall as it was being completed by Street Artist Aiko.
Additionally we caught a lot of what we call organic or magnet walls; those walls on decrepit or decaying urban blocks where a slap happy unaligned group of artists continuously add to the layers on the street for an ever evolving show. The variety of styles and processes is pretty wide, ranging from large-run stickers and screen printed posters to hand stitched abstract geometry and penciled portraits, some exhibiting the New Guard who herald a new approach to graffiti and street art with their storytelling and mashups. Besides a lively series of messages that are strongly political, other themes include celebrity, video games, pop culture and simple illustrations and fascinations or daydreams.
Related
Popular in the Community