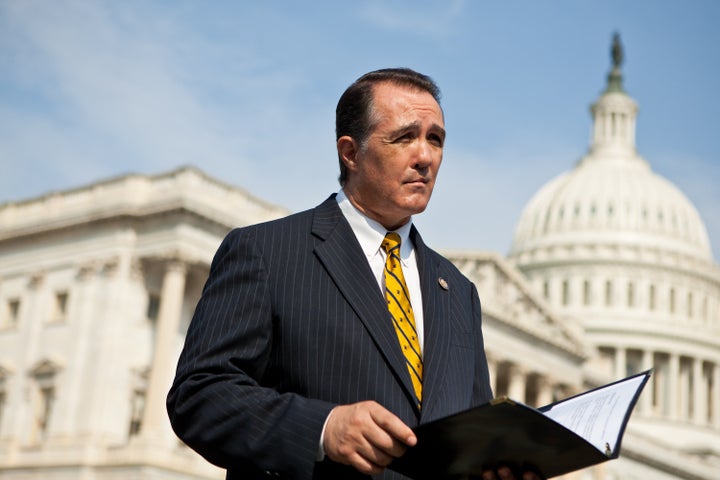 WASHINGTON -- The first ever bipartisan congressional HIV/AIDS caucus officially launched on Thursday, 30 years after the human immunodeficiency virus was first identified.
Led by House members Jim McDermott (D-Wash.), Barbara Lee (D-Calif.) and Trent Franks (R-Ariz.), the group marks the first time Republicans have joined with Democrats to create a group aimed at eradicating AIDS, which has claimed 25 million lives around the globe since 1981. Prior to Thursday, similar groups in Congress contained only Democrats.
"It makes a huge difference to have Republicans on board, and I'm really excited about that," McDermott told The Huffington Post. "As a physician, I traveled in Africa in '87 to '88, and I saw the disease firsthand, and what it was doing. But when I came to Congress [in 1989], no one was talking about this, and it was a gay man's disease as far as anyone was concerned. I started a task force in Congress to address it in 1992, but it was tough to get people interested, and until today we didn't have anyone on the other side."
As of Thursday, three other Republicans have joined the caucus: House Foreign Affairs Committee Chair Rep. Ileana Ros-Lehitnen (Fla.), Rep. John Carter (Texas) and freshman Rep. David McKinley (W.Va.).
"HIV is a monstrous international epidemic and a destructive force on humanity," Franks said at a press conference on Capitol Hill. "My two top priorities as co-chair of the HIV/AIDS Caucus are to better enable faith-based organizations to implement life-saving medical services and to make significant strides so no child is born with HIV after 2015. I look forward to working with my colleagues to bring attention to this important humanitarian issue."
Part of the caucus's mission will also be to protect congressional funding for HIV/AIDS programs both in the United States and abroad, notably the President's Emergency Plan for AIDS Relief (PEPFAR) program created during the Goerge W. Bush administration.
"I think PEPFAR was the most significant thing George Bush did in his time in office," McDermott said, "and I give him high marks for putting his money where his mouth was."
McDermott also credited the former president with helping to make Republicans "comfortable" with speaking out about the AIDS epidemic. Without Republicans, Democrats formed task forces and study groups in Congress, but this is the first formal HIV/AIDS group with members from both sides of the aisle.
Last month McDermott traveled to Rwanda and Democratic Republic of the Congo with former Bush speechwriter Michael Gerson, one of the architects of the PEPFAR program and a guest at Thursday's press conference.
"American leadership in the global fight against HIV/AIDS began a decade ago when Republican and Democratic leaders stood together and refused to allow a deadly disease to claim a generation of African teachers, nurses, doctors, parents and children," Gerson told reporters. The caucus, he said, would serve to remind Congress of its "continuing responsibility to save lives."
PEPFAR was reauthorized by the House in 2008 with a vote of 308-116, but right-leaning trends in the Republican party could make the program's next reauthorization in 2013 more challenging.
Alongside international programs, the congressional HIV/AIDS Caucus will also support and uphold domestic HIV/AIDS programs -- a point that's especially important to residents of Washington, D.C., which has the highest rate of HIV infection in the nation.
Jeffrey Crowley, director of President Obama's Office of National AIDS Policy, said Thursday that AIDS is still "a very serious epidemic" in the United States. The president "has made [HIV/AIDS] a priority," he explained, "by releasing the first comprehensive National HIV/AIDS Strategy for the United States."
Crowley also told the assembled members of Congress that "congressional leadership on domestic and global HIV/AIDS has been critical, and we look forward to continuing to work with [you] on this important effort."
WATCH Rep. Jim McDermott discuss the importance of HIV/AIDS funding in Congress
Popular in the Community