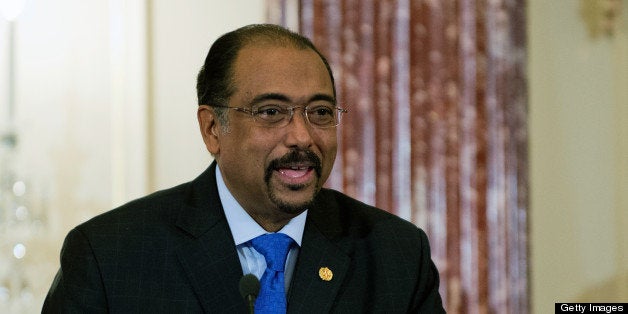 An African proverb teaches us that "if you want to go fast, go alone -- but if you want to go far, go together." The AIDS epidemic threatened to overcome Africa -- but instead, Africa and the world have united to overcome AIDS, going farther than most ever thought possible.
Today fewer people are becoming newly infected with HIV, millions are receiving HIV treatment, fewer babies are becoming infected with HIV, and Africa is investing more than ever in the AIDS response -- and in the continent's future.
One key sign of the turnaround is the steady decline in new HIV infections each year, which are now one-third below the 1998 peak. More than 7 million people across Africa now have access to lifesaving antiretroviral therapy -- a feat many thought impossible. Even after safe and effective HIV therapies were developed in the mid-1990s, their annual price tag of U.S. $10,000 per person per year put them out of reach of most people in Africa for years. Now, as the price of medicines has come down to around U.S. $100 per person per year and the health services required to deliver treatment have been strengthened, more and more people are able to live longer, healthier and more productive lives.
From civil society and faith-based organizations, to the private sector and government, the visionary leadership of many Africans has played a major role in this success.
One of the brightest signs of progress against the epidemic is the growing number of babies born free of HIV. Launched by UNAIDS, PEPFAR and partners, the Global plan towards the elimination of new HIV infections among children by 2015 and keeping their mothers alive has been embraced by African leaders and is showing results. The number of new HIV infections among children reduced by 24 percent from 2009-2011.
African governments are also steadily decreasing their reliance on donor funding for these efforts. Domestic spending for HIV in Africa almost doubled between 2008 and 2011. This trend will help tip the dependency balance, but as African economies grow, public investments for social protection must also grow.
The pace of progress is quickening in Africa. Nowhere have we seen this more clearly than in the AIDS response. As we look to our future goals, African leadership can be the pathfinder to better global health.
In particular, there are five things that we have learned from the AIDS response.
1. Put people at the center
The AIDS response, ultimately, is not about a disease; it is about people. A commitment to human security must not only drive our work, but also promote sustainable development more broadly.
2. Mobilize culture and communities
AIDS thrives on stigma. It spreads wherever individuals are marginalized or whenever society forces a group of people to live in shame or hiding. By promoting human rights and eliminating punitive laws and policies, we can curb an epidemic and bring an end to stigma.
3. Simplify the architecture and strengthen accountability
The current global architecture was built for a previous era. It cannot inspire or support our future, but it does provide us with the chance to rebuild a new model to advance global health. I have called for three global institutions -- one developing norms, one mobilizing and channelling financing, and one focused on advocacy and accountability. Simplifying and streamlining the architecture of the AIDS response would not only ease navigation -- it would also improve accountability.
4. Share responsibility and stand in solidarity
Getting to zero new HIV infections, zero discrimination and zero AIDS-related deaths requires a commitment to shared responsibility. That is why more and more countries are investing their own resources to respond to the AIDS epidemic within their own borders. Going forward, we must continue to build on these efforts while still maintaining international assistance.
5. Elevate health as a force for social transformation
The AIDS response has crystallized the role of health as a force for social transformation. Now we must do more, because health is increasingly a tool of foreign policy -- health diplomacy -- and a vehicle for promoting global health and development for the entire world.
As we celebrate and look back on 50 years of African unity, we must continue the conversation about our future.
Related
Popular in the Community