LOS ANGELES -- As a teenager, Alex Castillo had a hard time handling his homosexuality, and found it pretty much impossible to talk about it with his mother.
Today, Castillo, now 26, spends his time educating young, gay Hispanics on safe sex and HIV/AIDS. He works for Caras (Spanish for 'Faces'), a community service program developed by the nonprofit Bienestar, where he urges gay men to take responsibility for their actions.
Still, his transition from insecure teenager to role model and spokesman on gay and lesbian issues has not been easy.
Castillo moved from Puerto La Libertad, El Salvador, to the United States when he was 10 years old. Four years later, his life changed.
"At the age of 14, I decided to come out of the closet," Castillo told HuffPost LatinoVoices. "I grew apart from my family because they didn't understand me, and I decided to start exploring the gay world."
Castillo said he decided to come out after a white, non-Latino friend revealed to his family that he was gay and his family accepted him. But Castillo's mother, Ana, wasn't so understanding: She kicked him out of the family house, he said. Castillo started using drugs. He was never able to tell his parents that he had been raped as a boy by a male family member.
"I started with marijuana, until I 'graduated' to cocaine and crystal methamphetamine," he said. "By the time I turned 18, I was already well into hard drugs."
Castillo said his life spiraled out of control. In addition to his struggle with drugs, he said, he joined a street gang and became a male prostitute.
"I was looking for signs of love from other human beings, and I didn't understand the harm I was causing myself," he said. "When I finally came out of the closet, that's when I started to love myself."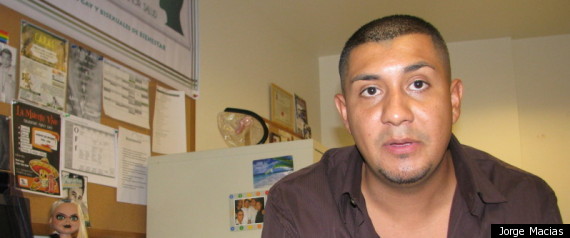 Castillo said he declared himself openly gay at the age of 18. He moved in with an uncle, who is gay, while he attended school.
"It was hard not having anyone's support, especially my mother's and father's," he said. "I couldn't confess that my cousin had raped me when I was 7 years old."
That experience, however, did not shape his sexual preference, he said. "Had that been the reason," he said, "I would hate being with other men."
During his turbulent years as a gang member, Castillo said he had unprotected sex.
"I was part of a gang; I painted graffiti," he recalled. "I realized that seven out of every 10 gang members were also gay, but wouldn't say it openly. Some of them were murdered and one died of AIDS. He realized he was sick only in the very last days before his death."
Castillo decided to get tested for HIV and in February 2009, he was diagnosed as HIV positive. His partner abandoned him soon after.
"I was in the hospital and when they began to give me medication, that's when I realized the harsh consequences of my poor behavior in past years," he said. "I felt very lonely. ... Fortunately, I got checked and have been living for two years with the virus."
Castillo said his mother eventually recognized the mistake she made in rejecting him. He said she regrets not being supportive.
"Nowadays she comes with me to the Bienestar sessions so she can understand more about the disease and my sexuality," Castillo said. "Our son-mother relationship has improved; she and my sisters have overcome the stigma they had over homosexuality."
Now, with the support of his family, Castillo works to raise awareness about HIV/AIDS.
"I'm not proud of being HIV positive," he said. "But I want my story to help other people so they understand that if you are diagnosed with HIV early on, there are options so you can live a long, full life."
For information on National Latino AIDS Awareness Day, please visit www.nlaad.org
An earlier version of this report appeared on AOL Latino's Spanish-language news channel.
REAL LIFE. REAL NEWS. REAL VOICES.
Help us tell more of the stories that matter from voices that too often remain unheard.