 Last month I attended the 20th Conference on Retroviruses and Opportunistic Infections (CROI) in Atlanta, where ballrooms and newswires were ablaze with excitement, skepticism and conversation about the functional cure of a Mississippi infant. Details about the newborn were complex, which consequently led to conflicting narratives about the serendipitous finding. Thankfully, in response to what I suspect was a dire need to quell expectations about a cure on the horizon and information chaos incited by the media, Drs. Anthony Fauci and Carl Dieffenbach, HIV science mavens at the National Institutes of Health, published a balanced and detailed scientific summary of these events. The story about the infant is encouraging, but the discovery is really rooted in scientific principles of which we were already aware. The functional cure is largely attributable to a perfect storm of three events: 1) Doctors knew when the infant was likely infected, 2) treatment was administered almost immediately and 3) diagnostic technology needed to detect the infection was readily available. Simple. Yet, as another young gay man walked into my clinic last week tearful and frightened by the news about his new HIV diagnosis, I pondered how the news of a functionally-cured infant was as a stark reminder of our failure to thwart infection or achieve functional cures in adults, particularly in young, gay men like him. It raises an important public health question. Where is a similarly aggressive public health response to achieve this perfect storm in adults? Unfortunately, achieving the perfect storm for adults isn't so simple. Many hurdles impede our ability to routinely replicate functional cures in adults, but I believe there are three glaring medical and/or behavioral barriers to imminently achieving this public health success.
First, the community and many healthcare providers are not educated or vigilant about identifying early HIV infection and its symptoms.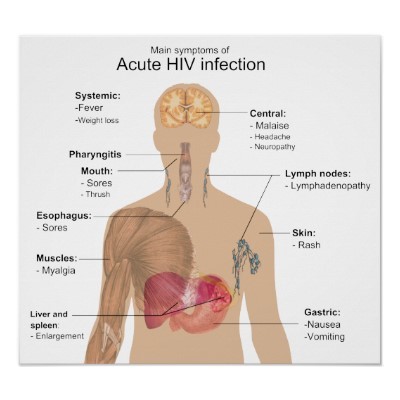 Early or acute HIV infection (AHI) can manifest as a flu-like syndrome with vague symptoms shown in the figure. The gravest public health concern about AHI is its occurrence during the "the window period" when the traditional HIV test is negative. Consequently, a person with unknown infection may continue engaging in high-risk behavior for months or years before the infection is discovered. Furthermore, because the virus replicates most aggressively during early infection, people with AHI are highly infectious and more capable of infecting others. Both the community and health care providers must think about this diagnosis and act because the traditional HIV test will be negative for as many as 12 weeks.
Second, the diagnostic test that detects AHI earliest is not readily available and accessible to those at greatest risk for acquiring HIV. The HIV viral load assay, which detects virus in the bloodstream, is routinely used to monitor the HIV treatment response, but the test is not FDA-approved to diagnose AHI. Despite this, the test can still be ordered by a medical provider who suspects AHI but many health care providers are not aware of its utility in identifying AHI. Ideally, a viral load should be performed by frontline providers like emergency department and primary care providers who are most likely to encounter a person with AHI symptoms. Sites in Washington, D.C. will soon begin performing an assay that detects HIV infection two weeks after exposure, but even this technology pales in comparison to the near immediacy of using a viral load assay.
Third, many persons engaging in high-risk sexual behavior are not aware of and unable to act upon their risk for acquiring infection. Just as the doctors knew when the infant was likely infected and initiated treatment almost immediately, if the timing of a new infection in adults is known, it may be possible to interrupt long-term infection by administration of early treatment or post exposure prophylaxis (PEP). The timing of HIV infection is imperative but is only known by those involved in risky sexual encounters. Therefore, immediate medical intervention such as with the infant requires acknowledgment of the risk and personal action to seek medical evaluation for AHI around the time of risky sexual encounters. A perfect storm would also require HIV-positive persons who are aware of their HIV status to disclose the infection to sexual partners before or immediately after a risky encounter. Given the prevalence of stigma and discrimination against HIV-positive persons, disclosure of serostatus remains a daunting social challenge that is difficult to concretely address as part of a strategy to identify AHI.

Up to now, AHI discussions have largely been confined to the research community and the prevailing sentiment is that finding early infection is expensive, impractical and akin to finding a needle in a haystack. These perceptions have limited implementation of public health strategies to identify and treat sexually-active adults near the time of initial infection. Justifiably, HIV treatment standards are heavily driven by science and research, however, given the plateau in HIV rates over the last decade, bold and aggressive community-based approaches are needed to begin reducing national HIV incidence. The news of a functional cure in an infant signals a need to expand this discussion beyond the research community. The discussion must include clinical and community partners who can assist in implementing complementary educational, biomedical and behavioral strategies that increase uptake and facilitate access to AHI-related diagnosis and treatment. Over the last year our clinic population has expanded on average by at least one acutely infected young gay man each month. These young men and so many adults at risk of infection desperately need a perfect storm. We owe it to them to develop and implement a comprehensive public health strategy that orchestrates one on their behalf.