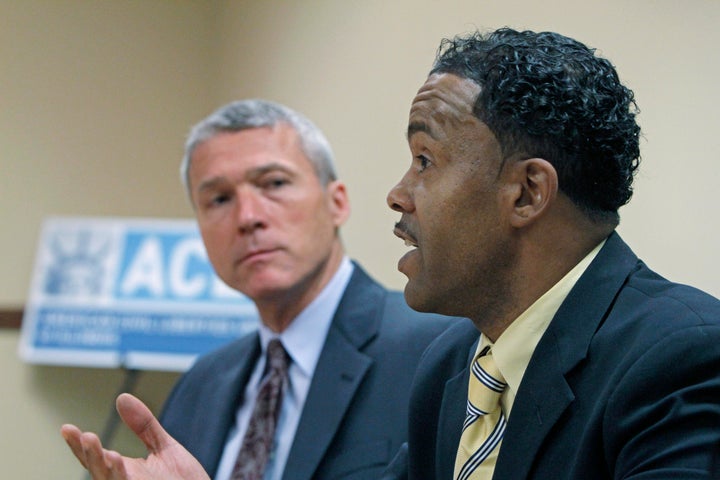 A 39-year-old HIV-positive Chicago man claimed Wednesday that he was denied access to medication prescribed to help him manage his condition during a seven-day jailing in the Bureau County Jail last fall.
According to those letters, Buckles was detained from September 29 through October 6 last fall on an outstanding warrant for a non-violent crime. While being processed into the jail, Buckles claimed he notified multiple staff members, including a nurse, that he was HIV-positive and needed medication to ensure his consistent treatment. A friend, his partner and a Chicago area case management provider also contacted the prison informing them of the importance of the medication. He was, however, allegedly denied access to that medication throughout his prison stay, an action which appears to be in violation of an Illinois statute. According to records obtained by the ACLU, the jail referenced the medication's high cost as their principal motivation behind denying it.
The ACLU's letters also outlined Buckles' concern over the jail's handling of some of his possessions in a way that may have revealed his HIV status to other detainees, in violation of the AIDS Confidentiality Act. While not seeking any damages, the organization is calling on the jail to ramp up their training pertaining to handling HIV-positive detainees and providing them with medication. They also called on the state Department of Corrections to investigate the jail's practices.
"Bureau County has an obligation under the Constitution to provide the medical care necessary for all persons they detain," said John Knight, director of ACLU of Illinois's Lesbian, Gay, Bisexual and Transgender Project. "For Arick, his HIV medications were not optional and should not have been debated on the basis of cost to the County … And the human costs of putting Arick's life at risk and putting him through the agony of wondering if he'll ever get treatment far outweigh the purchase price of Arick's HIV medication."
According to a Chicago Sun-Times report, the Department of Corrections is currently investigating Buckles' complaint. Bureau County Sheriff John Thompson declined to comment on the case.
Both the ACLU of Illinois and the AIDS Foundation of Chicago said experiences like Buckles' were not uncommon. Nationally, at least 16 lawsuits were filed in the last year contending that HIV-positive individuals were denied life-saving medications while incarcerated, the Sun-Times reported.
Buckles works as an HIV/AIDS educator in Chicago and is an active member of the Illinois Alliance for Sound AIDS Policy, a group that works to "develop, nurture, and support statewide HIV policy and advocacy" across the state. He was recognized with an "advocate of the year" award earlier from the AIDS Legal Council of Chicago earlier this year.
Popular in the Community