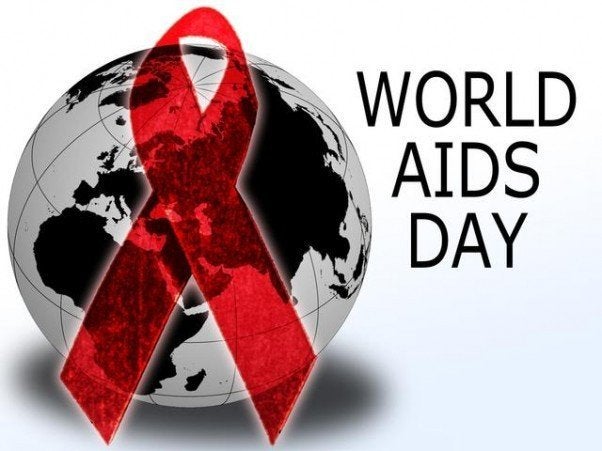 So close, but yet so far.
These are the words that come to mind when I think about Dec. 1 -- World AIDS Day -- a day when survivors and supporters pause to reflect on a pandemic that over the last 30 years has killed more than 30 million people. And on this day, as in years before it, we will once again renew our pledge to ends AIDS in America.
In that decades-long fight, we've come a long way. Today, an HIV diagnosis is not the death sentence it was considered to be in the 1980s, or even when I myself was diagnosed as late as 1992. Treatment advances have made it possible for those of us living with HIV/AIDS to live long and healthy lives -- as long as we have access to those treatments and stay on those medications. And we now know that treatment equals prevention: recent National Institutes of Health research shows that early treatment not only prolongs the life of someone infected with HIV, but helps reduce the likelihood that that person will infect his or her partner -- by 96 percent.
But that's also the sad irony. We have the tools to end the AIDS pandemic in our lifetime. But we still face a monumental obstacle: stigma. And until we tackle the pervasive problem of HIV stigma, a problem that prevents many people from getting tested for the virus and many living with HIV from getting into life-saving care, our dream of an AIDS-free generation will remain only that.
So close, but yet so far: A global decline in new infections over the last several years should not distract us from the fact that the rate of new infections in some U.S. cities rivals that of third world countries. Or that new infections are increasing among African Americans, as well as gay, bisexual, and other men who have sex with men (MSM) according to the CDC.
In AIDS United's work across the country, we still hear stories like the grandmother who was afraid to hug her 25-year-old HIV-positive grandson. Or inmates in Alabama and South Carolina who are isolated from the rest of the population when they are diagnosed with HIV, and are forced to wear white armbands that indicate they have HIV. Stigma, fear and shame impede adequate HIV testing, treatment and care compliance.
Working to erase stigma is a critical step, and should underscore every strategy we undertake in our effort to end AIDS in our lifetimes. But there is more that we can do to make this goal a reality, not only to support World AIDS Day but to leverage recent momentum gained through the passage of landmark health care legislation; a newly reelected president who has opened an important door in advancing issues critical to the lesbian, gay, bisexual, transgendered, and queer (LGBTQ) community; and a new Congress.
For those who are ready to join us in this fight, I believe that this is where we must start:
We all must know our status: CDC estimates that there are approximately 1.2 million people in the United States who are infected with HIV -- yet 20 percent of those infected don't even know it. People who know their status and get into appropriate care can live long, healthy lives, and reduce the possibility of further transmission. Getting tested is easier than ever, and available through primary health care providers, at community-based AIDS service organizations and health clinics, or with an in-home HIV testing kit available from the local pharmacy. Many fear knowing their own HIV status, but the power of knowing our status can make a world of difference for our own health as well as that of our loved ones, and for that we must confront our own stigma related to HIV.
We must ensure access to quality care: Right now, fewer than one in five people living with HIV in the United States has private insurance and nearly 30 percent do not have any coverage at all. Programs like Medicaid, Medicare, and the Ryan White program are major sources of health care benefits for people living with HIV. Provisions in the Affordable Care Act (ACA) -- particularly expansion of the Medicaid program -- can play a critical role towards ending AIDS in the United States. While the recent upholding by the Supreme Court of the ACA's constitutionality is an enormous step forward, we must work at the state level to ensure Medicaid expansion, so that more people living with HIV can get the life-saving care they need. We must also be vigilant in addressing the other mitigating factors that become barriers to care, like homelessness, mental health issues, substance use, and poverty.
We must increase patient retention in care: According to the Centers for Disease Control and Prevention (CDC), more than 60 percent of new infections are in men who have sex with men. Forty-four percent of all new infections are in African Americans, with African American men who have sex with men being particularly vulnerable. Without culturally competent health care -- care that speaks to the individual needs of each person living with HIV -- those disproportionately impacted populations will drop out of care. HIV treatment can only be successful if patients adhere to it, and patients who remain in treatment are less likely to transmit the virus.
We must prevent new infections: While treatment as prevention has proven one of the most powerful tools for reducing HIV infection, we must support and maintain other proven approaches, including condom use, syringe exchange programs, pre-exposure prophylaxis (PrEP) and many more. Syringe exchange programs are especially important. Not only are they scientifically proven to help prevent new infections according to numerous studies published by the CDC and others, but often are the pathway to ongoing health care, substance use treatment and mental health services, without increasing drug use.
We must decriminalize HIV: HIV is not a crime, and yet, between 1987 and 2009, more than 450 HIV-positive people were prosecuted for HIV exposure/transmission. Strong federal and regional advocacy efforts are needed to change policies to tear down this barrier to achieving an AIDS-free generation.
We must see HIV/AIDS as a social justice issue. After more than 20 years of working in the HIV and the gay communities as an HIV-positive gay man, I know first-hand the toll that discrimination takes on both individuals and on communities. We must continue to fight discrimination by organizing and raising the voice of HIV-positive people in our country. Discrimination is born of stigma, and only when we can all talk openly about our HIV status will we be able to eliminate both.
We really are so close! But when it comes to eradicating AIDS in our lifetimes, we don't have to stop at "so close." World AIDS Day presents us with an opportunity -- not to be discouraged, but re-energized, and mindful of how we make the dream we've had for so long a reality. We owe it to the millions we've lost, and the millions of us still living with this disease.