New York City is the historic and actual epicenter of the HIV/AIDS epidemic in the United States. According to the latest surveillance data, over 113,000 New Yorkers are living with the virus. Yet, not all HIV-positive people occupy the same place on the continuum of care. Patients who are on medications, take them regularly and have undetectable levels of virus in their blood have better health outcomes, are less prone to chronic inflammation and less likely to infect others. In the field of HIV/AIDS professionals are focusing on the concept of "treatment cascade": a model that shows gaps in HIV care from diagnosis to viral suppression.
The reason behind the need to take a closer look at our city's treatment cascade is its ability to point out barriers, potential areas of improvement and individual responsibilities. It is important to be aware of New York City community viral load, defined as the aggregation of individual viral loads of people living with HIV in the city. Community viral load impacts both HIV-positive and HIV-negative New Yorkers.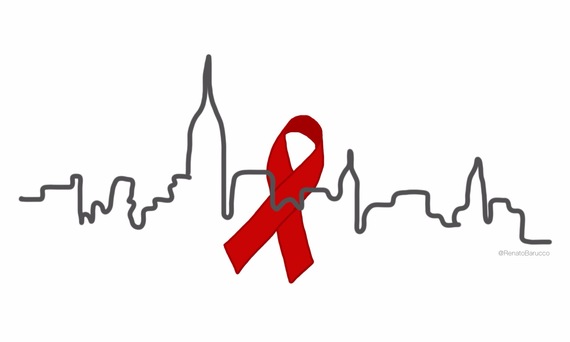 Eighteen-thousand people among those estimated to be living with HIV in our city do not know they are infected. These folks did not test for HIV, they do not know they need care or that they could transmit the virus to others. Of those who are aware of their status, 14 percent are not in medical care. Consequentially, their infection is not monitored. Finally, less than 50 percent of HIV-positive New Yorkers are receiving treatment. Among them, a modest 38 percent stick to their medications and are virally suppressed. As a result, an estimated 81,575 New Yorkers living with HIV have detectable levels of HIV in their system. Only a small portion of positive patients are receiving the full benefits of available treatment options. It's an issue for all: to reduce the impact of HIV/AIDS, all New Yorkers -- regardless of their status -- are called to action.
First off, HIV testing. It's free, rapid and largely available. All sexually active people should get tested periodically, despite perceived risk. There are several reasons --including good ones-- behind people's reluctance, yet, HIV testing is the first step to defeat the epidemic.
Secondarily, it's just as critical to recommend, support, and facilitate access to medical services for positive people in our networks. The landmark study HIV Prevention Trials Network (HPTN) 052 linked initiation of therapy with a 96 percent risk reduction of transmitting HIV to uninfected partners. Medications can be used both to protect the patient's immune system and to prevent transmission. HIV-positive folks should access treatment and take medications as prescribed. HIV-negative men and women should use condoms regularly during sexual encounters and, if eligible, take medications to prevent infection either before possible exposure (pre-exposure prophylaxis) or after probable exposure (post-exposure prophylaxis).
Finally, New Yorkers should consider electing officials and support policy makers with clear plans to support city, state and federal public health initiatives to increase access to HIV screening and medical care through AIDS Drug Assistance Programs (ADAPs), Affordable Care Act, with its proposed health coverage for thousands of people living with HIV, and life-saving Ryan White-funded programs.
1981 taught us that HIV/AIDS is a community issue. There's no such thing as a group of individuals affected by HIV/AIDS. The entire city suffered physical, emotional, and financial damage. The epidemic will stop being a threat when every New Yorker will sustain a shared response to this communal and ongoing public health challenge.
Popular in the Community