When graffiti artist Jason "Revok" Williams saw his work being used by H&M to sell sportswear without his permission, he set out to defend his creation. He drew a lot of support from the art community.
To rewind, the fast fashion giant used Williams' mural in Brooklyn as the backdrop for one of its ads without obtaining the artist's OK, leading Williams to send the brand a cease-and-desist letter. In response, H&M filed a lawsuit that sent the artistic community into a tailspin, with many saying on social media that they'd be boycotting the Swedish retailer.
After HuffPost first posted this story on Thursday, H&M told us that it was dropping the lawsuit.
While it's not clear legally whether H&M ever needed permission to feature the mural in its advertising, the art community sided with Williams' claims of copyright infringement.
The ad for H&M's "New Routine" sportswear line was filmed at the William Sheridan Playground handball court in the Williamsburg neighborhood of Brooklyn and features a model doing a backflip off the wall on which Williams had painted graffiti.
Here's the mural, posted on Williams' Instagram account: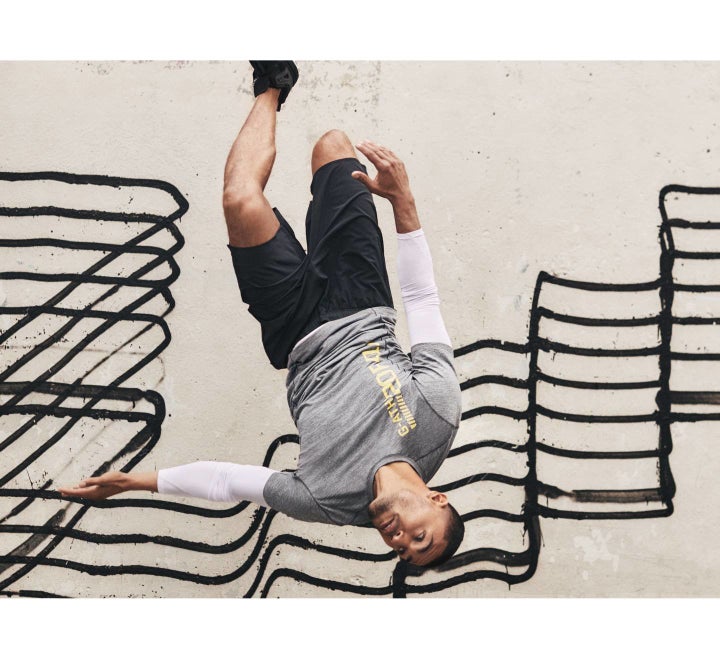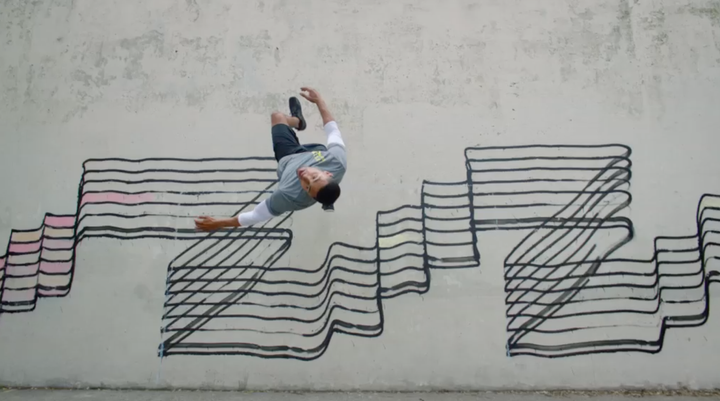 On Jan. 8, Williams had his lawyer send a cease-and-desist letter to the retailer arguing that H&M's "unauthorized use of his original artwork" constitutes copyright infringement. The letter said the way the art is used "is likely to cause consumers familiar with his work to believe there is a relationship between the parties."
Late last week, H&M responded with a federal lawsuit asking the court to declare that Williams has no copyright to assert because his graffiti itself was a crime. In a letter sent to Williams and his lawyer this week (reported by Hypebeast), the company said, "The entitlement to copyright protection is a privilege under federal law that does not extend to illegally created works."
The brand said that it had hired an outside production agency to shoot the ad and that the agency had spoken with the New York City Parks and Recreation Department about permissions. The department indicated that the "graffiti on the park handball wall was unauthorized and constituted vandalism and defacing of New York City property," according to the letter.
H&M responded to HuffPost's inquiry on Thursday afternoon by saying that it was withdrawing its legal complaint and that it never intended to "influence the debate on the legality of street art."
"H&M respects the creativity and uniqueness of artists, no matter the medium. We should have acted differently in our approach to this matter. It was never our intention to set a precedent concerning public art or to influence the debate on the legality of street art," the company said.
H&M said it was "currently reaching out directly to the artist in question to come up with a solution."
Prior to H&M's announcement, street artists and supporters of the arts called for a boycott of the brand in support of Williams. Images and explanations for the boycott have been popping up all over Instagram:
While others argued about legal and artistic rights, the Department of Parks and Recreation told HuffPost that "this work was not commissioned by NYC Parks" and it had been removed last year.
Whether Williams or H&M would have prevailed in court isn't clear because how federal copyright law actually applies to unauthorized graffiti is not, in fact, settled.
The fashion site pointed out that copyright infringement cases focusing on unauthorized graffiti are usually settled out of court or end up being a "losing battle for the artists." But still it added, "Nowhere in the Copyright Act does it expressly state that illegality is a bar to copyrightability."
Stephen Hayes, arts director of Upfest, a European urban street art and graffiti festival, told HuffPost that he was concerned H&M's legal response could set a precedent.
"It could mean that any street piece without specific written consent could be bought under this banner," Hayes said.
"Artists share their work with the public for many reasons. but rarely for a third party to benefit or profit," he said. "As a company that employees creatives, you would have thought that H&M would understand this and really can't be surprised by the gathering pace of the boycott from within the artists community and beyond."
Also before H&M said it was withdrawing its lawsuit, Williams' lawyer Jeff Gluck told HuffPost that his client believed the company wanted to "discredit graffiti" and that's why artists were supporting him with a boycott.
"H&M sees value in using graffiti in their advertisements to draw in their target demographic and increase revenues, but they also appear to simultaneously seek to undermine and discredit graffiti and the culture via this legal action," Gluck said. "That is the reason why so many people are upset."
The story has been updated with H&M's announcement about the lawsuit and the Department of Parks and Recreation's information about the mural.
Popular in the Community