Co-authored with Zahra Sohail Khan
During the holiday season many Americans take the time to thank those who provide key services in our daily lives. We leave a card and a tip for our mail carrier, the doorman, and even get up early to express our gratitude to those who take away the trash. But we often forget one group of workers who are essential to the commercial side of the holiday season: America's truck drivers.

While the holiday season is critical to retail sales--with November and December accounting for nearly 20% of annual retail sales of $3.2 trillion, according to the National Retail Federation--the trucking industry drives retail sales year round. According to the American Trucking Association, truckers move 11 billion tons of freight each year. At some point in the supply chain, trucks deliver 100% of all consumer products, 70% of freight tonnage. 80% of U.S. communities receive their goods exclusively by truck (http://www.trucking.org ).
Furthermore as the U.S. economy grows, truck drivers will become increasingly important for sustaining the U.S. economy. American Trucking Association's "U.S. Freight Forecast to 2024" projects an increase in freight volumes for all modes by 20 percent. Meanwhile the heavy and tractor-trailer truck driver occupation will enjoy an estimated 11% growth rate from 2012 to 2022. (U.S. Bureau Labor Statistics, 2012)
Immigrants Driving America's Trucks
Popular stereotypes of truck drivers often miss one important feature. According to the Census Bureau, immigrant truck drivers constitute 15.7% of the total truck driver workforce, though the total percentage of immigrants in the U.S. is approximately 13%. The proportion of immigrant truck drivers is particularly high in specific parts of the country, for example in California (46.7%), New Jersey (40.4%), Florida (32.2%), and New York (25.7%).
The sooner this stereotype changes, the better - as America needs as many truck drivers as it can get. The American Trucking Associations estimates that the industry already requires an additional 25,000 truck drivers. The shortage is partly due to a reluctance of younger workers to join the industry. According to the Bureau of Labor Statistics, the median age of truck drivers (46.0 years old) is significantly higher than the median age for all workers in the US (42.4 years old). Truck driving will be among the first occupations to feel a labor shortage as the Baby Boomers begin to retire.

Overcoming the Shortage

Possible solutions to the shortage of drivers in the trucking industry have focused on two aspects of the problem: driver retention and driver recruitment.

Driver Retention
A high turnover rate is closely linked to the issue of poor working conditions within the truck industry. Research shows that issues, such as low wages, long work hours, and time away from home, reduce truck drivers' satisfaction and contribute to the high turnover rate. Some emphasize retaining older drivers as a solution for meeting the demand of the workforce. However, this strategy is not without problems--there is a need to assess their physical abilities and to identify high-risk drivers to ensure that any safety concerns are adequately addressed. Union membership may have a positive effect on driver retention leading to more stable wages in the past and lower attrition rates. But, union membership numbers has been steadily declining in the United States.
Driver Recruitment
Current methods used for recruiting truck drivers by different firms, for example, media advertisements that target employed truck drivers, often only result in drivers from one firm to another firm, exacerbating the high turnover rate. Rather than creating churn in the current trucker work force there is a need to add new drivers to the pool, including even more immigrant truck drivers.
The foreign-born population has a higher fertility rate than the native-born population; accordingly there is a higher-proportion of younger workers who are immigrants and native-born children of immigrants in the future workforce. Immigrants and their children can provide an important resource for filling gaps in the trucking industry. The trucking industry ought to more aggressively recruit immigrant drivers and one way to do so would be to promote the role of existing immigrant drivers, thereby undermining the stereotype and encouraging more immigrants to consider employment as a truck driver.

Becoming a Truck Driver: The Challenges
The process of becoming a certified truck driver varies from state to state. However, the general process involves a written exam, a physical exam and a driving test. An additional requirement of the Federal Motor Carrier Administration to get a Commercial Driver's License (CDL), is English language proficiency:
"...a person is qualified to drive a motor vehicle if he can read and speak the English language sufficiently to converse with the general public, to understand highway traffic signs and signals in the English language, to respond to official inquiries, and to make entries on reports and records ..." §391.11(b)(2), U.S. Code of Federal Regulations.

This requirement may be hard to fulfill for some foreign-born truck drivers especially if English is not their first language. In fact, the Census Bureau's American Community Survey indicates that 4.4% percent of immigrant truck drivers do not speak English and 23.1% do not speak English well. Quite plausibly other potential immigrant truck drivers with insufficient language skills never make it past the written exam, the first hurdle in the pathway to a Commercial Driver's License. Trucking companies that want to attract more drivers could be successful by offering workplace-based English classes.

An additional requirement, aside from those stated above, is work authorization for immigrant truck drivers. Providing work authorization through H-2B visas to immigrants can be a means to ease the worker shortage. The annual cap for H-2B visas stands at 66,000, but the demand for workers, including truck drivers, typically far surpasses this quota. There is a need to increase the cap to encourage the inflow of foreign-born workers to the US.

Conclusion

Immigrant truck drivers serve a vital role in the trucking industry. Trucking firms need to recognize the increasingly critical role immigrant truck drivers will play in overcoming some of the industry's most pressing challenges and take action to facilitate their increased acceptance into the industry. These measures include providing access to English language training, removing legal barriers for the entry of foreign nationals into the trucking industry and changing the existing stereotype as to who is driving America's trucks. Unless action is taken soon, in the coming holiday seasons, Santa may need a few more reindeer!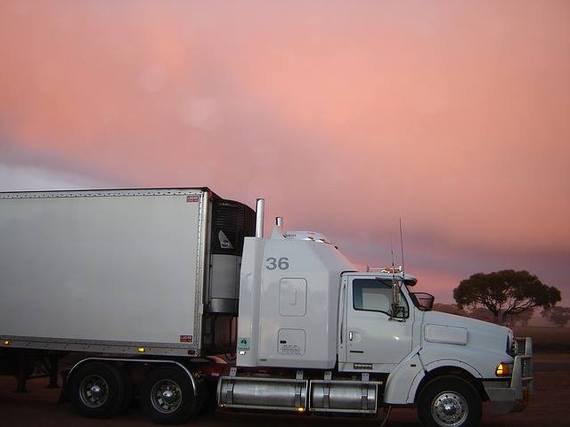 To learn more about America's Immigrant Truck Drivers visit here.
Popular in the Community