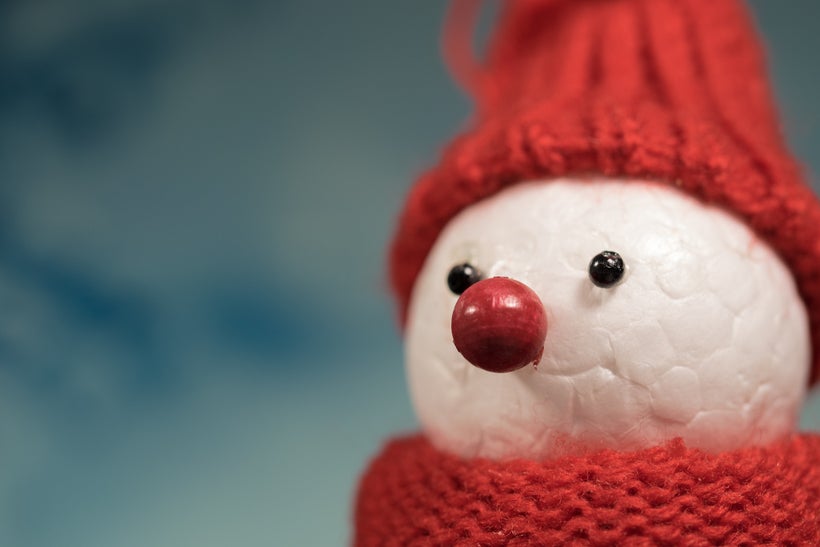 There is no way to sugar-coat it. Surviving divorce and the holidays is rough.
You can't help but remember past holidays when your family was together. Even if those past holidays were less than perfect (and how many of us really have perfect holidays?) they were still family holidays. Now you feel like the Grinch stole your family as well as Christmas!
12 Days of Tips for Surviving Divorce and the Holidays
On the 12th day before Christmas: Plan Ahead.
If you and your ex haven't figured out when the kids will be with each of you for the holidays, do it now! Waiting until the very last minute to set up your kids' holiday and school break schedule will just add more stress into all of your lives.
On the 11th day before Christmas: Forget About Perfection.
Striving to create "the perfect holiday" is the surest way to have an awful one. Plus, what is a "perfect" holiday anyway? Is it one where everyone sits around a sparkling Christmas tree happily sipping eggnog and singing Christmas carols? What planet does that happen on? Instead of going for "perfect," try planning just to have a reasonably happy holiday.
On the 10th day before Christmas: Focus on the Big Picture.
Yes, holidays are important. But so are the other 364 days in the year! Ask yourself: what did you do on Christmas in 2002? Unless you have a memory like Dustin Hoffman in "Rain Man" I bet you won't be able to remember. As you go through the holidays this year, keep in mind that, even if your holidays are terrible, next year you will get another chance to make them shine.
On the 9th day before Christmas: Reign in your Expectations.
The trouble with the holidays is that all of us bring our own ideas of what they "should" be. We should be happy. We should have glorious gatherings with our complete families and everyone should get along perfectly. The more you "should" all over yourself, the worse you are going to feel. This year, try forgetting about what you "should" do and what the holidays "should" be, and try to enjoy what "is" … no matter what "is"!
On the 8th day before Christmas: Live the holiday spirit.
The spirit of Christmas (or Hanukkah, or Kwanza, or whatever you celebrate) is bigger than you. This year, focus on trying to connect with that spirit and doing something for someone else who is less fortunate than you. It may seem like a cliché, but sharing your time and energy with others who have even less than you do will remind you of how truly lucky you are, in spite of your divorce and everything that goes along with it.
On the 7th day before Christmas: Let go of guilt.
Vow to make this holiday season a "guilt free" zone. That means you do your best to let go of your own guilt. You also avoid doing things just to heap guilt on your ex. Feeling guilty does nothing but suck the joy out of your holiday season. It doesn't change your circumstances. It doesn't make you feel better. It doesn't help you heal. So, this season, do your best to ditch the guilt.
On the 6th day before Christmas: Get Back to Basics.
When money is tight, the push to "Buy, buy, buy!" things you can't afford makes you feel like an even bigger failure than your divorce. This holiday season, forget about expensive gifts and get back to basics. Focus on the experience you create, rather than on the gifts that you give or get.
On the 5th day before Christmas: Ditch the Drama.
This holiday season, try to spread peace instead of conflict. (Yes. This one is tough. It's also worth it!) Plan as much of the holiday as you can in advance. Minimize contact with your ex. Remember that, if either you or your ex is drinking, the chances that you will end up in a holiday battle increases enormously. Plan your interactions for early in the day, before the alcohol is flowing!
On the 4th day before Christmas: Cut Yourself Some Slack.
Make peace with the fact that this is probably not going to be the best holiday season you have ever had in your life. That's okay. Don't punish yourself for not giving yourself or your kids the holiday you think they should have. Be kind to yourself. Do something that makes you happy, maybe something you haven't done for years and years. Read a good book. Watch a movie or sporting event that your spouse never wanted to see.
On the 3rd day before Christmas: Keep it Simple.
Resist the urge to fill every waking moment of your Christmas holiday with activities. While keeping yourself busy can help distract you from the misery of your current situation, scheduling too many activities will only make you feel more overwhelmed than ever. Scale back on the holiday traditions that don't give you joy. Give yourself permission to celebrate the holidays as quietly or differently as you want this year.
On the 2nd day before Christmas: Create a Great Experience for Your Kids.
Resolve to create at least one magical moment for your kids this holiday season. This doesn't have to cost you a ton of money. Creating a great experience does not mean "buy your kids everything they want." Overcompensating by buying your kids extravagant presents won't make the holiday great. It will likely just spoil the kids and put you in debt.
On the 1st day before Christmas: Don't Forget About You.
Yes, Christmas is for kids, but aren't we all kids at heart? Instead of sinking into a depression deeper than the Grand Canyon during the holidays, take the opportunity to do something special for yourself. Buy yourself a really cool present. Or, do something you wouldn't normally do, like spend two hours in the bathtub with a glass of champagne and a plate of your favorite appetizers.
On Christmas: Practice Gratitude.
No matter how difficult this holiday season may be, you have something to be grateful for. Instead of focusing on what you lack, focus on what you have. Take a few minutes to think about all of the blessings that are in your life right now. Feel thankful for each one of those things.
If you spend your Christmas being grateful for everything you have, will your holiday magically become merry and bright? Probably not. But it will be better. And sometimes, "better" is good enough.
REAL LIFE. REAL NEWS. REAL VOICES.
Help us tell more of the stories that matter from voices that too often remain unheard.
This post was published on the now-closed HuffPost Contributor platform. Contributors control their own work and posted freely to our site. If you need to flag this entry as abusive,
send us an email
.