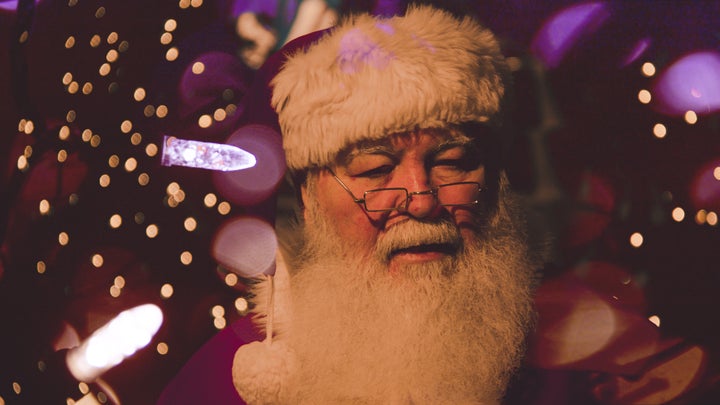 The tree is trimmed. The stockings are hung. The gifts are ready. And by that, I mean the gifts are ready for me to find them at the store, buy them, hide them, wrap them, and put them under the tree at approximately 1:37 a.m. on December 25th. It's OK. I'm good at other things.
The only thing that's missing is a jolly old bearded guy in a red suit. And his reindeer. Oh, and that creepy elf dude.
Yes. We are one of THOSE families. We don't do Santa at our house. I know, I know. It's okay to go ahead and roll your eyes. We get that a lot.
It's not like we're marching indignantly on the North Pole, picket signs in hand, but it does come up a bit during this time of year. The reaction is generally one of disappointed surprise mixed with polite disapproval. "Oh, is that so? I didn't realize. Well. I guess the children will find other ways to have a childhood."
In an effort to reclaim some of our parenting points in the eyes of society (not that I was already in the running for Mother of the Year), here are some of our reasons for sacking Santa.
1. Santa's unlimited resources don't match our very limited budget. As much as I love the idea of writing a letter listing all my dream requests to someone with the hopes of them being granted (wait ― Ellen, are you Santa?), this would only set my kids up for disappointment. Because while the elves might have some back channel connections, Mama isn't paying $250 or arm wrestling a trucker for a Hatchimal. Sorry, baby girl. Mama still loves you.
2. We don't want to share credit with a cartoon. OK, so this one is admittedly a little selfish. But over the last decade of Christmases, we've worked really hard to scrape together enough money to be able to put a couple of modest gifts under the tree for the kids. It's not much but ohmygoodness when they open those gifts and we see those huge smiles? I didn't really want to hear, "Thank you, Santa!" I wanted some hugs, dang it.
3. For all my kids, but especially my literal-thinking son with autism, it's kind of creepy. If I told my kid that there was a man out there who sees him when he's sleeping and knows when he's awake and knows when he's been bad or good with the thinly veiled threat of "be good for goodness' sake," he wouldn't sleep for a month. It does make Santa sound less like a jolly philanthropist and more like an unsub profiled on "Criminal Minds."
4. It only takes one child in need to make you question the whole system. Once upon a time in a world far away, I was a 2nd grade teacher. I will never forget the day an 8-year-old broke my heart wide open. I was on playground duty just after winter break when I spotted a student playing alone and decided to keep him company. We started chatting about his holiday and I asked him if he had a good Christmas. He looked up at me with confused eyes and said, "Santa didn't come this year, Mrs. Pooser. I don't know why. I tried so hard all year to be real, real good. But he didn't come anyway."
That moment took my breath away. I just couldn't bring myself to pass along a tradition that has the potential to make a child feel like his behavior is somehow responsible for his family not having any gifts under the tree.
5. Our holiday is less cluttered. When we shifted our attention away from the material side of Christmas, we were able to focus more clearly on what we're truly celebrating. The long-awaited Messiah, with Calvary already in mind, born to a desperate and dark world, bringing with him the light of hope, joy, peace, and love.
And with the love of Jesus in our hearts, we do talk about St. Nicholas and how his spirit of kindness and generosity can live on in our Christmas traditions. We try to think of ways to spread joy to our neighbors and our community. Whether we're able to sponsor a whole family from the Angel Tree or if we can just swing a few dollars to leave a Starbucks gift card on a stranger's porch, there are lots of ways we can spread Christmas cheer.
We've learned to step outside ourselves and think of others. So even though we don't do Santa Claus with our kids, there is still plenty of room for St. Nick in our Christmas.
There are so many ways to do Christmas and I love that no two families celebrate in exactly the same way. Whether you skip Santa completely or you go all North Pole in your home, I hope your holiday brings you great joy!
Ashley Doyle Pooser is a sleep-deprived, over-caffeinated, reluctantly homeschooling mom of three. She's trying to adult responsibly but is mostly flying by the seat of her pants in Atlanta with the help of coffee, 90s music, and a whole lot of Jesus. You can find her documenting the chaos on Facebook, Twitter, and Instagram.
Related