Angelina wouldn't help cook the Pitt family turkey. She may be a UN Goodwill ambassadress willing to fly into Iraq and Darfur to make the world more aware of human suffering. But I've learned that the bottom line is she doesn't cook, especially in the Pitt family kitchen, and she doesn't do dishes either.
And that, as any woman with a critical mother-in-law will tell you, is what really holds sway when it comes to family gatherings. So while Brad may have insisted that Angie and the kids jet into Springfield, Missouri to have Thanksgiving with his family, it was doomed to backfire. The man can donate $5 million to build 150 eco-friendly houses for displaced victims of Katrina doing oodles of good, but he still can't make his mom like Angelina.
Now, Star magazine has learned that Thanksgivingate at the Pitts was so much the pits that his mother, Jane, is pulling the first wife card. She has invited Brad's ex, Jen Aniston, who she still considers family, to spend Christmas in Missouri. Brad may be over Jen, but Brad's mom isn't. And poor Jen who doesn't get along with her own mom, just might take her up on that offer. Naturally, Angelina is going postal over that. Talk about World War III.
Now, I can absolutely sympathize with Angelina on this one. I have to admit that even though I produced four grandchildren, showed up occasionally for Shabbat dinners and never got even one tattoo, I still never felt like I quite got that golden seal of M-I-L (mom-in-law) approval either. Nevertheless, Star readers are a harsher bunch than I. In a new poll, they are overwhelmingly on Jane Pitts' side — 77% would choose Jen over Angie as the guest they most want to have to their Christmas dinners. They probably figure that with all that yoga and aerobicizing Jen's been up to she'll be able to lift a turkey or clear the table in a way that skeletal Angelina simply can't.
Angie shouldn't feel too badly though — she isn't nearly the least desired female Christmas guest, not by a long shot. As you might have suspected the often x-rated Britney gets that honor. After all, who's going to invite a girl who might shave off her hair in your soup, take an umbrella to your car and flash your significant other with her pantyless parts?
Surprisingly, her reformed ex-husband K-dad is still Star readers' least welcome male Christmas guest, beating out Simon Cowell who might tell you that the food you slaved over "just isn't good enough." K-Fed's also way more unwanted than Brit's runnerup, Rosie O'Donnell. My analysis is that the fear factor is at play with Rosie. Even if you aren't also having Donald Trump or Barbara Walters at your table, Rosie looks like she'd have a mighty strong windup with the dinner rolls if you got into a dustup with her. Duck!
As for me, we've taken a family vote and the Fullers aren't going to get in the middle of the Jen/Angelina holiday fray. We aren't inviting either of Brad's women to spend the holidays at our house. Instead, after heated debate, we've decided...we're inviting Zac Efron. I sure hope he comes!
OK, so let me know who you'd like to have or absolutely not have at your holiday dinner.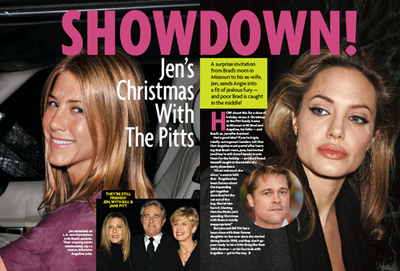 Popular in the Community