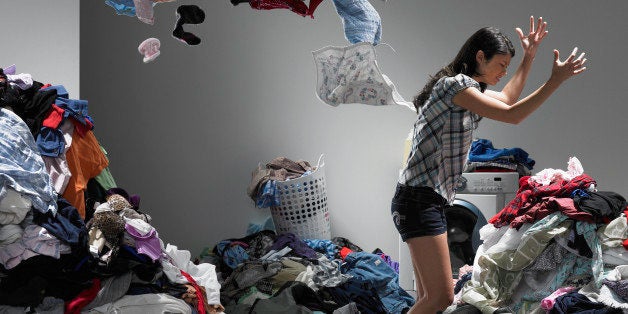 Hoarding and the people who hoard fascinate us. Cat hoarders, newspaper hoarders, pocket change hoarders... there are even people who hoard their own excrement. As disgusting as it sounds, grab some popcorn because we love tuning in. You'll find hoarders everywhere: the A&E show Hoarders, infographics, books, spreads in fashion magazines.
Could the reason for the fascination be that we have our own messy little secret? You and I are undercover hoarders. Sure, we might hold steady jobs and have dates on Friday evenings. Our front doors might open unobstructed by stacks of coupon mailers dating back to the '80s. But we both know that an ever-expanding accumulation of shoes, cooking gadgets, books, tools, makeup, gaming equipment, costume jewelry, antiques, vinyl records, sports memorabilia, clothes, kids' toys -- whatever -- can take over your space, strangle your budget and overrun your life. Watching a hoarding intervention is one part schadenfreude, one part reminder that we're one Beanie Baby away from our own.
Never is this fact more apparent than when we move. This is when you actually have to pay to move all the crap you've accumulated. Every cubic foot or pound of junk is tallied in your moving bill, a reality check that hoarding doesn't pay.
The Mayo Clinic defines hoarding as the "excessive collection of items, along with the inability to discard them." It may or may not be a symptom of obsessive-compulsive disorder (OCD); hoarding is now a distinct disorder defined in the new Diagnostic and Statistical Manual of Mental Disorders. According to the Institute for Challenging Disorganization, there is a spectrum of hoarding disorders.
"Just as there is with any other addiction or defense mechanism," says Nancy B. Irwin PsyD, C.Ht. of Los Angeles, "hoarding tends to be an extreme case of cluttering, which can be mild and annoying up to a major inconvenience and source of embarrassment."
Can you be a functioning hoarder? "Absolutely," says Robyn Reynolds, a professional organizer at Organize2Harmonize, also based in Los Angeles. "You would never be able to tell if someone is a hoarder. The most put-together, well-dressed person in public may very well be living in a hoarded house."
My hoarding problem was exposed two months ago when I moved. Apparently I'd saved all my décor magazines from the past six years; I subscribe to about six a month. Four hundred and thirty-two magazines at 11 ounces each equal an expensive 300 pounds to pay to move. I've saved every card -- birthday, holiday, thank-you -- I've received since college over a decade ago. I seemed to have hoarded dozens of unopened toiletries. I stock up on sale items, throw them in the drawer or cupboard, and then forget I have them because so much has accumulated on top.
Judi Cinéas, LCSW, Ph.D. of Palm Beach, Fla. says holding onto a few things that don't need to be kept is reasonable. "In many cases, it's the result of an emotional attachment -- baby's first shoes, the paper on which you got your spouse's number," says Dr. Cinéas. "While it's acceptable to keep a few mementos, the line does need to be drawn. Maybe you keep the first shoes and the [baby] blanket but you don't need to keep everything they wore the first year."
Lisa Dudley of Tivoli, N.Y., a country singer and songwriter who performs for veterans, saw her "cowboy boot habit" turn into a hoarding problem when the boots started crowding her out of her space. "I stopped counting at 26 pairs," she says. "A friend, who is also a personal organizer, set me up with a shelf that goes across the top of my bookcases" to display the boots, "although I discovered several more pairs in the attic." Dudley had to start selling her boots on eBay when she broke her leg and couldn't fit into them anymore, but now she's confronting a fabric hoarding problem (she once dreamed of starting a plus-sized clothing line and filled her attic with bags and bags of fabric) and collection of leather skirts.
Not sure if your "collection" is healthy? Elspeth N. Bell, Ph.D., of the Silver Spring, Md. Behavior Therapy Center, says collecting is generally limited to a specific area while hoarding is less discriminating. "Collecting is more often associated with pleasure, pride in the items, and wanting to display or share the items with others. Hoarding is more associated with shame, secrecy and embarrassment. Individuals will keep others away from their spaces out of fear of being exposed."
Moving was a wakeup call for me. I confronted my inner packrat, recycled my magazines and donated extra clothing and home accessories to charity. Here are some tips for dealing with your clutter, whether you're moving or not:
1.Determine your level of hoarding by answering the Clutter Image Rating Scale questions. Also, take this hoarding quiz.
2.Use the "number in, number out" method, says Dr. Cinéas: "Buy two new articles of clothing and remove two that have not been used in the past year. When everything has its place, what doesn't fit is generally extra that has to go."
3.Donate unwanted items to charity and write off your charitable clothing or household donations from your taxes. Here is a spreadsheet to help you keep track.
4.Get a storage unit. Once you see your monthly bill you'll rethink how much you really need the stuff you're storing.
5.If you're a collector, organize and display your collection in a manner that you can enjoy and showcase rather than live in clutter.
6.Take a home inventory every year to understand how much stuff you have, how much you've accumulated since your last inventory, and what can stand to go.
For those with a more serious hoarding problem, there are self-help books and professional organizers. Experts say extreme cases may require group or individual therapy or medication.
Do you have a hoarding story to share?
Related