 Hobby Lobby's Facebook page turned into a social media war zone Tuesday afternoon. But people weren't fighting about crafts; they were discussing women's rights.
The Christian-owned crafts supply chain is the largest of the companies challenging President Obama's health-care law in the Supreme Court. Hobby Lobby wants to be exempt from an Obamacare provision that requires for-profit companies to cover the cost of all FDA-approved contraceptives in their health plans. Hobby Lobby says certain forms of birth control are not in keeping with its religious beliefs.
Most American women don't think companies should be able to refuse to cover contraceptives, but the Supreme Court is having trouble ruling on the case, which will have wide-ranging implications on whether or not companies' religious beliefs should exempt them from federal laws.
As the Supreme Court deliberated on Tuesday, Americans on both sides of the aisle took a stand on the issue on social media. Many shoppers flooded Hobby Lobby's page with thought-provoking dialogue:

And snarky criticism (For the record, health insurance generally does cover Viagra and other erectile dysfunction drugs for men):

As well as flat-out outrage:

Others called for a boycott of the store: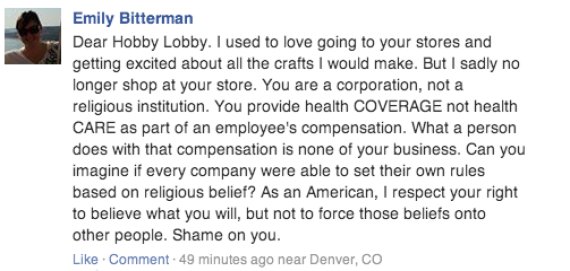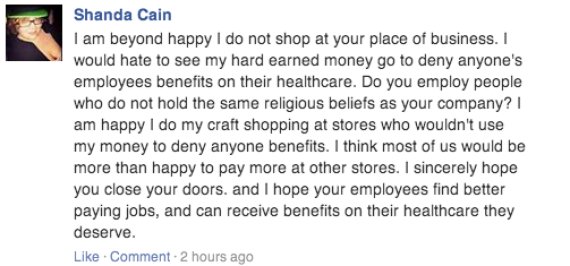 Including actress and filmmaker Lena Dunham:
Though Hobby Lobby didn't respond to an immediate request for comment, the store's Facebook account did reply to some shoppers: