Hobby Lobby has promised to begin to sell Jewish holiday items in areas near large Jewish populations.
UPDATE 10/4/13 10:15am: Hobby Lobby President Steve Green has issued the following statement on behalf of the company:
We sincerely apologize for any employee comments that may have offended anyone, especially our Jewish customers and friends. Comments like these do not reflect the feelings of our family or Hobby Lobby.

Our family has a deep respect for the Jewish faith and those who hold its traditions dear. We're proud contributors to Yad Vashem, as well as to other museums and synagogues in Israel and the United States.

We are investigating this matter and absolutely do not tolerate discrimination at our company or our stores. We do not have any policies that discriminate; in fact, we have policies that specifically prohibit discrimination.

We have previously carried merchandise in our stores related to Jewish holidays. We select the items we sell in our stores based on customer demand. We are working with our buyers to re-evaluate our holiday items and what we will carry in the future.
(RNS) Hanukkah comes early this year. But it apparently never comes to Hobby Lobby.
The national craft store owned by conservative billionaire Steve Green seemingly refuses to carry merchandise related to Hanukkah because of Green's "Christian values," and some Jews are taking offense.
Berwitz's outrage has spread to other bloggers who are taking Hobby Lobby to task as a store that courts the general public, but refuses to stock anything related to Judaism — even in communities with significant Jewish populations.
"If they want to sell all over the nation then they must include all people within that nation," wrote a Jewish visual artist named Abbey on a blog post entitled "Is Hobby Lobby Anti-Semitic?"
In response to questions about its lack of Hanukkah items — no paper dreidels, menorah-making kits, greeting cards — Hobby Lobby emailed the following statement to Religion News Service:
"Hobby Lobby Stores, Inc. is currently working with our buyers over our merchandise selection. Our customers have brought this to our attention and we are currently evaluating our Holiday items and what we will carry in the future."
Green owns more than 550 Hobby Lobby stores nationwide, all of which are closed on Sunday, the Christian Sabbath. He is also known for his lawsuit against President Obama's health care law, which he says tramples on his religious liberty by forcing him to insure employees for medical services he objects to on religious grounds. Many legal experts agree the case has a good chance of landing at the Supreme Court.
He's also known for holding one of the country's largest collections of ancient biblical artifacts, including what's believed to be the oldest known copy of a Hebrew prayer book. In unveiling the book on Thursday, Green dated the item to 840 C.E., declining to use the more Christian-sounding 840 A.D. so as not to offend Jews.
The Hobby Lobby Hanukkah controversy began when Berwitz learned that on a recent shopping trip his wife's friends could not find anything related to Hanukkah at their local Hobby Lobby store in Marlboro, N.J., though it was stocked with Christmas items.
According to Berwitz, one of the women asked about bar mitzvah cards, and a Hobby Lobby salesperson replied: "We don't cater to you people."
That story prompted Berwitz, who own a market research company and writes the "Hopelessly Partisan" blog, to call the Marlboro store and ask why it seemed to be ignoring Hanukkah, the eight-day Jewish festival of lights, which begins on Nov. 27 this year. He wrote that he received the following response:
"Because Mr. Green is the owner of the company, he's a Christian, and those are his values."
Berwitz told Religion News Service that he then called Hobby Lobby's corporate headquarters in Oklahoma City, and the company confirmed that it does not stock items for Hanukkah, and did not give a reason. When he asked whether the company carries Passover merchandise, he was again told no.
"As someone with a great many Christian friends and acquaintances," Berwitz wrote, "I can honestly say that I don't know even one who would see the intentional exclusion of Jews as having anything to do with their religious beliefs."
Rabbi Donald A. Weber of Marlboro's Temple Rodeph Torah says Hobby Lobby has the right not to stock Hanukkah items, and everybody else has the right not to shop there. His advice for people looking to buy Hanukkah goods: Start with the congregation's sisterhood group, which sells Judaica.
"Then try any of the local stores which recognize and respect our traditions including, believe it or not, the Christmas Tree Shops in Freehold," he wrote on the Reform synagogue's website. "And if you want to buy items that are sold in Hobby Lobby, it's your choice whether to go there or somewhere else. Personally, I'll go somewhere else."
Hobby Lobby's Vince Parker, who said he "takes the owner's phone calls and e-mails" at the company, also sent the following to Religion News Service:
"Alleged comments made by employees are currently being investigated and will be addressed accordingly. These comments are in no way indicative of Hobby Lobby culture, the owners and the operators."
He added: "Marlboro is a great city and has wonderful people and we are blessed to be a part of the community."
Related
Before You Go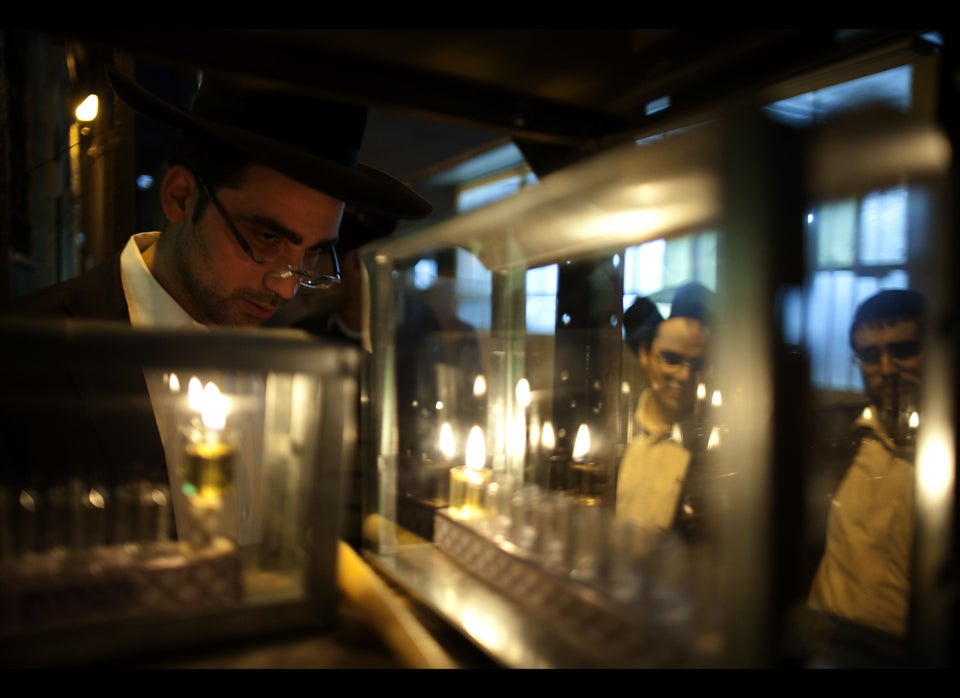 Hanukkah Lights Around The World
Popular in the Community