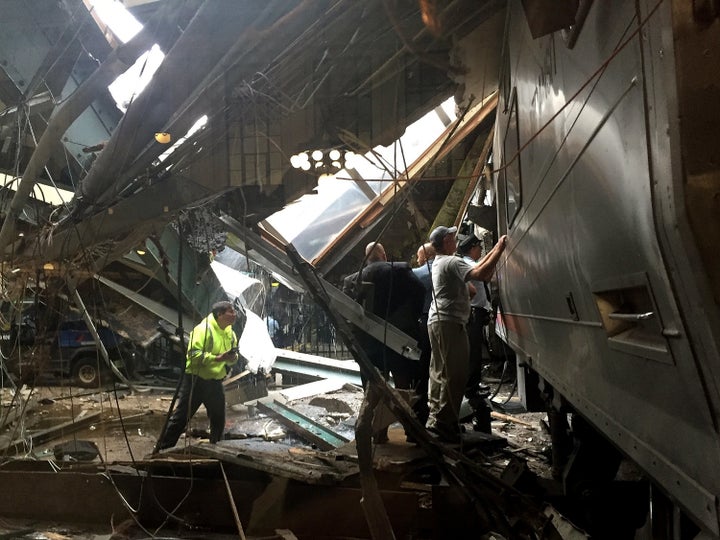 • A New Jersey Transit train slammed into Hoboken Terminal during morning rush hour.
• The crash injured 108 people.
• Officials do not yet know what caused the train to lose control.
• The NTSB expects its investigation to take 7-10 days.
• NJT train service was suspended indefinitely. PATH has resumed service.
HOBOKEN, N.J. ― Commuters braced for what could be weeks of disrupted train service in the wake of a deadly crash in Hoboken, New Jersey. A New Jersey Transit train slammed into the Hoboken Terminal during rush hour Thursday morning, killing a woman on a platform and injuring more than 100 others.
The train destroyed the platform as it sped into the busy station, which thousands of people use every day to commute between New Jersey and New York City. Fabiola Bittar de Kroon, 34, a mother whose child was in day care at the time, was killed as she stood on the platform and was hit by debris from the collapsing terminal, according to NBC New York. Some passengers were trapped on the train after the 8:45 a.m. crash.
New Jersey Transit suspended operations through the station, which needs major repairs, until further notice. The agency said that it was expanding bus and rail services to and from other stations, but that commuters should expect overcrowding and delays.
Metro-North said that it was honoring tickets from customers who normally ride the NJT's Port Jervis & Pascack Valley line trains through Hoboken.
PATH train service to and from the station had also suspended, but resumed Thursday afternoon.
National Transportation Safety Board officials are now working to determine the cause of the crash, and estimated that the investigation would taken seven to 10 days. Structural damage, leaks and "the possibility of asbestos" prevented investigators from immediately accessing the engineer's control car, officials said.
Witnesses on board and at the station described the train as approaching "way too fast."
Authorities said they would pull the train's "event recorder" to determine speed and braking. The engineer, who was treated at a hospital for critical injuries, was cooperating with law enforcement, New Jersey Gov. Chris Christie (R) said.
"We have no indication this is anything other than a tragic accident," Christie told reporters at the station on Thursday.
New York Gov. Andrew Cuomo (D) said the "silver lining" is that the massive destruction only killed one person.
Kaitlin McCabe, who arrived at the station after the crash, told CBS that "there was water in the tracks ... the roof of the ceiling had collapsed." Another witness told the BBC that "there was water coming down off the roof and people climbing out through the windows. There were people sitting down with blood coming from their head. There were lots of injuries."
Fifty-one people, including 40 with injuries described as minor, were treated at Jersey City Medical Center, officials there said. Others were treated at Hoboken University Medical Center. A New Jersey Transit spokeswoman said some of those injured were in critical condition.
One Hoboken resident who rushed to the crash said she saw "so much blood, everywhere. It's something I'll remember for a long while ... It was very scary."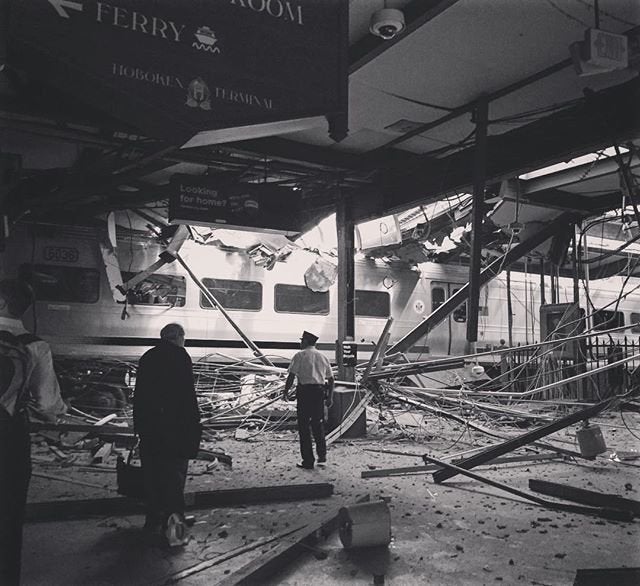 Janice Feinstein, 54, who lives 10 blocks from the crash, said her husband was headed to work at 8:50 a.m. when she heard about the crash.
"I was devastated. My husband takes the PATH every day. He took a bus this morning instead," Feinstein said.
"It's a scary thing," she said. "It's not an everyday thing, thank God, but still scary."
Jaime Weatherhead-Saul, who was on the train, told CBS that the car was packed and she'd been standing when it crashed. Passengers typically get up from their seats and move toward the doors as the train pulls into a station.
"I saw bloody noses," Jason Danahy, another passenger, told The New York Times. "I saw people crying."
The crash was on the Pascack Valley Line, which runs more than 30 miles south from New York's Rockland County, through New Jersey's Bergen and Hudson counties. It terminates at Hoboken Terminal, just across the river from Manhattan. There, morning commuters can transfer to continue travel into New York City.
Matthew Brand, 17, who lives in Hoboken and takes the PATH train regularly, said outside the station that that it was important for commuters to keep in mind those affected by the accident.
"I think we have to think about the people involved, the lives lost, over the idea of when I can get to work," Brand said.
Hoboken's mayor tweeted a message of support for those people and thanks to emergency personnel:
New Jersey Sen. Bob Menendez (D) said he was returning to the state on Thursday morning:
Ryan Grenoble and Kim Bellware contributed reporting.
Before You Go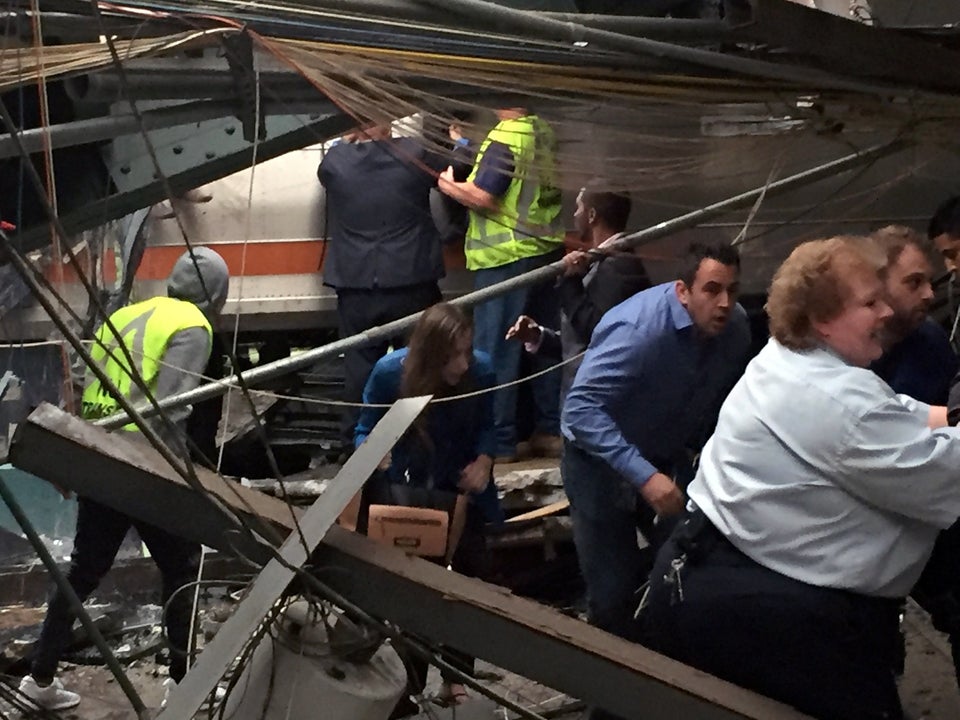 New Jersey Transit Train Crashes In Hoboken
Popular in the Community