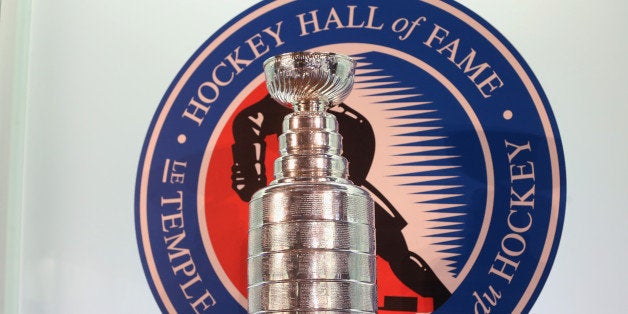 Earlier this week, the Hockey Hall of Fame announced its induction class of 2014. My special congratulations go out to former players Peter Forsberg, Dominik Hasek, Mike Modano, the family of the late, three-time Jack Adams Award-winning coach Pat Burns, and to one of my former officiating brethren, Bill McCreary.
All of these gentlemen had careers worthy of induction. However, that does not mean I am a fan of the Hockey Hall of Fame selection process or some of the people in charge of the selection committee. There is a lot of politicking and pettiness involved.
Let me also say this: Kerry Fraser should be a slam-dunk candidate for the Hall of Fame. He was an excellent referee. Fraser was perhaps the best skating referee of his era, for one thing, and had a good feel for the game. Fraser worked over 1,900 regular season games, 261 playoff games and 13 Stanley Cup Finals after joining the league in 1980.
But Fraser has no shot at the Hall of Fame as long as Colin Campbell is involved in the process. Like me, the only way he would get into the Hall is to buy a ticket.
As for myself, I have no pretensions that I will ever get into the "big" Hall in Toronto and I don't like my chances for the U.S. Hockey Hall of Fame, either. I'm just being realistic, not negative.
My late grandfather, Bill Stewart Sr., is a member of the U.S. Hockey Hall of Fame but is not in the big Hall despite qualifications that far exceed my own. My grandfather was both a referee and coach in the NHL.
As a coach, Bill Stewart was the first American to steer a team (the 1937-38 Chicago Blackhawks) to the Stanley Cup; directing an underdog team that had a then unheard-of eight U.S. born players on the roster to a victory in the finals over Conn Smythe's Toronto Maple Leafs. In the late 1950s, my grandfather was the coach of the U.S. national hockey team and a key force in assembling and directing the nucleus of the team that won the gold medal at the 1960 Olympics in Squaw Valley.
As a referee, my grandfather was highly respected throughout the NHL. He worked in four Stanley Cup Finals. To this day, there have still been just four Americans to referee in the Stanley Cup Finals. No, I'm not one of the others. The others are Hall of Fame inductee Bill Chadwick, Dennis LaRue and, most recently, Chris Rooney.
Despite his overwhelming credentials to be inducted as either a builder or as an official, the Hockey Hall of Fame doors have never opened for Bill Stewart. Even with the U.S. Hockey Hall of Fame, the honor did not come until 1982; some 18 years after he passed away.
The Toronto Hall of Fame and Museum has a referee sweater from my grandfather's NHL days, his skates, rule books and his Blackhawks contract in its collection. My dad donated them when Scotty Morrison ran the Hall, just before my dad passed. Their collection also includes a sweater from my own playing days and a referee sweater, puck and whistle from my 1,000th game as an NHL official.
In my case, I have been nominated five times for the U.S. Hockey of Fame. I have never come close to being selected, and that's OK.
I am the only American who has been both a player and a referee in the NHL and have been involved in this game for nearly 40 years at various levels, but I've never been regarded among the "stars" of the sport. I was not selected to work an NHL Stanley Cup Final but officiated in the finals in every other league in which I worked on the way up, and refereed in two Canada Cups, including the legendary 1987 tournament. As a builder, I've been a director of officiating in collegiate (ECAC), prep, NEH, KHL and MHL hockey.
I'm not holding my breath for induction. Officials do not make for headline capturing Hall of Fame inductees. I realize that.
The late Peanuts comic strip creator Charles M. Schulz is an inductee in the U.S. Hockey Hall of Fame, however. Listen, I like Linus, Lucy and good ol' Charlie Brown as much as anyone. I know Schulz had a passion for hockey, featured the game in some of his comic strips and played the sport recreationally until very late in his life. Even so, if the U.S. Hockey Hall of Fame has room for a famous cartoonist, I would hope that a few more American-born hockey officials could get inducted.
Someday soon, they should at least rightfully put longtime NHL linesman Kevin Collins in the U.S. Hall. He was one of the best NHL linesmen for many, many years.
The U.S. Hall will eventually acquire memorabilia from me for their collection. They already have one of the referee sweaters I wore, a whistle and a puck from my 1,000th game. They also have my painting that the NHLOA commissioned and presented to me after my retirement.
I am in the Massachusetts Hall of Fame and the Binghamton Hall of Fame. For those honors, I am extremely humbled.
Speaking of Halls of Fame, my former Cincinnati Stingers teammate Bryan "Bugsy" Watson is the longtime owner of Bugsy's Pizza Restaurant and Sports Bar in Alexandria, Virginia. The place is like a Hall of Fame in its own right, laden with photos and autographs from everyone.
At Bugsy's request, I once donated several photos of myself to add to his collection. One time, I took along two young linesmen friends and told them I was one of the people honored with a spot on the wall. Looking around, I couldn't find my picture anywhere. I searched virtually every inch of the restaurant space.
Giving up, I shrugged, and paid a visit to the men's room.
Wouldn't you know it: There was a picture of me, right over the first urinal stall.
I may not be a member of any major Hall of Fame, but I am an honoree with a "Stall of Fame." Thanks a million, Bugsy!
Paul Stewart holds the distinction of being the first U.S.-born citizen to make it to the NHL as both a player and referee. On March 15, 2003, he became the first American-born referee to officiate in 1,000 NHL games.
Today, Stewart is an officiating and league discipline consultant for the Kontinental Hockey League (KHL) and serves as director of hockey officiating for the Eastern College Athletic Conference (ECAC).
The longtime referee heads Officiating by Stewart, a consulting, training and evaluation service for officials. Stewart also maintains a busy schedule as a public speaker, fund raiser and master-of-ceremonies for a host of private, corporate and public events. As a non-hockey venture, he is the owner of Lest We Forget.
Stewart's writings can also be found on HockeyBuzz.com every Monday, Tuesday, Thursday and Friday. He is currently working with a co-author in writing an autobiography.
Popular in the Community