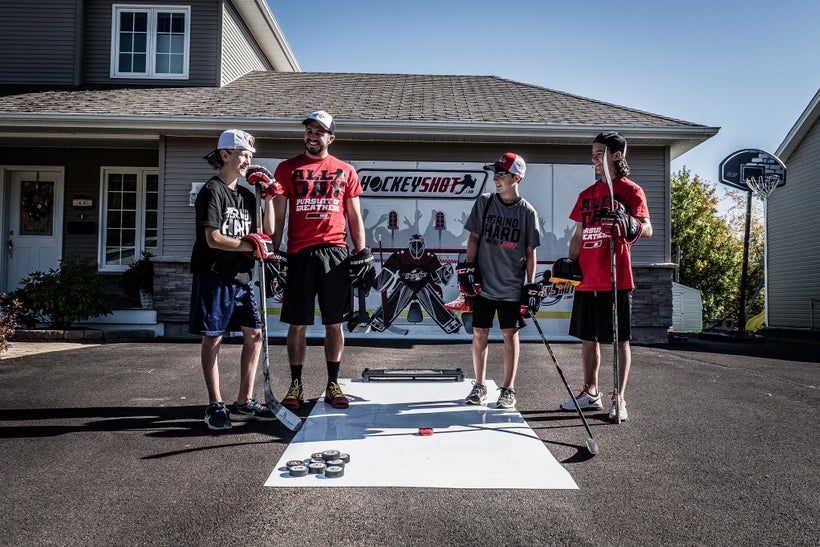 Anyone who is familiar with hockey is fully aware of just how much Canadian fans love the sport. Hockey is played worldwide and is considered a major sporting event in countries like Sweden, Russia, and America. However, it is by far the more popular in Canada — the country of its origin — than anywhere else on the globe. Hence, the Game continues to rule the airwaves and inspire a deep sense of pride in residents of the True North. One of the unique characteristics of hockey is that although it's a relatively difficult sport to master, it is highly popular. As a result, hockey training is much sought after by novices and professionals alike. When you combine the broader global market conditions with Canada's hockey environment which boasts literally thousands of different leagues, from children's associations to the NHL, one can see why the country's demand for quality training aids and valuable content is ever on the rise.
The HockeyShot Brand
Whether you go to a personal training facility each day or learn in the comfort of your home, if you're serious about hockey training, then chances are that you've heard of the HockeyShot.com brand. Their Dryland Flooring Tiles and Synthetic Ice surfaces are currently being used by the Pittsburgh Penguins, Nashville Predators, Ottawa Senators and EA Sports Laboratories. In fact, their Synthetic Ice was recently featured on HGTV's "Moving The McGillivrays". The company even has a 20'x20' booth at this year's National Home Show in Toronto, ON (March 10th – 19th) for anyone who is interested in skating on "fake ice" and renovating their basement, garage or backyard at home!
Offering innovative and accessible hockey training equipment, and a steady flow of free tips and resources found on their website, HockeyShot has risen rapidly in the sporting arena. They are now considered one of the top retailers for hockey training products not only in their native Canada, but worldwide. The hockey training equipment provider places a strong emphasis on stick-handling trainers, passing trainers, shooting trainers, and more. Indeed, this level of specialization has allowed the company to build deep ties with hockey enthusiasts around the world. Another area that sets HockeyShot apart from others in the industry is that the company not only attracts hockey coaches and team personnel, but their products resonate with individual players, as well. All of which has made HockeyShot a fast-rising contender in the competitive world of sports training equipment. With endorsements from professionals like John Tavares, Marie-Philip Poulin and Elvis Stojko; HockeyShot doesn't miss the net!
A Simple but Effective Strategy
Unlike many other sports training retailers who depend on flashy advertising and brand recognition strategies, this retailer has chosen to focus on two things that matter most - providing quality training equipment and free informative content.
It's a philosophy borne from understanding that a true hockey enthusiast knows when their training equipment can help them achieve their desired success on the ice. Hockey Shot's success has grown due to consistent word of mouth and the influx of positive reviews online from their valued customers. Kids and parents alike can hash-tag #HockeyShot on their favorite photos across most social media accounts, which notifies the company's marketing team. There's a good chance if the picture promotes the "hockey lifestyle" that one day you will see your post published on the HockeyShot Social Wall at the bottom of their homepage.
Pricing is a big part of their strategy to differentiate themselves from the competition. By offering cost-effective training equipment that is well within the range of most individual players, they've been able to make a name for themselves and establish dominance in a growth industry. The methodology has proven successful in part because many specialty retailers prefer to target higher price points. Unfortunately, this type of merchandising strategy prices most hockey enthusiasts out of the market. By offering great training equipment and keeping their prices reasonable, HockeyShot has successfully won the hearts of dedicated hockey players worldwide.
Last year, HockeyShot partnered with FlipGive to provide under-resourced youth with financial support for equipment and league registration fees by donating a total of $5,000 to six individual players and two teams. With over 1,000 entries from across North America in just a little over a month, the company is excited to build off the program's success in 2017.
The Worldwide Push
As the sport of hockey expands across the globe, it is increasingly vital for Canada-based training equipment manufacturers to branch out into other lucrative markets worldwide. Major hockey leagues have been established in most major countries and continue to gain in popularity each year. In the beginning, many Canadian companies decided to stay with their loyal Canadian customer base. This proved to be a mistake, as they were quickly overtaken by companies who embraced the expansion and openly promoted their brand beyond the Canadian borders and the NHL. Given its status as an international brand HockeyShot dedicates much of its strategy to reaching foreign markets, this has helped the hockey training outfit establish itself as one of the world's most recognized training equipment brands in the world. Just like in Canada, when hockey enthusiasts across the globe discover their well-made, cost effective training goods then the word of mouth spreads, the reviews start coming in, and HockeyShot becomes firmly established in yet another market.
Keeping It Simple
While some training companies are able to find success in branching out to include equipment for many different sports it's a risky approach to branding. The primary risk is in diluting one's brand. Another obstacle that some training aid providers face when expanding to new audience is that failure to grow market share in newer sports segments could threaten their position in the areas that they already dominate. Pushing into new markets, especially in the ultra-competitive and highly saturated world of sports retail, is never an easy prospect. So, brand focus is another item that makes HockeyShot unique. Indeed, much of their success stems from their decision to stick with what they know: hockey training equipment. Instead of attempting to bite off more than they might be able to chew by moving into other sporting areas, the company has kept their sights on hockey training aids and is dedicated to offering only the highest quality and most cost effective training gear to their dedicated customer base. Doing so has allowed them to use their resources to better their equipment, which further endears them to their discerning customers. By sticking with what they do best, HockeyShot has achieved the type of growth that other companies have not been able to realize— even some with larger advertising spend have had a difficult time keeping up. In addition to providing affordable training aids to buyers in one sports industry the company has done a good job of anticipating the needs of their customers by offering a wide range of equipment and accessories within the hockey segment. With all that being said… One product model that has made a jump into other sports training are the HS Slide Boards. Perhaps by chance, world famous football super-star, Sergio Ramos and current #3 world-ranked tennis player, Milos Raonic have been seen using the product to rehab and train on their social media pages.
A Promising Future
With their quality, cost effective training equipment aimed directly at a global base of hockey enthusiasts at all skill levels, HockeyShot has truly arrived as a major player in the world of hockey training equipment retail. As they continue to update their equipment and develop new models, their customer base will no-doubt continue to expand even further.
If you're looking for a success story to emulate, HockeyShot is certainly a brand to follow for the foreseeable future.
For all that the company has to offer, you can check them out online at HockeyShot.com
This post was published on the now-closed HuffPost Contributor platform. Contributors control their own work and posted freely to our site. If you need to flag this entry as abusive,
send us an email
.