Even when women make it to what seems like the top, they're still slightly behind.
The drama of morning television news provides the latest example. On Wednesday, Hoda Kotb revealed that she won't be earning as much money as her predecessor, the now-disgraced Matt Lauer, as co-anchor of NBC's "Today" show. Before he was fired for sexual misconduct, the longtime host reportedly earned $25 million a year. Kotb and her co-host, Savannah Guthrie, will each get $7 million, according to the New York Post.
"I'm not making Matt Lauer money. Not even close," Kotb told People magazine.
For her part, Kotb seems perfectly fine with this pay gap, despite the expected internet outrage. And in truth, it's hard to definitively attribute this to clear-cut gender bias. The TV news business is complicated, and there are any number of plausible reasons why Kotb might be earning less than Lauer, a man accused of showing his penis to a female colleague in an unwelcome attempt to woo her.
That's the thing about the gender pay gap ― there are always "reasons." But at the end of the day, when a woman is getting paid just 28 percent of what her male predecessor made, it's hard not to put some of the blame on sexism.
Indeed, if you look more broadly at the economy, the fact that Kotb will make less than Lauer isn't actually that unusual. The gender pay gap ― i.e., the difference between what men and women earn ― is actually most pronounced at the top of the income ladder.
Women in the 95th percentile of income earners in the U.S. make just 71 percent of what men in the same percentile earn, according to 2016 Census data analyzed by the Economic Policy Institute. That's a gap of 29 percent. Women in the bottom 20th percentile face a gap of 15 percent compared to men in the same cohort.
The reason is that at the top of the income ladder, there's wider variation in pay. And the very highest-paying jobs ― think Goldman Sachs banker or Silicon Valley big shot ― are still going to mostly men. Take lawyers: A partner in a prestigious law firm could conceivably earn $1 million a year. Those jobs are still overwhelmingly held by men ― and the reasons for that are inescapably gendered. Other types of lawyers, such as those who work inside companies, may make a quarter of that, and there are many more women doing this kind of work. Meanwhile, at the bottom of the income scale, there's just less room for variation. One janitor might make a few dollars more an hour than another, but you're unlikely to find a janitor whose pay is several times that of someone else doing the same job.
Now, there's an important exception here. Female CEOs at the biggest companies do outearn their male peers, according to some research. That's because mega-corporations are starting to put a premium on finding female talent. It's not clear that's the situation in television news, though.
The folks at EPI helpfully put together this chart, looking at hourly wages, to help illustrate the situation. Just look at the two bars on the right side.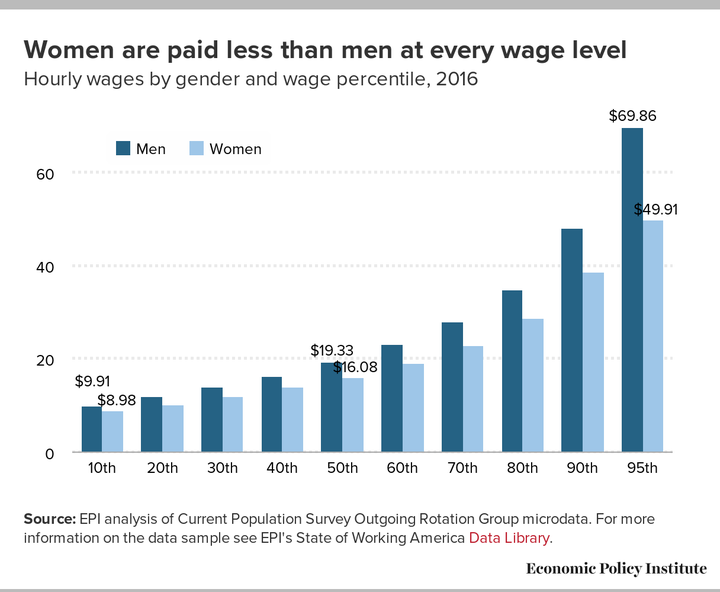 Of course, Hoda and Matt aren't a couple of corporate lawyers. They're entertainers in the news business, which comes with its own set of cultural norms and rules.
Paying a newcomer less than his or her predecessor is apparently not unusual in the TV business, where proven talent is rewarded. Stephen Colbert started out making less than David Letterman hosting the same show at CBS. Trevor Noah was offered less than Jon Stewart was making to host Comedy Central's "The Daily Show."
"Anchors and hosts need to prove staying power and show they are a ratings draw," writes Variety's Brian Steinberg. "Over time, that makes them more valuable and more difficult to let go."
That seems convincing ― until you start to think about Kotb's star power. Kotb, 53, is hardly a unknown entity. Viewers really like her: She's been charming them since 2007 as co-anchor of the fourth-hour "Today" show segment she co-hosts with Kathie Lee Gifford. Their cocktail-fueled chatter is legendary.
Her far lower salary could be a sign of the decline of blockbuster TV anchor payouts, as Vanity Fair and Variety both suggested on Wednesday. But then what do we make of NBC paying Megyn Kelly a reported $17 million to do her show?
You could also look at Kotb's situation as just another example of a woman getting pushed out onto the "glass cliff," a phrase coined about a decade ago by a social psychologist to describe the practice of promoting a woman or a person of color into a prestigious position at a time of turmoil or decline.
Vanity Fair also argues that Lauer's salary was the result of decades of negotiations for higher and higher pay, and that newcomers rarely make as much as their predecessors for this reason.
That's a good excuse for the pay gap here. Companies will pay big money to attract outside talent like Kelly, but it's cheaper to promote someone in-house like Kotb.
We also don't know how hard Kotb pushed for a big payday.
Negotiations are always an X-factor at the top of the pay scale. And for women, they're a gendered minefield. While men are expected to be aggressive and ambitious and ask for lots of money, women are basically taught from birth to be nice. This means they can have a tougher time asking for more ― and when they do ask, they often have lower odds than white men of succeeding.
In this case, we just don't know if Kotb, or her agent, pushed for a Lauer-sized check. It's possible she is biding her time and plans to ask for a major raise after logging some more hours in the morning-show hot seat.
All Kotb would say about it was that she's fine with earning far less than Lauer.
"I think the whole money thing for me, I've always been sort of — I know it sounds ridiculous that I'm going to say this, but I really have done jobs I liked for the job I liked because I never wanted to be happy every other Friday on pay day," Kotb told People. "Like, I didn't want that to be the happy day. I wanted to feel good throughout."
Certainly, $7 million a year is enough to feel good. We're hardly talking about the desperate struggles of a woman on poverty's edge.
Still, NBC seems to be the real winner here. It's paying far less money for someone bringing in higher ratings ― and doesn't need to worry about shelling out millions to settle embarrassing sexual misconduct claims.