If there's one thing Hoda Kotb enjoys more than a glass of wine, it's a good scrunchie. This bulky '80s hair accessory is a fashion staple for the "Today" host, but she admits that it might be time to update her look. So, Kotb turns to the Creative Director of O, The Oprah Magazine, Adam Glassman, to help break her of her hair-raising habit.
Like Glassman, Kotb tends to call it like she sees it -- even when it comes to her own fashion sense. When the two meet up inside the O Magazine fashion closet amid designer shoes, sophisticated clothes and flowing gowns, Kotb confesses that she feels out of place in such a style-centered world.
"I feel like a little bit of a fraud sitting here," she says. "I totally do not 'get' this world! And when I find something I like, that's my lane."
Glassman fully supports stocking up on flattering styles when you find ones you like, but there is such a thing as going too far. Kotb can agree.
"I have an '80s issue," she tells him. "I rock the scrunchie."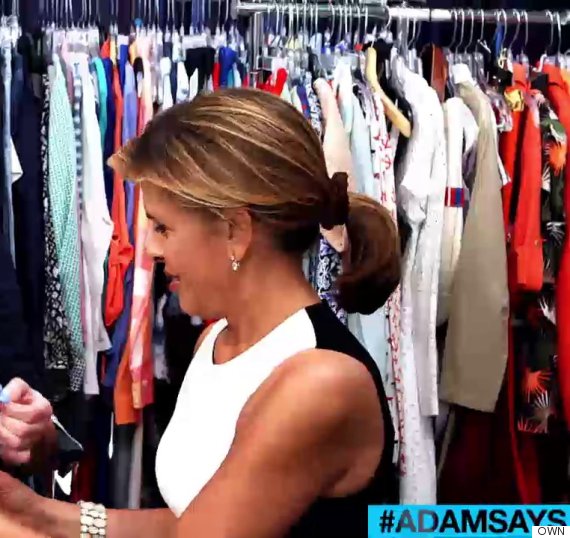 "The scrunchie?" Glassman asks, shocked. "Really?"
"Yes!... Look, it does the trick," she says, tying her hair back with her beloved accessory.
Glassman needs clarification. "You wear it in the gym or you wear it out in public?" he asks.
Kotb gives a sheepish giggle, which is the only answer Glassman needs. It's time to cure her scrunchie dependence. "I have a better alternative," he tells Kotb. "These Emi Jay hair ties... [They are] my favorite hair ties because they don't bend your hair. They don't give you any dents."
Glassman hands a hair tie to a suspicious Kotb. She admits that they're cute, but the big question is whether or not they'll hold her thick hair in place. "Let's see," she says, tying her hair in place. "Oh, you know what? They do hold. I can feel it."
With Kotb ready to say goodbye to scrunchies, Glassman brings out two glasses of champagne -- and can't help but ask a probing question about Kotb's time on the fourth hour of "Today," with her co-host Kathie Lee Gifford.
"Do you really drink every morning?" he asks. "Is that real?"
"Yes, we do, Adam," Kotb says. "And do not judge us."
"I'm not judging!" Glassman insists.
"Here's the thing: We just have a couple of glasses, we sip it during the show and it makes it festive," she explains. "How about for your show? I think you should do it."
Also in the video, Glassman tests how off-kilter Kotb's fashion sense really is with a quick game -- he holds up a photo of a fashion trend and Kotb explains whether she thinks the trend is in or out. Watch the above video to see how she fares.
Watch more #Adam Says episodes at Oprah.com/adamsays, and tweet your fashion questions to Glassman using the hashtag #AdamSays.
Calling all HuffPost superfans!
Sign up for membership to become a founding member and help shape HuffPost's next chapter
BEFORE YOU GO
PHOTO GALLERY
Kathie Lee And Hoda Style Evolution