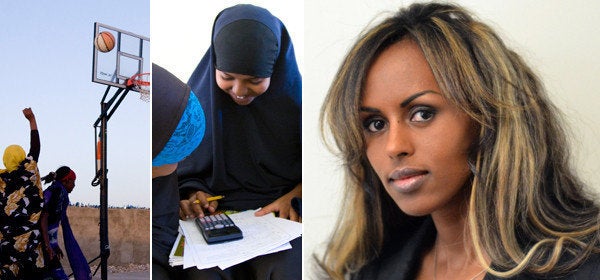 "You don't have to look far to see the difference education makes in peoples lives," said Hodan Guled.
Hodan fled Somalia with her parents as the civil war broke out in 1991, and moved to the U.S. in 1993 to finish high school. She soon realized she had opportunities other refugees didn't, because of her education. "We always had tutors, even in Somalia," said Hodan. "My parents always made sure our English was good enough," as soon as she moved, she was put into advanced placement classes. "This great country has provided me the opportunity to live in peace and reach my full potential," said Hodan, 34.
It's an opportunity she wants to extend to others.
So Hodan started the Somali and American Fund for Education, to make sure children in Somalia have access to education, despite continued instability in the country on the horn of Africa. "A child born on the eve of Somalian civil war is 21 this year, and has known nothing but violence their whole life," said Hodan. "Education is key to breaking the vicious cycle of war and poverty in Somalia."
By the end of this year S.A.F.E. will have helped a total of 3000 children and teenagers get to school, using a unique funding method that connects Somali Americans with communities back home.
When Hodan moved to Minneapolis, Minn., to work for the Minnesota Department of Health after college, she found the largest Somali community in the U.S., even bumping into friends from her middle school. She was shocked to find out how other refugees had suffered. "I couldn't believe what they went through," said Hodan. And without the educational opportunities she had had, some of them continued to struggle. But, said Hodan, whatever their circumstances, everybody sent money back to Somalia. "Everybody I know sends at least $50 a month to someone at home," she said.
Somalia's government has been crippled since the civil war erupted. With no government funding for schools, communities stepped in and pooled their money to run their own schools, bolstered by funds from Somalis living abroad. "The diaspora has a huge role," said Hodan, explaining that Somalis living outside the country send around $2 billion back home every year, a massive chunk of the country's $5.9 billion annual gross domestic product.
As a result, even in some of the poorest villages in Somalia, locals were able to build and staff their own schools, Hodan found, but they were usually very small. "We decided we're going to identify communities where they already believe in education, and have already taken it into their own hands, and help them build up their infrastructure so they can attract more children."
The schools in Somalia raise a third of the funding for the expansion efforts, and S.A.F.E. provides the rest through a combination of fundraisers in the Somali-American community and grants from major donors like the Coca-Cola Foundation. S.A.F.E is run by volunteers, Hodan said, so the people who donate their hard earned money know all of it is going to the schools in Somalia.
The first school S.A.F.E. funded, a boarding school in the north of the country called Abaarso Tech, didn't have any female students because they didn't have a dorm for the girls to stay in, Hodan explained. So last year, S.A.F.E. raised $10,000 to build one. This year, the Somali American Fund for Education is helping five schools expand, and by 2015, she aims to have helped fund 50 schools.
This year, Hodan also plans to finally go back to Somalia for the first time since her family fled the civil war, to visit the schools the Somali and American Fund For Education will help to expand. "It feels amazing," she said. "A lot of that has to do with the fact that we've had a lot of support," Hodan added. It was gratifying to see that everyone, she said, from the Somali community in Minnesota, to people in northern Somalia trying to live their lives despite a crippling civil war, understood the importance of education.
Support HuffPost
The Stakes Have Never Been Higher
Related
Popular in the Community