Anyone who has been to Tanaka of Tokyo knows what it feels like to be treated like a V.I.P. and leave very happy. There is probably no other restaurant in Honolulu more dedicated to the proposition that the people who come to dine there on Japanese steak and seafood are not just customers, they are "honored guests." Awards for best Japanese restaurant in Hawaii, best family restaurant, best kid's menu in America, and more, attest to the vision of its founder, Rick Tanaka. But it was much more than the financial success of his restaurants that earned the celebrated restaurateur, Rick Tanaka the Hogan Lifetime Achievement Award at the induction of the 14th class of Hogan entrepreneurs at Chaminade University recently.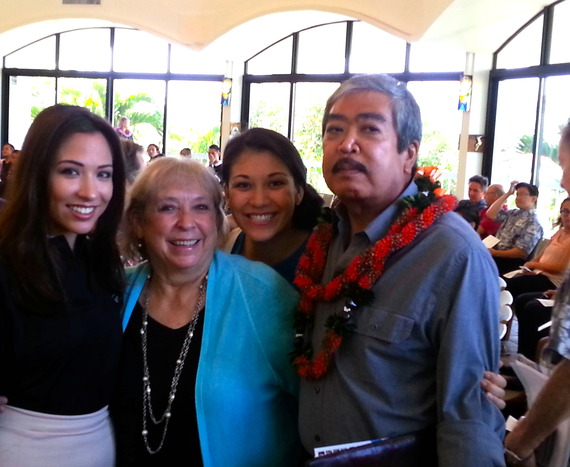 The Tanaka family. Rick and Cathy Tanaka with their daughters, Bo (Roberta) on the far left, and Katy.
Both Chaminade President, Bro. Bernie Ploeger, S.M. and Program Director, Dr. John Webster, attested to the scrupulous care, discipline and values that made Rick Tanaka such a deserving candidate for the Lifetime Achievement Award. Both spoke of receiving follow-up calls from him the morning after they had taken guests to dinner at Tanaka of Tokyo. He seemed to have been fully briefed by his staff on every aspect of their visits and wanted to be sure their expectations had been met and that there were no issues to be addressed. Webster also spoke of the kind of detailed training interns at the restaurant received. "Imagine a student getting a fat, three-ring binder filled with detailed instructions for every day of her internship, with exposure to all aspects of the business. That's what the current Hogan Entrepreneur who is going through a year-long internship is getting. And that current intern, by the way, is his daughter, Bo Tanaka, an MBA student at Chaminade, and a member of the Hogan Program!" said Webster.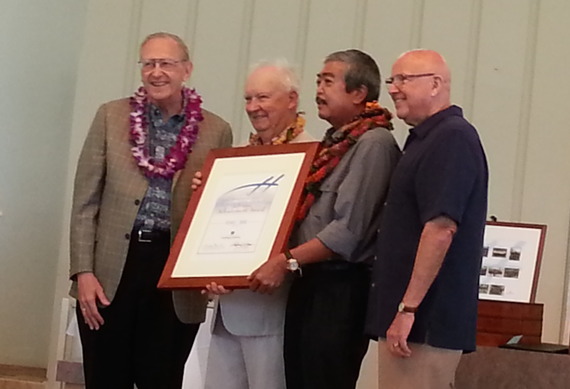 Rick Tanaka displays his award with the help of Program benefactor, Ed Hogan. Chaminade President, Bro. Bernie Ploeger S.M. (left) and Program Director, Dr. John Webster look on.
Be compassionate, take pleasure in small goals
In accepting the award, Tanaka, who serves on the Hogan Advisory Board and on the Board of Governors of the university, cut right to the heart of the matter with these familiar lines from Scripture: "What doth it profit a man if he gain the whole world and suffer the loss of his own soul?" If everyone had a compassionate heart, said Tanaka, he truly believed there would be peace in the world. "That's why getting the Hogan Lifetime Achievement Award means so much to me."
His admiration for the program's benefactor, Ed Hogan, came from experiencing first-hand his simplicity, his disdain for showy expenditures on himself, and his focus on achieving small goals every day.

"I met him the first time to play golf. I expected him to drive up in a fancy car. He didn't. And he brought with him an old, beat-up golf ball. Plus, he was a happy man at the end of our day of golfing because he said his goal for that day was just not to lose that ball!"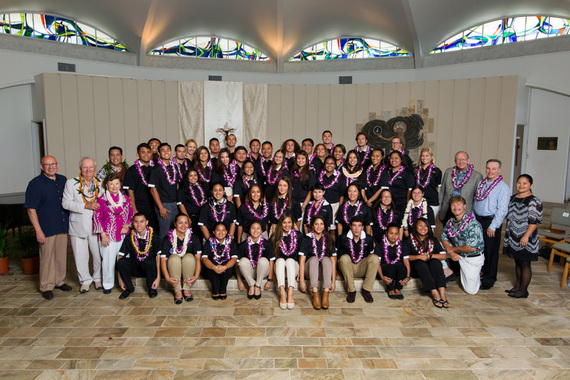 Hogan Entrepreneurs: Learning to do business things that make social sense, and social things that make business sense.
Never stop learning, rejoice
Turning to the graduating class and to the new incoming Hogan entrepreneurs, Tanaka pointed to the importance of setting small achievable goals and taking pleasure in attaining them. "When I was your age," he said, "that was the last time I felt I knew everything. The older I grew, the more I learned, the more I realized how much I don't know." He reminded them that success is transitory, that there will always be rough patches but that the key to success is hard work and perseverance.
Tanaka ended his remarks as he began, with the reminder, borrowed, again somewhat nervously he noted, from Scripture that "a man should rejoice in his own works."
If the applause that filled the Mystical Rose Oratory was any indication, there was indeed much rejoicing. Those who attended the 2015 Hogan Graduation/Induction ceremony, joined in celebrating not just Rick Tanaka's success, but the success of Hogan Entrepreneurs from 12 earlier classes. Each class was represented by a speaker who spoke movingly of the profound impact the program has had on their lives.
REAL LIFE. REAL NEWS. REAL VOICES.
Help us tell more of the stories that matter from voices that too often remain unheard.