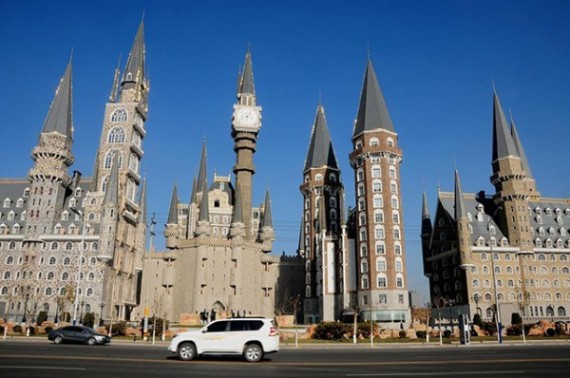 Hebei Academy of Fine Arts Photo via: Shanghaiist
A new art school in China has been drawing attention for its bizarre architecture, which is an almost exact knock-off of the Hogwarts castle from the Harry Potter film franchise.
The Hebei Academy of Fine Arts in northeast China has been expanding its campus with a variety of architectural styles. The castle has just been completed and features a 100-meter bell tower and tall cartoonish turrets that wouldn't look out of place in a theme park.
It cost 400 million yuan to build ($64 million), but the school's principal feels it was all worth it.
"The first thought was to provide our students with a fine environment in which they will live and study," said principal Zhen Zhongyi, who is also a well known calligrapher and painter. "We also want a different way to conduct traditional education."
"I'm not trying to copy the exact appearance of Western castles. The idea is to bring in the essence and core value of Western architectural styles," he continued. The look and feel of the castle makes reference to European gothic architecture, but the resemblance to Hogwarts is undeniable.
According to CCTV, China's state television news broadcaster, Zhen and his faculty designed most of the campus buildings themselves. The administration hopes to create a collection of architectural styles from around the world. Still to come are a pagoda and Taoist temple, currently under construction. In the next 10 years, there will also be a cathedral, a mosque and a modern art gallery with four helipads.
--------------------------------------------------------------------------------------------------- artnet News is the world's first global, 24-hour art newswire, dedicated to informing, engaging, and connecting the most avid members of the art community with daily news and expert commentary.
REAL LIFE. REAL NEWS. REAL VOICES.
Help us tell more of the stories that matter from voices that too often remain unheard.
BEFORE YOU GO
PHOTO GALLERY
Architecture Of The Future