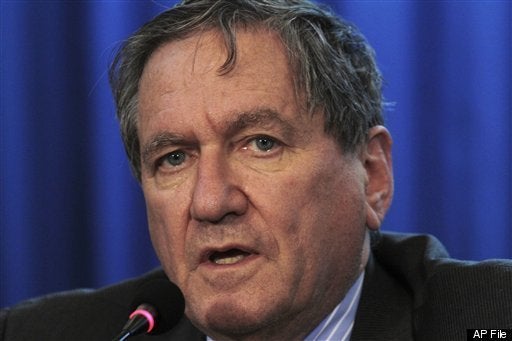 WASHINGTON -- The Obama administration said Tuesday that the reported last words of veteran diplomat Richard Holbrooke, its point person on Afghanistan and Pakistan who passed away this week, were meant as humor.
Administration officials sought to clarify that, according to people who were present, Holbrooke's final words, "You've got to stop this war in Afghanistan," were part of a jovial back-and-forth with the medical staff.
"At one point, the medical team said, You've got to relax," State Department spokesman P.J. Crowley told reporters on Tuesday, relaying what he said he had heard from people who were in the room with Holbrooke at George Washington University Hospital. "And Richard said, I can't relax, I'm worried about Afghanistan and Pakistan. After some additional exchanges, the medical team finally said, Tell you what, we'll try to fix this challenge while you're undergoing surgery. And [Holbrooke] said, Yeah, see if you can take care of that, including ending the war."
Added Crowley: "But certainly, it says two things about Richard Holbrooke in my mind. Number one, he always wanted to make sure he got the last word. And secondly, it just showed how he was singularly focused on pursuing and advancing the process and the policies in Afghanistan and Pakistan to bring them to a successful conclusion."
During Tuesday's White House press briefing, spokesman Robert Gibbs provided a similar response following a reporter's question. Gibbs likewise said Holbrooke's comments demonstrated his commitment to his work.
In the meantime, Holbrooke's remarks have ricocheted around the Internet and in the media, striking a chord with many who have reservations about the war and President Barack Obama's stated plan to begin withdrawing troops in July 2011 to prepare for a full handover to Afghan security forces in 2014.
On Thursday, Obama will present his administration's strategic review on the war, focusing on al Qaeda's senior leadership as well as Afghanistan and Pakistan. He met with his advisors for nearly two hours Tuesday, recommending several changes to the report that will be made public, Gibbs said during Tuesday's press briefing.
Gibbs said the report outlines both the progress and challenges that remain on the three fronts but won't recommend any change in withdrawal.
"I think we are on course for the July 2011 date, based on the conditions that you have always heard the president say," said Gibbs.
The press secretary said he is not aware of any White House discussions to date regarding a replacement for Holbrooke.
UPDATE, 8:17 p.m.: The Washington Post, which reported the original story on Holbrooke's last words, now says that Holbrooke also did not make the remarks to his Pakistani surgeon; they were made to an Egyptian-American internist who is Secretary of State Hillary Clinton's physician.
UPDATE, 8:35 p.m.: More from Crowley in today's State Department press briefing: "And I've consulted with more than one person in the room. Their recollections are similar, but their phraseology was not identical. So I would caution about saying this is precisely what he said. The context simply was, as you -- those of you -- many of you in the room knew Richard very well -- a relentless figure, and he was already saying I've got a lot of work to do, and the medical team was trying to get him to prepare for the surgery. And so it was a humorous repartee with the medical team, as it was described to me, but they promised to try to fix this challenge while he was in surgery."
Popular in the Community