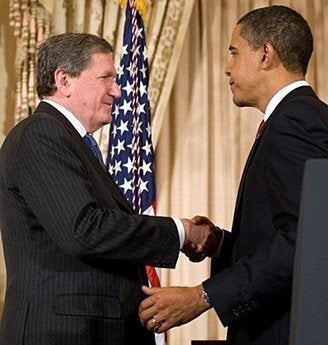 Richard Holbrooke, the Obama administration's special representative for Afghanistan and Pakistan, knows first hand that peacemaking can be dangerous and difficult. He dedicated To End A War, his book on the negotiations that ended the war in the Balkans 15 years ago, to three colleagues who died in the early stages of that effort.
In announcing the appointment last week, President Obama said: "There is no answer in Afghanistan that does not confront the Al Qaida and Taliban bases along the border, and there will be no lasting peace unless we expand spheres of opportunity for the people of Afghanistan and Pakistan."
In his new job, Amb. Holbrooke will be working with U.S. and allied forces to subdue what he calls "a ruthless and determined enemy without any scruples at all" and to bring peace and prosperity to Afghanistan and Pakistan.
The problem is that the two main parts of the U.S. program in Afghanistan and Pakistan often conflict.
"Afghanistan & Pakistan: Raise Voices for Civilian Protection," a new report from Refugees International says that in Afghanistan "the conflict between NATO/ISAF forces and armed opposition groups has severe consequences on the humanitarian situation. The violence destroys crops and homes, generates displacement, and hampers the ability of humanitarian actors to intervene." As a result, RI's report says, "The government of Afghanistan is losing the trust of its people, and the international presence is increasingly seen as an occupation."
A front page article in The New York Times asserts that raids by U.S. and NATO forces killed as many as 4,000 Afghan civilians last year. "The raids are undoing much of the good work done by other American and international troops and reconstruction teams," Afghan provincial governors told The Times.
Across the border, "The Pakistani army's crackdown on militants has been heavy-handed and has disproportionately harmed civilians," the RI report says. The attacks, made in common cause with U.S. efforts to root out terrorists, are beginning to force Pakistanis to seek refuge in Afghanistan.
One of Ambassador Holbrooke's jobs is to reduce the conflicts in U.S. policy. "He will lead our effort to force and implement a strategic and sustainable approach to this critical region," President Obama explained.
There are many parts to a solution of problems in Afghanistan and Pakistan, but dealing more effectively with displacement is clearly one of the most important. More than five million refugees have returned to Afghanistan since U.S. forces disposed the Taliban government in 2001. Few have gotten the support and resources they need to rebuild sustainable lives in Afghanistan. Now, as the RI report notes, "the narrative of Afghan refugees returning home hides a more complex two-way migration driven by safety and economic considerations" as Pakistanis begin to cross the border.
Amb. Holbrooke has vast experience on refugee issues. As an Assistant Secretary of State during the Carter administration, he played an important role in protecting refugees from South East Asia. Hundreds of thousands ultimately resettled in the United States. As a private citizen, he visited refugee camps in the Balkans as part of his campaign to push the Clinton administration to do more to end the war there. As U.S. ambassador to the United Nations, in the final years of the Clinton administration, he played a key role in pushing the UN to do more to help internally displaced populations. He is a longstanding member of the Refugees International board and once served as its chair.
During a long, brilliant career, Richard Holbrooke has seen the human suffering, displacement and loss caused by war, as well as clear benefits of peace. He has repeatedly demonstrated his agility, toughness and determination, all of which he will need in his new job. I wish him well.
Calling all HuffPost superfans!
Sign up for membership to become a founding member and help shape HuffPost's next chapter