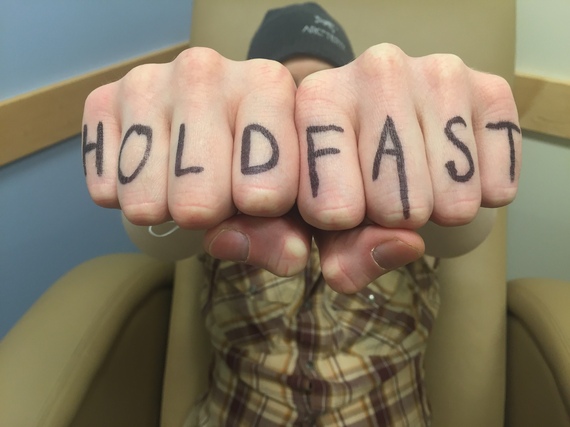 Earlier this year I had the chance to meet Philadelphia climbing strong man and cancer fighter Alex Wildman. His enthusiasm and optimism about the world, and what the world can be are contagious and I wanted more of the world to hear his story. Last week we chatted about his journey and I thought I should wait, given the recent, horrific events in our country and Orlando, FL specifically. But you know what? Its important, even in difficult times, to remember the good that is occurring in the world, where things are working for joy and empathy. Alex is doing just that, so take a look at some good news, learn a little bit about a remarkable young man, a nurse, a climber, a father, in Philadelpha, PA.

You recently were preparing for a big climb in Patagonia but didn't make it down to South America. What happened?
In February I was supposed to spend three weeks in Patagonia with my good friend Tyler. We had a few different objectives but mostly it was going to be a trip just to get that first taste of something huge. Two weeks before I was due to fly down, I checked into the hospital because of some persistent stomach discomfort. I was hoping to find out I had some weird stomach bug, but ended up having stage 3 cancer. I was lucky to have looked into that stomach discomfort when I did, it would have been difficult to deal with in Patagonia.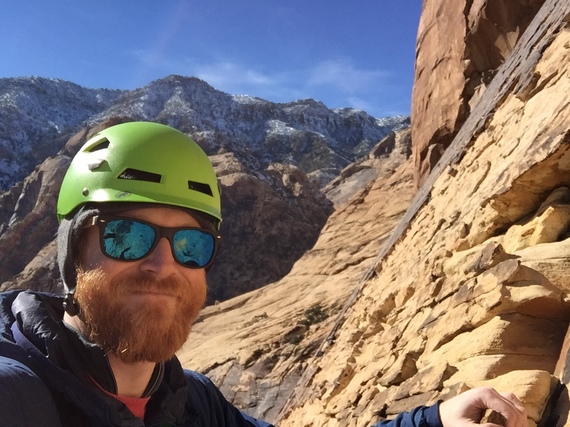 When you learned about your diagnosis how did you feel? What was your approach to dealing with the cancer?
I was diagnosis with Stage 3 Diffuse Large B Cell Lymphoma and it was found in my stomach, spleen, and chest. I was pretty shocked and scared to find that out, I mean I was just having some stomach discomfort and didn't really plan on having my life turned upside down. My thoughts of going to Patagonia disappeared immediately and while that was a bummer, my head was spinning too hard to be bummed. I decided from the start I would deal with Cancer like I would any other objective, just keep moving forward and keep positive. It was important for me to tackle each test, procedure and chemo treatment like a mini goal, as long as I was making progress I was happy.
What did you learn during the process?
I just had my last round of chemo (June 1st) and my head is still spinning from this whole experience. I feel like some deeper wisdom will come to me from all of this but for now I have learned that some things are just outside of your control. You can do everything in your power to be healthy and lead a positive life, but trouble might still find you. For me I've found it really important to remain positive and keep looking forward. My family, friends, and community have really helped to keep me motivated and just take that next step up the mountain.
What from climbing helped you during your treatment?
The mindset of climbing has been my biggest asset. Going on trips that you label as 'sufferfest' really gets you ready to climb the mountain that is cancer. Dealing with cancer is playing the long game, even now that I'm doing better, I have to keep my head in check and just keep that bigger goal of remission in mind. Being a climber let me know that I would be able to deal with whatever was going to come down the road, it's a gift I can't underestimate.
What got you into climbing in the first place?
I've always wanted to know what the view was like from places up high. Climbing was always calling out to me, but it was my friend Jess who got me roped up for the first time and I was hooked from day one! That was about 12 years ago.
How did the climbing community engage with you during your treatment?
The climbing community has been nothing but amazing to me. I have been getting love and support from climbers from all over the world and even from a personal hero of mine, Conrad Anker! I had reached out to Conrad in regards to my trip to Patagonia and wanted to thank him for inspiring me to go for big goals. When I was diagnosed, Conrad reached out to me with support and has become an amazing friend. He even came to visit me in the hospital during a 96-hour chemo treatment! Raddest day ever! I can't think of any other community that supports its members like the climbing community. I feel so lucky to be a part of this tribe.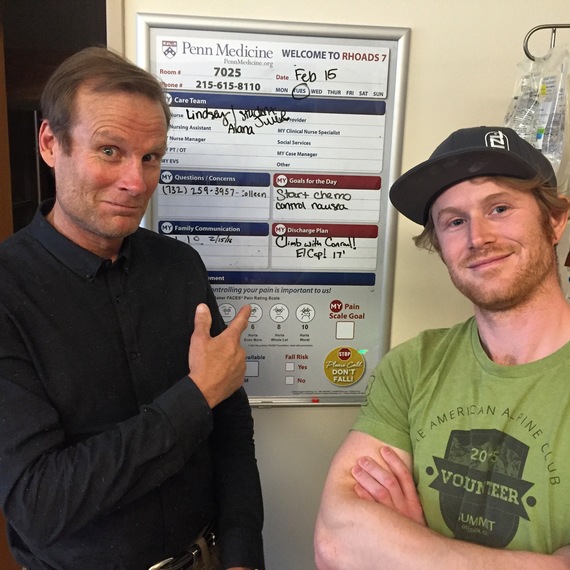 What are your big goals in climbing?
Patagonia is just a matter of time! I can't wait to get to El Chalten and get humbled by that beautiful range! That is exactly the type of suffering I see in my future! All of my climbing daydreams are in the alpine world. I love how you have to know about every type of climbing to be successful in alpine. I would love to see myself spending time in Patagonia or Alaska. The climbing doesn't have to be hard, I just want to be totally committed to the objective and have it take everything I have to offer.

What did you learn from the treatment process that you might incorporate into your life or climbing now?
It was hard to wait for each chemo treatment (total of 6). I just wanted to get it all over with and start making moves on getting better, but I had to wait and could only push my body so hard. Each treatment got me sicker and further from where I was two weeks before Patagonia. Conrad had told me, "Hold fast, all storms pass." And that really stuck with me. Sometimes you just have to wait for those clear skies, but don't lose hope while you're waiting, the skies will clear. I'll keep in mind just how lucky I am to climb and it's a gift to get high up on a mountain. I'll never take that for granted.
Popular in the Community