It may be hard to believe, but plans are underway to power a conservative Texas community with 100% wind- and solar-powered electricity.
Thanks to Ari Phillips's June 11th story in Climate Progress, I had a sense that the Mayor of Georgetown, Texas was different than most. It's big news that Georgetown, located just north of Austin, will be powered by Panhandle winds and West Texas sunshine. It's also worth noting that the clean electricity produced there will travel on a $7 billion, 3,500 mile-long intrastate transmission system. But what really captured my imagination when reading Phillips's story was that Georgetown's move to embrace a clean energy future came right down to the straight-talking, no-nonsense leadership of Mayor Dale Ross himself (also a skilled C.P.A.) and his adroit number-cruncher, Chris Foster, who serves as the City's Resource Planning and Integration Manager. When I cold-called Mayor Ross's office to request an interview, the Mayor and I were talking just minutes later.
"Chris ran the numbers for natural gas, wind and solar and realized that wind and solar were slightly cheaper. But it was the 25-year fixed price offered by the wind and solar power producers that tipped the scales. The natural gas company only offered us a 6-year agreement. With Georgetown's rapid growth and with top-flight, big-data centers looking to locate here, the price guarantees for wind and solar enable us to take a long view in our planning and not be distracted by the fluctuations of energy prices," the Mayor explained by phone.
Mayor Ross likens the competitive cost of renewable energy to the tech innovation model of the 90s, when the efficiency of personal computers doubled every 18 months, while their associated cost dropped by half.
Wind power, recently described by USA Today as "a decidedly mainstream source of energy," provided 10.6% of the electricity Texas required in 2014 and could provide nearly twice as much in a few years, according to Yale Environment 360's contributor Roger Real Drouin. The Solutions Project's 100% Renewable Energy Vision for the U.S. ("50 Plans for 50 States"), created by Stanford University's Mark Z. Jacobson, calculates that a further 14% of the electricity Texas will need in the future can be produced using offshore windmills.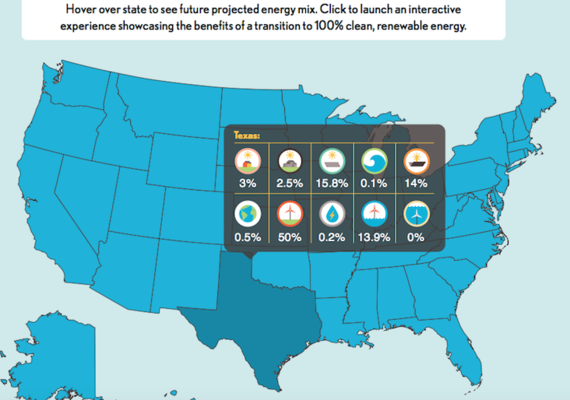 100% Renewable Energy Mix for Texas, Courtesy The Solutions Project (TSP)
"The cost of clean, renewable energy has dropped so low over the last few years that it is being scaled up quickly to meet the growing demand for electricity across many states. The wind- and solar-power capacity for Texas is sizable and it's great to see it being put to good use in Georgetown," Jacobson commented by phone.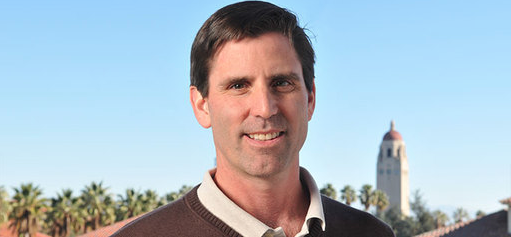 Stanford University's Atmosphere and Energy Program Director & TSP Co-Founder Mark Z. Jacobson
According to the Mayor, residential rooftop solar systems will also contribute to Georgetown's clean energy matrix, as a net-metering agreement compensates ratepayers whose solar installations feed excess electricity to the local grid. To the Mayor's point concerning technology, U.S. residential solar adoption in Q1 2015 was up 74% over last year, no doubt related to a 25% decline in its price over just three years. The City's support of net-metering will help spur continued expansion of the U.S. residential solar power market.
With the economic trajectories for wind and solar power proving to be practically and politically persuasive, it's no wonder that Mayor Ross is fielding calls from the media, as well as a growing base of clean-energy-curious developers and renewable energy converts. A prominent Dallas philanthropist, known to support sustainable energy initiatives, called the Mayor last week to invite him to lunch, indicating that it was Ari Phillips's report that piqued his interest in learning more of the story behind the City's transformative shift to clean energy.
"It takes someone willing to lead people to a place they didn't even know they could go," Mayor Ross replied in response to whether his forward-leaning clean energy vision could be exported to other Texas cities. "When you have a large consortium of preservationists, philanthropists, private and pubic sector collaboration and the engagement of so many caring citizens on issues that really count--like successful, sustainable communities--yes, it is transferrable."


Philanthropist Jack Garey is donating his 525-acre estate (shown above) to Georgetown to create a scenic public park along the San Gabriel River
So how exactly did the self-described "accountant-by-day, Mayor-by-night-afternoons-and-weekends" shepherd a 100% renewable energy deal to final approval in a supremely conservative state powered for generations by oil and gas?
Here's a simple distillation, as evidenced in the Mayor's own words:
Compromise: "It's important not to nationalize local issues," the Mayor emphasized, adding, "I don't agree that there are only A and B choices. I like to ask, What's the C choice? In Georgetown, we picked the C choice and we're building a clean energy future that is more affordable and more beneficial to public health than the status quo. It's the best of all worlds."
Gumption: "When I speak to audiences about the economics of wind and solar power, people nod their head and agree that it's a smart way to plan for long-term success. Then the added benefits of clean energy really begin to click and it becomes clear that the 21st century community we all want to live and work in is one powered by clean energy."
Vision: "The fact that wind and solar power require so much less water than fossil fuel production makes it a smart long-term choice. But for Georgetown, clean energy was a "no brainer" because of its competitive pricing, minimal environmental impact and limitless supply. By investing in wind and solar, we're investing in ourselves. A sustainable city means cleaner air, less smog, reduced atmospheric chaos, healthier children, and the chance to leave our world at least as good as we found it, and maybe even better, if we are able."
Support HuffPost
The Stakes Have Never Been Higher
Related
Popular in the Community