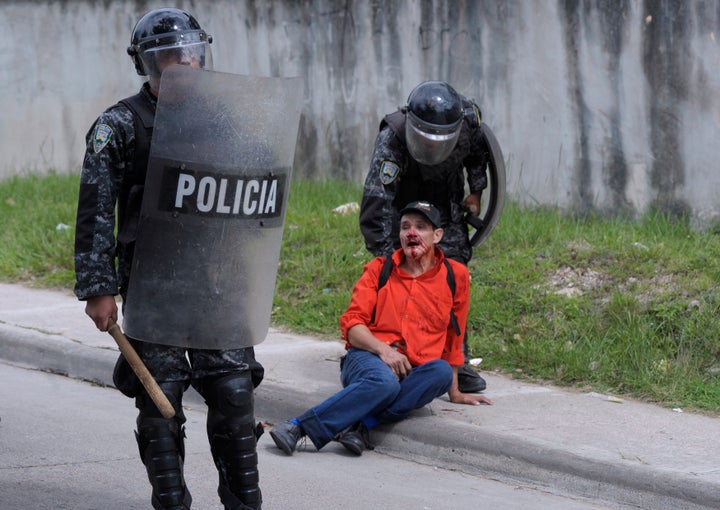 A group of Honduran famers and their families have sued the World Bank, alleging it supported a violent palm-oil company that assassinated peasants opposing the business.
The bank's lending arm, the International Finance Corporation, was "knowingly profiting from the financing of murder" by loaning money to the Dinant Corporation that ruthlessly sought control of agricultural land in northern Honduras, according to the lawsuit filed Tuesday in a Washington, D.C., federal court.
There, changes to a land ownership law laid the foundation for the conflict between poorer farmers and industrialists buying up property tracts.
Locals who have spoken out against Dinant have been silenced. In October, two members of a peasants rights organization were fatally shot by a "paramilitary death squad," the lawsuit claims.
In another alleged atrocity, the suit claims, Dinant guards opened fire on women and children who'd taken shelter at a government site to escape floods. The shooting injured two people, according to the complaint.
A preacher who had criticized Dinant from the pulpit disappeared in 2012 and was found dead four days later, having suffered fatal head injuries. An investigator that the ICIJ interviewed in 2015 said there were 133 killings linked to disputes over land use in the area.
Others have been evicted or even kidnapped from their homes by Dinant's forces, according to allegations reported in The Guardian in 2014.
Seven of the plaintiffs against the World Bank are relatives of people allegedly killed by Dinant security forces.
The IFC and Dinant, which was owned by one of Honduras' most wealthy and powerful men, have financial ties. Dinant received $15 million directly from the ICF in 2009 and one of its largest financial backers in Honduras received $70 million from the ICF in 2011, according to the ICIJ.
The suit contends that the IFC knew or should have known about Dinant's repressive tactics.
The World Bank's own internal investigation found that the IFC committed several ethical failures vis-a-vis its dealings with Dinant. The World Bank has said it helped reduce violence in Bajo Aguan by lobbying Dinant to disarm its guards on company plantations and creating a mediation process for peasants and the company to settle disagreements.
IFC officials declined to comment to the ICIJ about the lawsuit.
Dinant has denied wrongdoing and claimed that its vast land holdings were acquired legally.
"I am sorry that so little respect is felt for Dinant's more than 8,000 employees, their families, its shareholders and the communities that work with us, as to imply such blatant falsehoods," said spokesman Roger Pineda in an email to the ICIJ.
The company's workers at times have been victims of violence as well. A Human Rights Watch report describes a 2011 incident in which four Dinant guards and one farmworker were slain by peasants trying to take over the plantation.
Popular in the Community