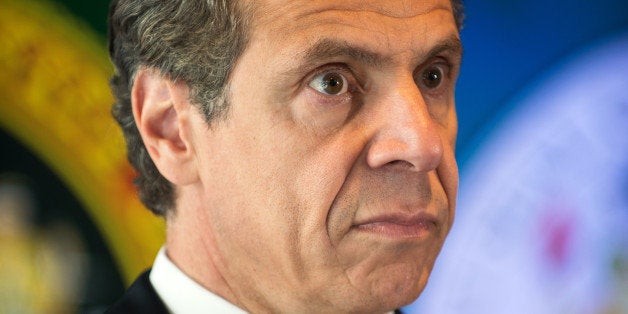 Attorney General Eric Holder, who will reportedly announce his resignation on Thursday, has lent his endorsement to a class-action lawsuit that accuses the state of New York and its Democratic governor, Andrew Cuomo, of failing to provide adequate legal counsel to the state's poor.
"To truly guarantee adequate representation for low-income defendants, we must ensure that public defenders' caseloads allow them to do an effective job," Holder said in a statement. "The Department of Justice is committed to addressing the inequalities that unfold every day in America's courtrooms."
Holder's office filed its statement in support of the lawsuit in Albany on Thursday, only hours before NPR first reported that Holder would be resigning his post. The lawsuit was originally filed by the New York Civil Liberties Union in 2007, and will, after a series of appeals, finally make its way to trial at the Albany County Supreme Court on Oct. 7.
"The eyes of the nation are now on New York," NYCLU Executive Director Donna Lieberman said in a statement provided to The Huffington Post. "The Justice Department's backing underscores how important this lawsuit is in making equal access to justice a reality for all New Yorkers and all Americans. Gov. Cuomo and state leaders must finally end New York's shame and overhaul our public defense system. New York should be a model for the world, not a symbol of failure."
In a report released last week that is linked to the lawsuit, the NYCLU described how poor defendants in New York are often shuffled through the court system with little or no legal representation. This lack of legal counsel can result in defendants waiting in jail for months before going to trial or reaching a plea bargain. During this time, they may lose their jobs, their children or their homes.
The right to legal representation is guaranteed by the Sixth Amendment, but it wasn't until a 1963 Supreme Court ruling that states were required to provide legal counsel to the poor and indigent. Yet in New York in 2014, the NYCLU report states, "justice is only available to those who can afford it."
"This case is emblematic of a national crisis in indigent criminal defense," acting Assistant Attorney General Molly Moran said in a statement. "The right to counsel is one of the core guarantees of the Bill of Rights, and yet, as countless cases and studies show, indigent defense systems across the country are facing significant challenges in meeting their Sixth Amendment obligations."
In Onondaga County, where Syracuse is located, a third of criminal defendants in the county's 10,000 public defense cases in 2012 never met with their lawyer outside of court. According to the report, that means the bulk of poor defendants there ended up pleading guilty.
In Suffolk County on Long Island, the report says, there were virtually no cases between 2010 and 2011 in which public defenders consulted expert witnesses.
Other counties make public defense completely unaffordable, the report notes, even for those at the bottom of the income bracket, by setting "drastically low minimum income thresholds." In Schuyler County, for example, the Public Defender's Office "based eligibility on state and federal poverty guidelines to keep costs down." This meant that someone with an annual income of less than $13,000 in 2007 would likely not receive a public defender.
The report argues that public defenders in New York are often drastically underfunded and have caseloads that far exceed their capabilities. According to the report, public defenders across the state have ended up handling as many as 420 felony cases a year, although the New York State Bar Association recommends that a public defender take on no more than 120 felony cases a year.
The main problem, the NYCLU argues, is that the state of New York delegates its public defense responsibilities to counties -- making it one of the few states in the U.S. to do so. Dwindling county budgets and a lack of state oversight have created deteriorating public defender's offices.
The lawsuit lists just four New York counties -- Onondaga, Schuyler, Washington and Suffolk -- as defendants, but it seeks a ruling that would overhaul the entire New York public defense system.
New York City could prove a good model for courts across the state.
"In New York City where case caps legislation has dramatically reduced caseloads, attorneys have more time to speak with clients, interview witnesses, and research and prepare motions," Seymour W. James, Jr., attorney in chief of the Legal Aid Society, told HuffPost in an email. "The result has been a significant improvement in the quality of representation we are able to provide. Now it's time to require that funding be increased throughout New York to enable public defenders across the State to reduce caseloads to an appropriate level."
Gov. Cuomo's office didn't return a HuffPost request for comment Thursday. Cuomo was the attorney general of New York state when the lawsuit was originally filed in 2007.
Calling all HuffPost superfans!
Sign up for membership to become a founding member and help shape HuffPost's next chapter
BEFORE YOU GO
PHOTO GALLERY
United States Governors