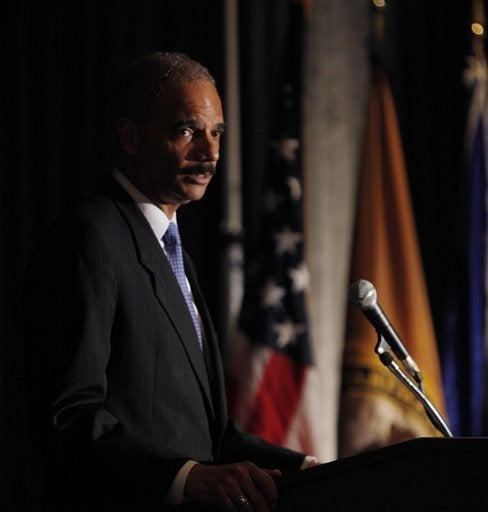 Attorney General Eric Holder offered his most forceful condemnation to date of the murder of George Tiller, a Wichita, Kansas doctor who ran a women's clinic that provided late-term abortions, using the occasion to issue a broad warning about the rise of violent extremism.
Speaking at the Washington Lawyers' Committee conference on Tuesday, Holder pledged that the Department of Justice would do all it could to "deter violence against reproductive health care providers" and prosecute those who committed such acts.
"Neither our respect for the First Amendment's guarantee of free speech nor our clearest hope for common ground can justify the violence that we saw in Kansas," Holder said. "We will not tolerate murder or the threat of violence masquerading as political activism. Let me be clear, the Justice Department will use every tool at its disposal to protect the rights ensured under our constitution and we will do all that we can to deter violence against reproductive health care providers and prosecute those who use such violence to the fullest extent of the law."
The remarks were part of a broader call to action against the violent acts, which have sent shock waves throughout the country in recent weeks. Holder also addressed the recent shooting of a National Holocaust Museum Security Guard by an 88-year-old white supremacist as well as the killing of an American soldier at a recruitment center in Arkansas.
"Over the last several weeks we have witnessed brazen acts of awful violence occurring in places many would think were unthinkable: A sacred memorial in the nation's capital, a recruiting station for the nation's armed forces, a church in the nation's heartland," he said. "The violence in Washington, Little Rock, and Wichita remind us of the potential threat posed by violent extremists and the tragedy that ensues when discourse is replaced by armed confrontation."
The brief speech -- roughly seven minutes in length -- was one of the sharpest denunciations of violent extremism since the recent spate of murders began.
The topic had become politically complicated for the White House because Republican critics began airing their grievances with a recent Department of Homeland Security Report that warned of right wing extremism and the potential for violent behavior from returning veterans. With those warnings now looking increasingly prescient, the administration has been more forceful in addressing the matter.
Calling all HuffPost superfans!
Sign up for membership to become a founding member and help shape HuffPost's next chapter