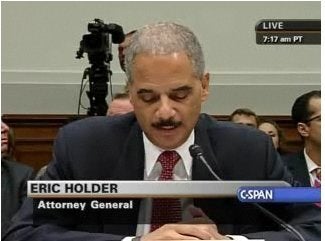 Toward the end of a long House Judiciary Committee hearing with Attorney General Eric Holder, Rep. Brad Sherman said he'd heard enough about torture and wanted to change the subject.
"The Secretary of the Treasury has announced that whatever monies are repaid by the banks [participating in the Troubled Asset Relief Program] will then be recycled into other bailout expenditures or investments," said Sherman, "even though the statute is very clear that that money is supposed to go into the general fund of the Treasury."
The Democrat from California wanted to know: What does the Justice Department do when a another agency is clearly breaking the law?
"To the extent we in the Justice Department see...a legal deficiency that another department has, we would certainly share that view with them," Holder said. "Obviously to the extent we saw crimes occurring in other departments we would investigate them."
"I'll certainly look into the fact situations you described and we'll get back to you," he added.
Sherman's been flogging the issue of TARP recycling since Treasury Secretary Timothy Geithner said in April that the department plans to reuse $25 billion repaid by firms participating in the TARP's Capital Purchase Program. Sherman has been unable to get an explanation from the Treasury, even after he delivered a tirade from the House floor on Tuesday. And the department has offered no legal justification for the recycling in response to press inquiries (other than to flatly claim "the law says" it's okay to reuse CPP principal).
The Treasury is so unconcerned with Sherman's claims that Geithner announced on Wednesday that he had big plans to give the recycled money to small banks.
Sen. John Thune's (R-S.D.) office told the Huffington Post that the Treasury's actions are "counter to the intent of Congress," and prominent economists have mocked the Treasury's insistence that repaid principal under the CPP is exempt from the bailout bill's statement that revenue from troubled assets "shall be paid into the general fund of the Treasury for reduction of the public debt."
"It would be very interesting to know what other revenues the government has, that Treasury might assume unilateral control over under similar principles," wrote James Galbraith. "For example, why not consider that income taxes of government employees are just a return of income previously paid to civil servants? Then Treasury would not need to consult Congress on the use of that money either."
The Treasury did not immediately respond to inquiries from the Huffington Post on Friday morning.
REAL LIFE. REAL NEWS. REAL VOICES.
Help us tell more of the stories that matter from voices that too often remain unheard.