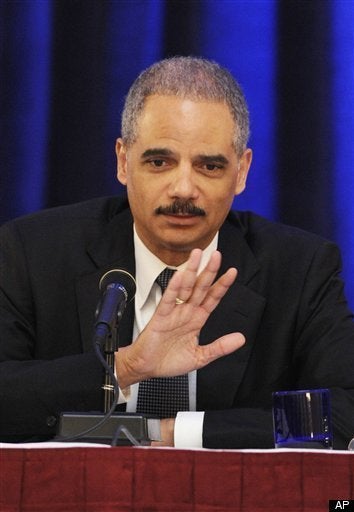 Attorney General Eric Holder, whose decision to try 9/11 terror suspects in criminal court appears likely to be overruled by the White House political staff, tried his best to make the case for military commissions in a speech to the members of the Constitution Project on Thursday night.
He just didn't have much of an argument to make. And he was making it to the wrong crowd.
The Constitution Project, meeting for its annual dinner at the Mayflower Hotel, is a group of devoted defenders of the Constitution -- the kind of folks who ardently defend basic rights no matter how popular or unpopular, and regardless of politics.
Its membership's view on military commissions is pretty clear. As Ginny Sloan, the project's beloved director, assured Holder in her introductory remarks, "every member of the Constitution Project salutes your courageous commitment to the rule of law and to trying these cases in the federal courts."
So once Holder got going, it became apparent that he would have been better off speaking next door, where the Colonial Dames were holding their convention
Holder first declared that we are a nation at war, and that victory against our enemies will not come "if we approach this work by adhering to a rigid ideology or narrow methodology."
The audience full of rigid adherents to the Constitution didn't applaud.
Holder's basic argument was that we should "rely on the full scope of our law enforcement, intelligence, military and diplomatic capabilities to keep the American people safe. This means we must use both statecraft and war craft, both our criminal justice system and our military authorities, both our civilian courts and our military commissions, to defeat our enemies."
But military commissions aren't just constitutionally suspect, they also don't work. As President Obama accurately noted during the 2008 presidential campaign: "By any measure, our system of trying detainees has been an enormous failure. Over the course of nearly seven years, there has not been a single conviction for a terrorist act at Guantanamo. There has been just one conviction for material support for terrorism. Meanwhile, this legal black hole has substantially set back America's ability to lead the world against the threat of terrorism, and undermined our most basic values." Things haven't gotten much better since.
Holder also spoke of the value of civilian courts as a forum for terrorism trials, and those disquisitions were long and detailed. He described their extensive, successful track record, their advantages over military commissions, and their appropriateness.
He actually got some rousing applause for his declaration that "the proposal by some respected leaders in Congress to ban completely the use of civilian courts in prosecutions of terrorism-related activity obscures some basic facts and allows campaign slogans to overtake legal reality."
But whenever he got back around to trying to explain why one would ever pick a military commission over a civilian trial, he was at best amorphous. "When selecting between these two weapons, the choice should be based on a case-specific assessment of the threat at hand, the evidence in possession and a careful consideration of what will best allow us to achieve justice," he said.
And don't expect any specific rationales. "That choice is not always easy to make or easy to publicly explain, especially because court rules and intelligence equities sometimes make it impossible to discuss in an open forum the reasoning for a particular decision," he said.
Holder's defense of military commissions was ultimately less an argument than a series of assertions. "[M]ilitary commissions are also useful in the proper circumstances, and we need them, too," he said. "[I]n some cases, military commissions are not only appropriate, but also necessary to convict and neutralize terrorists."
The nicest thing he was able to say about them, really, was that they are a lot like civilian trials: "The truth is that the reformed commissions draw from the same Constitutional protections that underlie our civilian courts -- the key difference being that, in commissions, evidentiary rules reflect the realities of the battlefield and the difficulties of conducting investigations in a war zone."
Ultimately, he asked the audience to, well, join him in believing.
"I have faith in the framework and promise of our military commissions," he said, "which is why I've referred six cases to the reformed commissions for prosecution. And I expect to refer additional cases. "
When his remarks were over, he and his security detail made a beeline to the exit without taking any questions.
But even the night's honorees were critical. "I think that's the administration's position, and he was carrying the administration's water," said George Kendall, a New York attorney being recognized for his lifelong devotion to indigent citizens and prisoners whose rights to counsel were ignored by the criminal justice system.
"I don't agree with him, but I was interested in hearing what he had to say," said Thomas Pickering, the career diplomat who was lauded for his repeated calls for a commission to investigate post-September 11 detainee policies and for generally speaking out on the need to restore the rule of law and America's standing in the world community.
"Not a heckuva lot of applause during the last part of his speech," noted Thomas Tamm, the
whistleblower who exposed the Bush administration's warrantless surveillance program.
Some members were clearly dismayed -- but still hoped for the best.
"I was happy that the attorney general came and spoke to the Constitution Project, and I'm happy he emphasized in his speech the need for civil courts to address terror and terrorism cases," said E. Desmond Hogan, a partner at the Hogan and Hartson law firm.
"I was disappointed that the Justice Department plans to continue to refer additional cases to the military commissions without defining the specific reasons why military commissions are appropriate in the cases.
"But I'm hopeful that the attorney general's willingness to speak to an organization dedicated to the preservation of the Constitution shows that he will make all future decisions on this issue with the civil rights this country cherishes in mind."
Popular in the Community