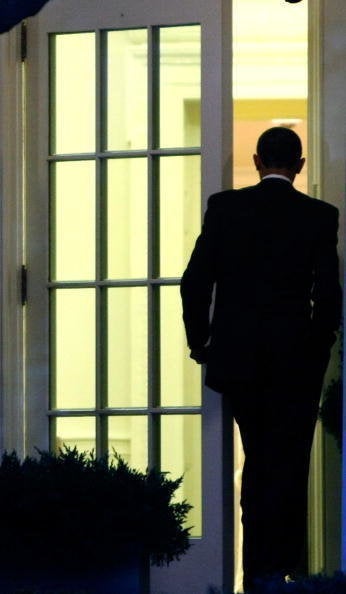 Attorney General Eric Holder's assessment that the United States is a "nation of cowards" on issues of race was perhaps off-puttingly blunt but results from the recent Presidential election support his call for Americans to talk more about race. And while Holder was presumably not singling out a particular group in asking for more focus on race, white voters' attitudes towards Barack Obama's candidacy is as good a place as another to begin: buried in the self-congratulating joy at Obama's historic win and its racial significance, there are disturbing signs that warrant more debate.
Chief among these is the extraordinarily low percentage of the white vote Obama received in the Deep South. Even as white voters nationally moved more or less in the same direction as voters overall, in a number of Southern states, the trend was strikingly reversed. In Alabama, Obama received half the white votes John Kerry did, ending with just 10% (!) of that group. In Mississippi, he received 11%. In Louisiana, where Kerry got a quarter of white voters' ballots, Obama was down to 14%. It is also striking that all but one congressional district for which data is available in those three states voted more Republican than normally. The lone holdout is an African-American district in Mississippi. This means that from urban New Orleans, to suburban Birmingham and to these states' large rural swaths, white voters abandoned the Democratic candidate for President in numbers far larger than usually. Perhaps more chillingly, the youngest of white voters in these states were equally as adverse as older generations to vote for Obama. Meanwhile, voters in four districts in the Deep South did manage to send white Democratic representatives to Washington.
It is of course true that Southern white Democrats have moved towards the Republican Party in droves since the 1960s, when the Democratic Party embraced civil rights and the GOP seized the opportunity to develop its racist "Southern strategy." (How those voters will react to the Republican leader's call for more hip hop in politics is an issue for another day). Beyond that historical shift, though, it is impossible to see in some of the results in the Lower South anything but racial prejudice towards Obama. It can hardly be argued that Kerry, for instance, was less liberal, especially on the social issues that seem to consume many of the voters in the region, or more charismatic than Obama, a far better campaigner and uniter. And so we are left with one way to explain swings of as much as 17% away from the Democratic presidential candidate this year in the Deep South: that even among the few white Democrats in those states willing to vote for Senator Kerry from Massachusetts, nearly half could not get themselves to cast a ballot for an African-American presidential candidate. It may seem naive to highlight this, so ingrained in the national consciousness is the idea of the pervasive racism that afflicts the Deep South. Is it not patronizing, though, to simply take this at face value and move on? Does it not warrant a little more discussion than a shrug and a smirk at people whose bigotry many of us take for granted?
Perhaps the hope is that time will heal some of these cavernous fractures and there are signs that change is on the march, with North Carolina and Virginia leading the way. Both voted for Obama, the first time since 1964 that Virginia voted for a Democratic presidential candidate. In both states, white voters did choose John McCain, but he received a much smaller share of their vote than George W. Bush did. Conventional wisdom is that the population growth in Virginia and North Carolina, fed by internal and international immigration, and both states' educational levels explain the shift. This seems plausible when compared to states further South, all lagging in educational achievement and with little inwards migration. Nonetheless, even in the Deep South, there was progress. In South Carolina, for instance, Obama increased the Democratic percentage of white voters in line with the national average. This achievement is not meaningless as it, together with a large black turnout, allowed the Democrat to score the best presidential result for his party in the state since Jimmy Carter in 1980. In Georgia, Obama came within 5% of winning the state, and would have done so if white voters there had moved to him as much as their peers nationally; nonetheless, he did achieve the same percentage of the white vote as Kerry did, even if it was a meager 23%.
Appalachia was the subject of much focus during the Democratic primary, as the region became the means to Hillary Clinton's attempted comeback in Ohio, Pennsylvania and smaller states. In the general election too, Appalachia, along with Arkansas, and Oklahoma, turned away from Obama. In fact, it did so in proportions sometimes even more striking than in the Deep South. In a spine of states from West Virginia to Oklahoma, including Kentucky, Tennessee and Arkansas, Obama vastly underperformed Kerry in all but two Congressional districts (in Memphis and Nashville). For instance, in districts that are overwhelmingly white and rural, such as Kentucky's 2nd, in the central part of the state, there was a swing of 24% away from Obama when compared to the national average. Even in districts represented by Democrats, such as Oklahoma's 2nd and Arkansas' 4th, Obama had some of his worst results anywhere. Again, the assumption here is that of course isolated, poor, rural white voters will never vote for a black man, so why even bother talking about it? Is it really that simple, and is it not, again, worthy of a little more prodding?
If the majority of areas in which Obama underperformed are indeed in the Deep South, Appalachia and the South Central US, that does not mean there were not pockets of reluctance elsewhere, and not all of it due to demographic shifts favoring Republicans. For instance, in Florida, three heavily Jewish and elderly Congressional districts centered around Palm Beach and Broward counties performed poorly for Obama when compared to Kerry or Al Gore. In rural Northern Minnesota, Obama also struggled relatively, especially as the rest of the state went strongly for him. Some New York City and Philadelphia suburbs in Pennsylvania, Northern New Jersey and Long Island, both Republican and Democratic, also showed some reluctance towards Obama compared to the nation as a whole, at least in predominantly white areas such as Suffolk, Morris and Montgomery counties. In New York City itself, Obama saw one of the biggest swings against him anywhere, in the predominantly white Brooklyn and Queens district of Rep. Anthony Weiner, a candidate for mayor this year. Obama also lagged in some older rust belt suburbs of St. Louis, Cleveland, Pittsburgh and in Upstate New York. Most of these places have little in common besides their disproportionately large white populations and, it would appear, a relative discomfort with voting for an African-American candidate for President.
Conversely, in the mostly white and Latino West, Obama relatively outperformed his Democratic predecessors in every single Congressional district except for a couple in Northern California, in San Francisco, for instance, where there was little room to grow from Kerry's 85% of the vote. One of the major lessons of this election was, in fact, learned in Western states, as well as other areas with large Latino populations that swung decisively to Obama. This was not a given, at least according to the DC conventional wisdom, spun by the Clinton campaign: the idea was that a) Latinos would be reluctant to vote for an African-American candidate for reasons unnamed but presumably having to do with racism; b) the problem would be compounded because Clinton was so idolized among Latinos that they could not possibly muster the enthusiasm to vote for Obama. The results have, hopefully, cleared up this nonsense once and for all. In Texas, for instance, voters in predominantly Mexican-American districts voted in far higher numbers for Obama than they did for Kerry or Gore. Latino flight from the Republican Presidential candidate appears to have accounted for the bulk of Texas's overall shift towards the Democrat in 2008. In mostly white districts of the state, especially in rural and exurban areas, voters were, if anything, even relatively more likely to vote for McCain than for Bush or, more accurately, even less likely to vote for Obama than for Kerry.
Not all rural white voters turned away from Obama. In fact, Iowa, which launched Obama's epic journey to the presidency, is a rural state with a population that is over 90% white. Ironically, for all its unrepresentative lack of diversity, Iowa has replaced Missouri as a presidential bellwether, having voted for the winner of the popular presidential vote in every election since 1988. It is also one of nineteen states in which white voters chose Obama over McCain, from Colorado to New Hampshire and Oregon to Michigan. It is worth keeping in mind that in 2004 Kerry received a majority of the white vote in just nine states, most of them small Northeastern neighbors of his home state of Massachusetts. Notably, white voters in California and New York, presumed bastions of liberalism, were not among them. In 2008, white voters in both states decisively cast their ballot for Obama.
Interesting tests already loom in a number of states in which African-American politicians, perhaps emboldened by Obama's win, are looking for a larger platform next year. One candidate, Democratic Rep. Artur Davis of Alabama, an early and vocal supporter of Obama, is running for the governorship of his state. In most respects he is a good fit for Alabama, with moderate to conservative stances on social issues, and an engaging demeanor. Clearly, though, he will need to get more than 10% of white voters' ballots to be competitive in a general election, should he make it that far. In Florida, another Congressman, Kendrick Meek is running for an open Senate seat. He is sure to face a challenging primary, probably from at least one elected official from South Florida districts lukewarm towards Obama. In California, San Francisco District Attorney Kamala Harris is vying for State Attorney General, the top law enforcement officer in the nation's most populous state. She was an early organizer for Obama in Iowa.
The complicated picture of how America came to vote for its first black president reflects the country's multifarious attitude towards race. Holder is right to call for a better understanding of Americans' way of thinking about the issue: we may assume that we know what prompts others' attitudes and why, say, voters in places as varied as New Orleans, rural Mississippi, Brooklyn, Boca Raton, Pittsburgh, Kentucky, suburban Philadelphia or Duluth reacted to Obama the way they did, but surely it is worth digging a little deeper, past our own prejudices and conjectures. Perhaps we will even learn something about our own smug selves, unless we are thwarted less by cowardice than by simple intellectual laziness.
Popular in the Community