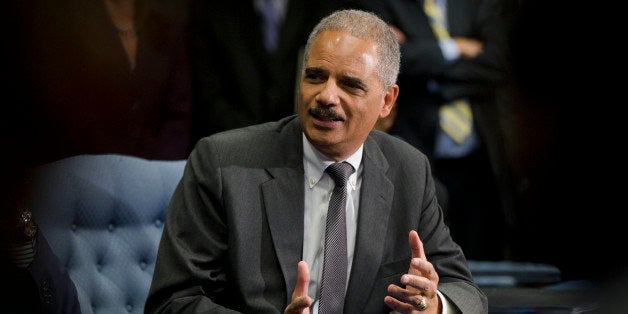 While many of us were reading tweets and Facebook postings about the pending announcement that Attorney General Eric Holder planned to resign, before it was confirmed and hit the front page of every major news outlet in the country last week, Holder picked up the phone and personally called friend and ally Rep. John Lewis.

Although most will never know the extent of that conversation between two dedicated public servants, many of us will agree it was fitting that Holder, a national civil rights leader in his own right, would reach out to a legendary civil rights leader to share the bittersweet news -- the news that Holder, America's attorney, who played such a critical role at a time when community outrages had reached a volume reminiscent of the '60s, was stepping down from his position, but not from the fight for equality.

As the first African American to serve as U.S. attorney general, Holder's appointment was historic, timely and deserving. His presence in this position made many of us feel we had a true advocate, a critical voice for protecting the fundamental rights of marginalized people. By leading the Obama administration's work to protect voting rights, immigrant rights and expand rights for LGBT people, Holder cemented his role as a leading voice on civil liberties.

Eric Holder, Jr. believed and worked to demonstrate what President Obama shared in his recent press conference, that "justice is not just an abstract theory -- it's a living and breathing principle." The value of justice motivated him to increase attention to and call for a reduction in the sky-high rate of incarceration, also known as the "prison industrial complex," which disparately affects African American and Latino men. Even while enduring personal attacks, the pursuit of justice kept him working to reduce sentences for non-violent drug offenders. It was this belief in a "living and breathing principle" that led him to speak out against discriminatory voter ID laws, and under his leadership, the Justice Department filed multiple lawsuits against restrictive voting laws.

Attorney General Holder's tenure has been anything but easy. He and his staff have faced right wing opposition, at times quite malicious opposition, every step of the way. Following the police shooting that resulted in the death of unarmed teenager Mike Brown, Jr., Holder traveled to Ferguson, Missouri on behalf of the Obama administration, for which he was despicably attacked by a right-wing activist for supposedly leading a black "lynch mob." Gov. Rick Perry claimed that Holder was "purposefully" "incit[ing] racial tension" through his vocal opposition to voter ID laws.

I have not agreed with every decision Attorney General Holder has made, but he has unquestionably been a critical voice in the ongoing fight for justice for all people and for that I commend him. In this turbulent time, Holder's physical presence in African American neighborhoods, worship centers, and meetings with African American faith leaders provided a necessary connection to the White House. This passionate son of an immigrant, the 82nd U.S. Attorney General, raised the standard for what it means to be a good public servant.

I am saddened to see him leaving this assignment, but I am confident that he will continue to work for, and with, those who are lost and left behind, those who are discriminated against, and those whose voices have been silenced. The legacy of his civil rights work will endure. Eric Holder, Jr. should know that he is appreciated for the steps that he has taken to advance, move us -- our communities and the nation -- toward a truer democracy. Get some rest Mr. Holder, let your family love on you, make some more calls, have strategic next-steps conversations. Then come back to fight in the battle that is far from over for justice, for all those you care about.
Calling all HuffPost superfans!
Sign up for membership to become a founding member and help shape HuffPost's next chapter