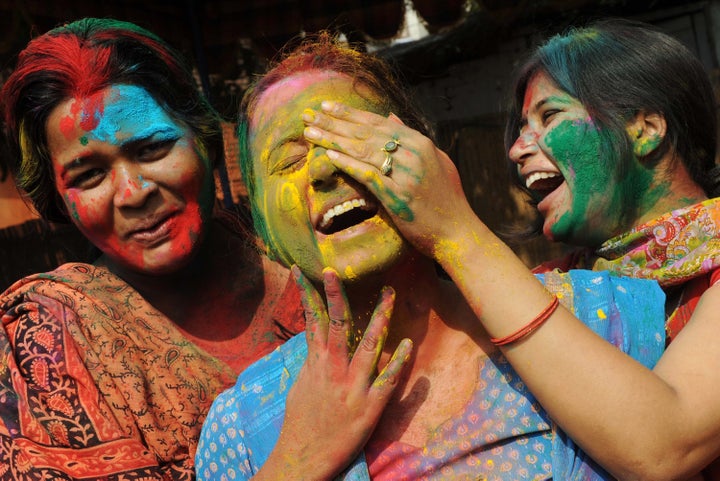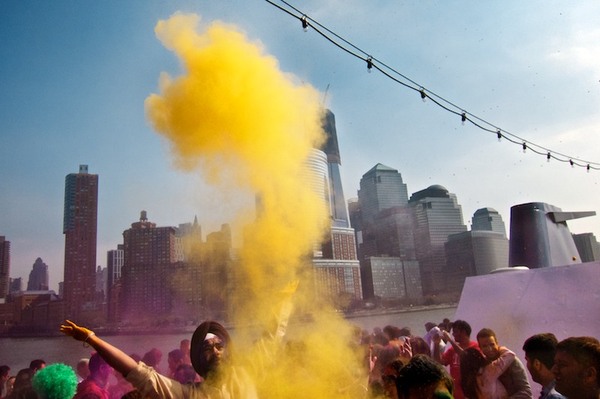 Under what circumstances would a man in a green plaid skirt carrying bag pipes point and laugh at you? Saint Patrick's Day, Times Square, three p.m: I'm covered in smears of rainbow paint from my shoes up to my eyelashes, my face akin a Papua New Guinea tribe leader. Everyone in green doesn't seem to get it; even a twenty-something wearing a chartreuse dragon suit turns to gawk at me, mystified. But then across the street someone exits a pub, spots me, and cheers, "Happy Holi!" as they stumble off the curb and grip their friend's shamrock t-shirt.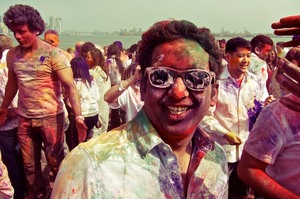 Sometimes in New York City the unusual activities in which we partake are worth the misunderstandings, like choosing to spend Saint Patrick's Day on a yacht celebrating Holi: a Hindu holiday originating from India. We remember, however, that even Irish holidays come from somewhere else.
At Rang Barse -- a celebration organized by event management company IN Group to commemorate Holi, Hinduism's celebration of color and spring -- some attendees still embraced Irish pride by wearing green wigs and shamrock necklaces.
Departing from Pier 81, the Princess Cruise Line blared Bollywood beats as it sailed along the Hudson River with 500 revelers aboard who munched on paneer with mint chutney and naan-wrapped tandoori chicken. Performers from Bollywood Axion and Dhoonya Dance accompanied the music's poppy rhythms with their own moves and summoned spectators to do the same. Soon, many danced in a style they hardly knew arm in arm with people they met that day.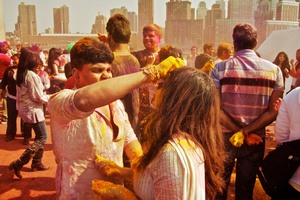 Later, on the boat's top deck, the camaraderie continued as -- in the spirit of Holi --hands not only embraced their fellow festival-goer but also smeared their faces in chalk with impetuous motion. Any violent maneuvers, however, were laughed off and quickly forgiven.
A gangly man in a white hazmat-esc suit (worn to protect his clothes) rolled around on the floor, coating himself in rainbow chalk. He smiled, color between his teeth. A florescent cloud sailed to the sky as a group of fellow hazmat suit wearers pat him down and dusted off the label on his back that read, "Bucket List Bunch." They are a "Carpe Diem" club formed on Meetup.com out to seize the day by embarking on the coveted adventures on each others' life lists. This also includes skydiving, adventure races, and hot air balloon rides. That day, fifty of them commuted from Connecticut to attend the event.
Together, we lived in the moment. It's these out-of-context scenarios in life that I love the most, like celebrating a Hindu festival off the New York City coastline on Saint Patrick's Day. Clearly, despite the colored fog, one can see why it would be on someone's bucket list.
REAL LIFE. REAL NEWS. REAL VOICES.
Help us tell more of the stories that matter from voices that too often remain unheard.