Wherever you are spending the holidays this year, it is always a nice touch to walk through the door with a gift for your host. In most families or groups of friends, the person who opens his or her doors and heart is usually the one with the best entertaining skills, the most space, and the largest recipe collection. Instead of waltzing in with a bouquet of flowers (which forces your hostess to stop plating appetizers mid-preparation and find a suitable vase and floral shears) this year arrive with a nicely wrapped cookbook or book about wine. These are also great gifts for many of the food and drink lovers on your list. Yes, there are plenty of recipes to be found online, but a well-written cookbook with beautiful photographs is a gift that will be treasured for many years to come. You will probably want to put a couple of these on your own wish list as well!
For the wine lovers: Unless you are totally tuned in to your wine-loving friends' taste, it is hard to choose the right bottle to bring for the holidays, and a book about wine is always a welcome addition to the bookshelf.
The New California Wine by Jon Bonné: (10 Speed Press, November 2013) San Francisco Chronicle wine editor Jon Bonné delves into the regions and producers that are shaking up the status quo in the Golden State's wine world. In-depth profiles of winemakers, varieties, and the places that grapes are grown showcase an amazing range of terroir, technique, and taste profiles, leaving images of fruit-bomb Cabernet Sauvignon and over-oaked Chardonnay in the dust. The New California Wine is a perfect gift for the sophisticated wine lover who has turned his eyes elsewhere in the wine world and is missing out on all that California has to offer.
Hello, Wine: The Most Essential Things You Need to Know About Wine by Melanie Wagner (Chronicle Books, November 2013) A fun primer for your friend who likes wine but would love to learn more about it, Hello, Wine is easy to read, cleverly illustrated, and jam-packed with useful information. With sections on how wine is made, how to read a wine label, grapes you need to know, pairing suggestions, and a glossary of wine terms, Hello, Wine turns the often confusing subject of wine into a hobby that can be enjoyed by all.
For the DIY Crowd: While we're busy figuring out what to buy everyone for the holidays, the DIY'ers are refinishing their floors, building a table, and making new drapes to make their pad party-ready for the festivities. Whether you are visiting them in Williamsburg, Portland, or points in between, give them a gift that will get them curing and pickling their own food too.
Duck, Duck, Goose by Hank Shaw (10 Speed Press, October 2013) We all love to order duck in restaurants, but many of us are terrified to prepare it at home. Hank Shaw's ultimate guide to preparing and cooking ducks and geese includes detailed instructions for butchering your birds and a multitude of enticing recipes including Buffalo Duck Wings, Duck Sliders, and Goose Prosciutto. It doesn't matter if your cousin foraged at the local farmers market or spent all day in a marsh with a shotgun: He will appreciate the array of recipes this volume contains.
In the Charcuterie by Taylor Boetticher and Toponia Miller (10 Speed Press, September 2013) The husband and wife team behind San Francisco and Napa's Fatted Calf Charcuterie put together a delectable guide to make-at-home sausage, salumi, paté, and confit. In addition to step-by-step instructions for processing, cooking, and curing, In the Charcuterie features tempting recipes such as Fig and Sausage Stuffed Quail, Duck and Lemongrass Sausage Patties, and Chopped Chicken Liver Crostini.
The Artisan Market by Emma MacDonald (Duncan Baird/Sterling, September 2013) Emma MacDonald, founder of The Bay Tree, the UK's premier deli, has assembled a collection of recipes for smoked fish, cured meats, preserves, pasta, and pies. A recipe for Bacon, Nectarine & Ginger Salad begins with instructions for Home-Cured Bacon, and the preparation for Smoked Chicken is the lead-in to Paella With Smoked Chicken and Shrimp. Smoky Red-Pepper Ketchup, Thai Lemongrass & Chili Oil, and Sweet Chili Jam are just a few of the condiments that you can expect to enjoy the next time you visit the friend you give this one to.
For the traditionalists: There's no place like home for the holidays. Every November and December, millions of Americans return to their family roosts to celebrate with those they love. Recipes handed down for generations always make their way to the holiday table, and here are a few cookbooks with recipes that are sure to become family favorites for years to come.
The Good Housekeeping Christmas Cookbook (Hearst Books, October 2013) From appetizers through dessert--and craft and decorating tips -- Good Housekeeping has you covered for the holidays. This all in one holiday guide features over 300 recipes including a whole chapter on turkey, gourmet gifts, and festive punchbowl and pitcher drinks. There are also holiday memories and ideas from a diverse group of celebrities like Sting, Reese Witherspoon, Ina Garten, and Mariah Carey.
The New Midwestern Table by Amy Thielen (Clarkson Potter, September 2013) Professional chef and James Beard award-winning food writer Amy Thielen offers a fresh take on the heartwarming foods of the Midwest. The dishes in The New Midwestern Table offer a touch of nostalgia combined with stick to your ribs goodness. Recipes like Fried Onion Dip, Midwestern Fried Chicken and Gravy, Crispy Cabbage with Poppy Seeds, and Black Bottom Oatmeal Pie are sure to become family favorites for the holidays or any time of year.
Callie's Biscuits and Southern Traditions by Carrie Morey (Atria Books, October 2013) Callie White's daughter, Carrie Morey, founded Callie's Charleston Biscuits in 2005 in order to make her mother's delectable biscuits available to people across the USA. Now Carrie is sharing not just Callie's biscuit recipes but also instructions for the dishes she cooks at home year-round. The chapter titled "Sit-Down Holiday Dinner" offers recipes for Sage Butter Roasted Turkey, Cast Iron Roasted Oysters, and Standing Rib Roast, but we're pretty sure that whoever receives this one will turn to it in other seasons as well. Besides individual sections on Salads, Sandwiches, and Baking, chapters titled "Southern Picnic" and "Party Drinks" are sure to get you invited back sometime before next December.
For the star-struck: We all have those friends who watch celebrity cooking shows all day long -- even while working out -- and there is an entire genre of cookbooks devoted to them. Here are three of the latest tomes to that bring TV chef's recipes home for the holidays and beyond.
Giada's Feel Good Food by Giada De Laurentiis (Clarkson Potter, November 2013) Giada's lastest book, subtitled My Healthy Recipes and Secrets, is ideal for your friends who are star-struck and health conscious. This is not a diet book, but rather a collection of recipes that make for a healthier style of eating from breakfast through lunch, dinner, and dessert. Several of the recipes, especially Southern Italian Style herbed Chicken, Whole Wheat Linguine With Shrimp, and Spiced Pumpkin Raisin Cookies are perfect for a lighter style of holiday entertaining.
Sunny's Kitchen: Easy Food for Real Life by Sunny Anderson (Clarkson Potter, September 2013) Food network star Sunny Anderson, host of Cooking for Real and Homemade in America with Sunny Anderson, has compiled a mouthwatering collection of comfort food recipes using simple techniques and easy to find ingredients. With recipes like Fried Oysters and Catfish Nuggets with Cheesy Grits, Brewed Awakening Coffee Rib Roast, or Double Chocolate Bourbon Whipped Cream, your host will be ever thankful for the day you crossed the threshold bearing this cookbook.
Family Celebrations with the Cake Boss by Buddy Valastro (Atria Books, November 2013) Not one to be pigeonholed into the bakery aisle, Buddy Valastro put together recipes for family entertaining for the whole year. Celebrations begin with New Years Day Brunch and continue through Mothers Day Breakfast in Bed, Fall Tailgate, Thanksgiving Dinner, Christmas Eve, and Christmas Day. It is no surprise that there are as many desserts as there are appetizers and entrees, and any party that starts with Mini Beef Wellingtons and ends with Cocktail Cupcakes is okay in our book whatever the occasion.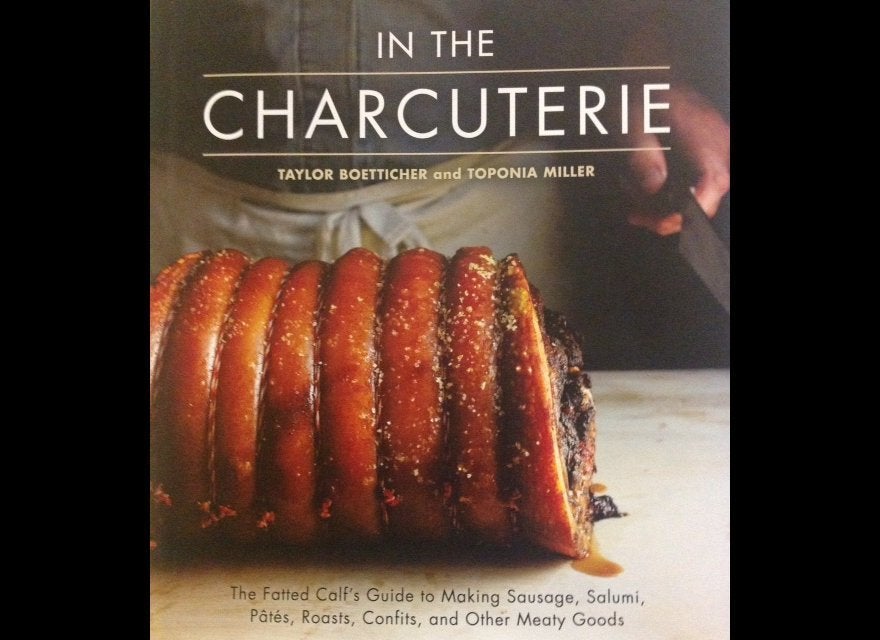 Give the Gift of a Good Read