Every December I find myself in a rut. I want to be festive; I want to embrace the holiday season, and the vision of a Merry Christmas, but the older I get, the harder that is. Don't get me wrong: I love the holidays. I love the lights on houses and businesses that help soften the gray and cold of winter. Those lights make everything a bit cheerier, and personally I wouldn't mind seeing them stay up a lot longer. I enjoy the music -- especially the classic holiday crooners: Bing Crosby, Ella Fitzgerald, Johnny Mathis, Nat King Cole, Burl Ives ... I love the smells and the sounds, the lights and all the clichéd magic that goes with the "holiday season."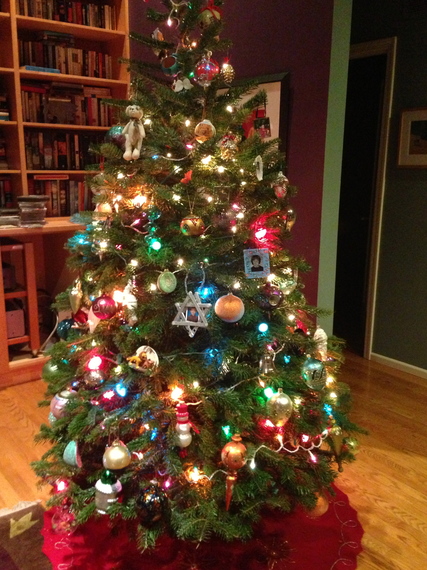 In our home we celebrate both Hanukkah and Christmas. My husband and my children are Jewish, but we've kept the Christmas tradition as a meaningful nod to my background. It's my favorite time of year, and thankfully I've been able to share it with my family for 24 years now. So, in addition to all of the traditional Christmas trimmings, we have Hanukkah as well: the heavenly smell of latkes cooking; dreidels and festive decorations, and the beauty of candles shimmering on our menorah each of the eight nights. For years we've invited friends and family to join us as we blend the two.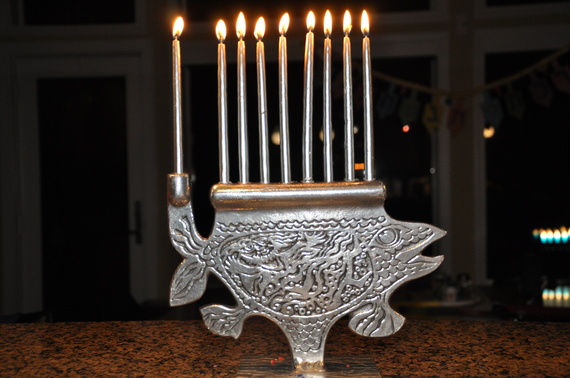 With all this holiday festivity, it may be hard to understand how there's room for anything but Merry; yet every year I struggle with mixed emotions. As much as I want to embrace all the cheer around me, I also feel stressed by all the preparations; I miss my family and the memories of Christmases past; and I feel the impact of daily news stories in a much more visceral way -- keenly aware that there are folks who are suffering, as I hang ornaments. I know that Treyvon Martin's, Michael Brown's and countless other parents are bracing for a holiday without their child, as our attention moves on to other news items. The parents of Sandy Hook Elementary children have just faced another anniversary of one of our nation's worst school shootings -- with no change in gun control, or any sense of resolution. While we inevitably move on, December will always be a reminder to those parents that their children are not with them.
I work at a hospice, and this time of year is extra difficult for many involved. The loss of a loved one is never easy, but each time I walk into our local Hospice House, around the holidays, I know that families will tell me how it is "especially hard" to sit vigil, and watch someone they love die, with the holidays approaching -- a time of year that is particularly family focused. Three years ago, I was one of those people. My mother lay in that very building, after nearly three months of hospice care. She died on New Year's Eve 2011, in room 6, as I held her. Trying to shop for gifts, cook holiday meals, and celebrate that year -- knowing that she lay dying just a few miles from our home, was almost unbearable. I knew that she was in good hands, and our kids -- as well as the two foreign exchange students we had living with us, all did their best to understand the challenges, but each minute I wasn't with her was painful, and the Merry of Christmas that year was a little harder for me to enjoy.
Now I try hard to remember how I felt, when I offer comfort to those who are in those same shoes this year. There's a Christmas tree in the Hospice House family room, and holiday music playing. As family members cling to those universal symbols of cheer, I know that they will forever remember which carol was playing when their mother, fathers, husband, wife, sibling, etc. passed away. Those icons of the holidays now bring both comfort and a reminder of loss, each year, as I remember sitting beside my mother, as she died -- far too young, from Huntington's Disease.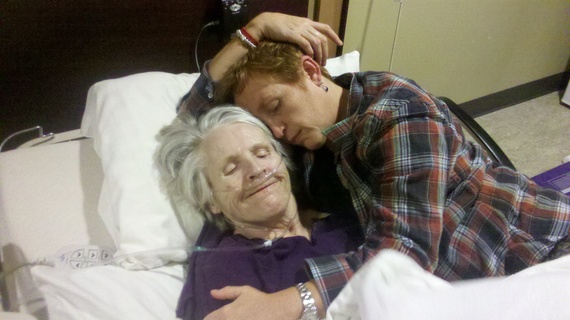 I've written enough pieces on Huffington Post to know that some of you will read this post the way I intend it, and others will note every negative thread possible. To be clear: I'm not just stuck on the negative things that come to me during the holidays, the things that make it a little harder to stay Merry; I'm not writing this to bring y'all down. I'll say it again: I love the holidays -- and not for the commercial, consumer-driven elements that we've all become so familiar with -- but for the traditions, the sense of family and communion that I will always associate with this time of year.
However, as an adult, I've learned that family can be complicated. As I decorate my tree each year now, I miss who I believed mine was, back when my eyes were a little brighter -- when my grandmother summoned us to her over-the-top Christmases each year, and we all came because it felt Merry, just to be together. I miss my children, who have gone out into the world, and can't always be here on Christmas morning any more. I miss friends that are far away, or no longer in my life. I empathize with those who are experiencing loss, and who struggle to sit in the colorful lights of all that Merry.
But I've also learned that as I struggle with these mixed emotions, I can channel them toward good, rather than let them pull me down. There are countless shelters who need and welcome help, especially as temperatures get cold and folks far worse off than me, struggle with their own holiday heartbreaks. As I buy less for (my) kids, who are long past believing in Santa, I can make donations to help other children who still embrace the magic. I think we can all take the Merry that is thrown at us in every ad on TV and every store we walk into, and take notice of others who may be challenged a little more, this time of year, because of their own struggles.
Even if I'm not going to put money in every Salvation Army red bucket I see, I can make an effort to smile at the person who is good enough to stand there for hours and ring that bell; I can thank them for their time. I will let someone go ahead of me in line, because they have two items and my cart is full. I take heart in the amazing folks who walk into stores and pay off a stranger's lay-away bill -- making the holidays that much more sparkly for a family they don't know, because that family now knows that others really do care. Stop and shop at one of the Christmas Angel trees, which are all over this time of year. There is something so wonderful each year, in imaging some child I've never met, finding the gift I carefully picked out for them. For years, I brought my own kids to pick those angels, and we knew that on Christmas a child we didn't know was feeling happy to have something they wished for.
Two years ago, my Danish exchange student-daughter and I walked into a local market that was going out of business, to see what bargains we could find. Instead, we found out that all of the baby food and baby supplies were on clearance. I negotiated a price for all of it, and we filled our car with items for the local women's shelter. My girl and I will never forget the merry we felt delivering it all the next day! When we drove up with that car full of blessings, we felt giddy -- as if Santa was real again.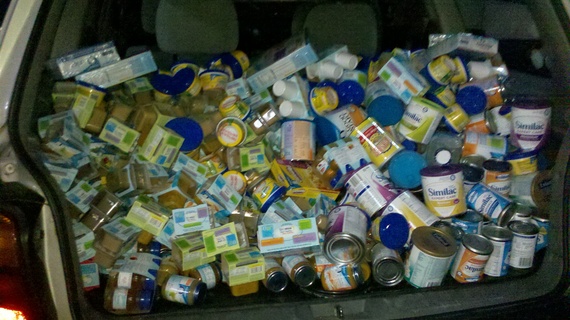 I still love the Grinch Who Stole Christmas so much because the message truly resonates: "Maybe Christmas doesn't come from a store; maybe Christmas -- perhaps, means a little bit more!" In our house, it is not just Christmas, it is the "holiday season" that reminds me that while I miss those I've lost, and my table may not have all the faces I long to see, there are others who need a hug a lot more than I do; there are folks who need to know that others care. It's a time of year to pause and remember that all of those news stories are not just stories. We can each give back -- in little or big ways; it is truly the gestures that count. So take your merry and share it -- in whatever way you can. Trust me, it will matter to someone, and like the Grinch, you are bound to feel your heart grow too.