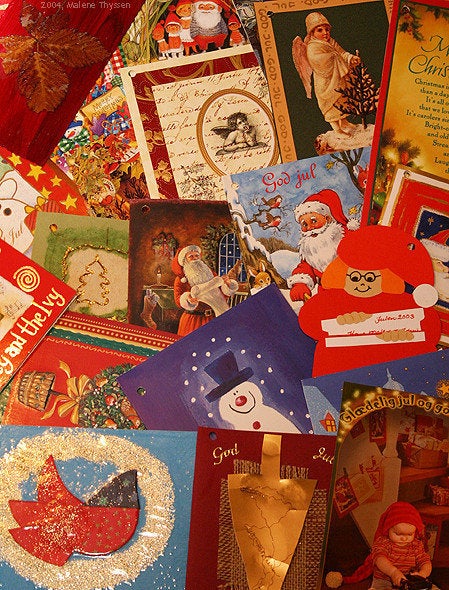 When was the last time you received a holiday card that started like this?

Dear Friends and Family,

The year, 2011, brought no great surprises or triumphs. Jordan has remained an average student who gets mostly B's. Ashley tried out for varsity field hockey but didn't make it. She didn't score any goals this season playing on junior varsity. Jim is still in middle management and hasn't been promoted in the company where he has worked as an engineer for 20 years. I still spend my days driving carpools, cooking meals and packing lunches. We didn't go on any vacations this year...
The fact is, very few families are that honest in communicating their mediocrity. This time of year, we receive realms of boastful tidings intended to bring good cheer. These are communicated, of course, in the form of that annual holiday card, intended to let everyone know all that the various family members have accomplished. For some reason, many people feel the need to take stock of their good fortunes as the year draws to a close, and those usually translate to material accomplishments. We hear about children who have excelled in school, in sports and are now receiving college acceptances. We hear about their trophies, fellowships and competitive internships; their eye-opening trips abroad. We are expected to marvel at parents who have soared to the top in their career, climbed Mount Everest or have been recognized as a leader in their field. It's as if these kinds of developments translate to a greater self-worth. Only toward the end of the cards do we hear the casual mention of good health and happiness that they're grateful for and that they wish for you. We can witness this polished and persistent delivery of good cheer 365 days a year now, thanks to Facebook, where everyone seems to always present their best self, free of the wrinkles that real-life travails inevitably bring.

As a writer by trade, I have considered sending the annual holiday card. It would, after all, be so much easier than my usual practice of scribbling a few hasty lines of personal greetings on each of the 100 cards I send. But I have flinched at the prospect of a card that tells only of the bliss we've experienced in the past year, free of the challenges. I recall receiving a card one year that I treasured most. It described the extended family's serious chain of illnesses, then concluded by saying how grateful they were for their healthy and happy children.

I'm not saying that holiday cards should be morose. But when I get those cards that list all the great things, it does make me feel a bit inadequate, instead of treasuring what I'm most grateful for.

I admit I was once consumed with conveying information about the perfect report cards, the trophies and the original piano compositions that received accolades. But time -- and plenty of ups and downs -- has reinforced my belief that it's the basics that I cherish this holiday season: a terrific husband, three amazing children, great friends and the most supportive extended family. I know that will make for a very boring holiday letter. So, as usual, I won't be writing one.

This year, don't beat yourself up if you don't get around to sending that holiday card. Instead, hug your children tight. Use the time saved over addressing envelopes to indulge in stress-free family get-togethers. Focus less on the unearned trophies, missed soccer goals and family squabbles over issues so small you can't even remember them. That's my priority this year. My wish is that you can enjoy the same. Here's to a boastful-free holiday season.
Related