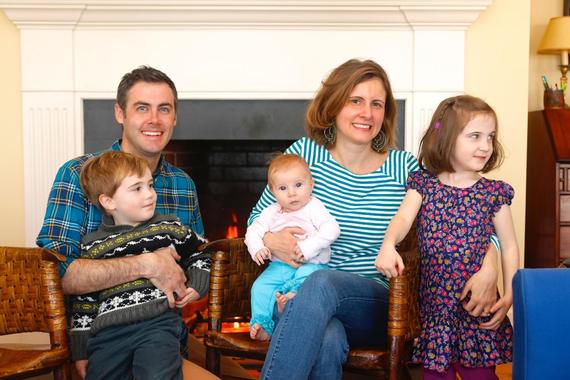 It's Christmas card season again!
One night last year as we were working on this delightful seasonal task, my husband looked up from ink-stamping our return address on several envelope corners in rapid fashion. "We've been doing cards for several years now," he said, a little smug. "And each year it gets easier."
Regardless of that statement's legitimacy, it's good he feels that way, because during our very first attempt at mass mailing personalized holiday cards I was pretty sure the experience was going to end in either a) divorce or b) having to vacuum up little shreds of our thoughtfully-designed photo cards featuring a family picture off the carpet, because maybe, just maybe, somebody was going to tear them up.
I remember him asking me about the point of this endeavor, a process rife with problems such as: it took a few hundred hours.
I was like, "It's just a nice thing to do," which is partly true. The other part is that -- especially once you have kids and you're getting copious amounts of cards in the mail from other people with kids featuring adorable photos -- you cannot help yourself.
Do I think getting a holiday card from our family, featuring our three children, will brighten someone's day? I mean, yes, definitely, if it's a relative who likes us a lot. Do I also think you should have hard liquor while trying to update your address list? Definitely. Times a million.
One problem -- besides the obvious problem, i.e. all the stress -- is that my husband and I have distinctly different styles when it comes to organization and implementation. I am good at speedy task-mastering once a decision has been made. Like calling in pizza orders and babysitting requests while thinking about what I'm going to say mid-dial. My husband is good at preparedness, hence the stamp with our return address, which he ordered along with last year's cards in order to expedite things.
For him, attaining the most recent contact information of our nearest and dearest is part of the thrill, while I'm mostly concerned with getting those hotcakes out the door, able to forget the more hellish aspects of the whole affair and then starting the whole process from scratch again next year.
His way is sometimes better, but mine is always faster, kind of like when we were moving out of a small rental house in Chapel Hill, North Carolina in 2007 (a.k.a. "REMEMBER THAT MOVE?"). It was getting down to the wire so I started throwing stuff in garbage bags until my husband caught on and asked me how in the world we were going to know where stuff was in all the boxes we had attained for this exact purpose unless we labeled the boxes.
Putting things in boxes for moving purposes and getting people's addresses right is simply more his style. Last year he printed out neat labels to affix to the front of each and every Christmas card, but first he made me sit through a recitation of street names and cities to ensure everything sounded right.
My approach is usually more along the lines of "start doing it until you run into a problem," (for instance: a majority of the cards getting sent back) and I have to admit that my husband's methods yield a more streamlined life, despite the process taking up, well, a lot of hours of that life. Hours when you could be catching up on "Scandal."
But slowly and surely we are becoming people for whom Christmas card-sending is not unadulterated torture (for the most part anyway). Maybe this year it'll even be like I always envisioned, a relaxed endeavor over wine and accompanied by the latest Hallmark holiday film.
I mean, we haven't started yet, which isn't super promising. But it's ok! My husband's got that address list and I've got the burning desire to do this thing, although I'll admit that his casual suggestion, "Why don't we just skip it this year?" the other day was, like, extremely tempting. Almost unbearably so.
It's the holidays, though, and cards with other people's beautiful children have already started arriving in our mailbox. I'll be damned if we aren't going to be a part of all that JOY. So here's wishing you the best this card-sending season! I hope it's like you always imagined. Or at least that it's not, you know, a nightmare scenario. Happy holidays! And good luck.