By Rachael White, Hosting & Entertaining Expert for Menuism.com
Imagine snow floating silently down from the sky outside. Inside, your friends are gathered together, each holding a festive cocktail in one hand and a mouthwatering appetizer in the other. You are not stressed or busy running around, you're just soaking in the joy all around you. This is what holiday parties should be about. Even if you are the host or hostess!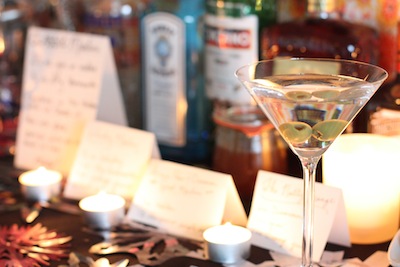 Photo credit: Rachael White
Holiday Party Planning 101
There is something whimsical and wonderful about a holiday cocktail party. Inviting friends and family over to enjoy beautifully crafted cocktails, fun music and scrumptious small bites marks the start of a holiday season full of joyful moments. When planning your holiday party, know that food and festive drinks are just as important as using decorations that make the space sparkle. Decorations don't have to be fancy to be festive; you can make homemade decorations like cut-out snowflakes (perfect scattered on the bar or hanging from the ceiling with fishing line), use seasonal produce like pomegranates, clementines and chestnuts piled in simple bowls, and employ tea light candles for a soft, warm glow.
This year, my husband and I threw a "Holiday Kick-Off Cocktail Party." We decorated the apartment with candles and citrus fruit, played classic holiday music, and featured a make-your-own-cocktail bar. The classiness associated with a cocktail party was intact while the need for a constant bartender was not necessary. And in this busy time of year, there is nothing better than having a stress-free party for the people you care about!
Here are 10 tips for throwing your own holiday cocktail party with a make-your-own-cocktail bar:
1. Ask guests to bring a bottle of their favorite martini mixer (e.g., vodka, gin, etc.). Be sure to make specific requests (politely, of course) if you are worried about having everyone bring the same thing and to keep from having too much alcohol or too many mixers.
2. Provide recipe cards. It may be intimidating for some guests to mix a cocktail without a little guidance. So look up some great cocktail recipes, print or write them on cards, and display them on the bar for guests to use as needed. Or ask guests to bring their favorite martini recipe to share! This is another great way to help guide the mixing process.
3. Get festive. Use ornaments on the bar or cocktail table to create a holiday feel.
4. Glow with soft lighting. You can skip the candles if you want and use Christmas lights instead.
5. Create a backdrop. Set up a mirror behind the martini bar or on the tabletop to create more of a swanky-bar feeling. Or find paper with a fun print, like the Japanese print I've used in my photo.
6. Include little snacks. The bar is a great place for guests to grab-and-go. Almonds, olives, pickles, chips and pretzels are all good options. Make sure to keep snacks small so they don't create congestion at the bar!
7. Put everything in order. Arrange your bar so that your guests start by choosing a glass and will be able to move from one end to the other like a buffet.
8. Get a few cocktail shakers. Don't expect everyone to use just one martini shaker. It just won't work. If you don't have several on hand, ask guests to lend you a shaker or two for the evening. Or suggest drinks that don't require a shaker to move things along.
9. Keep it clean. The shaker will need to be rinsed out between drinks, especially if guests will be using the same shaker(s) for various cocktails. Provide easy access to a sink so this can be done.
10. Make sure you have plenty of ice! Seems like common sense, but you'd be surprised how often this is overlooked. Figure about one pound of ice per person to be safe. This estimate does not include anything you want chilled on ice, just the ice used for drinks.
With a little Ella Fitzgerald or Billie Holiday playing in the background, cocktails in hand, and the sweet sound of ice in the shaker, your guests will have a fantastic time and so will you!
Cheers to you and yours during the holidays! Remember, take some time to breathe. Enjoy your friends and family, even if you do decide to host!
Rachael White is an American foodie living in Tokyo. For two years, she and her husband have been exploring the ins and outs of the fascinating food culture of Japan. Rachael's blog Tokyo Terrace chronicles her experiences creating dishes and drinks that use new and exciting flavors in accessible ways. She has been published in Tokyo's Daily Yomiuri Newspaper and contributes to JapanEats.tv. Originally from Minnesota, Rachael creates recipes that reflect Midwestern comfort food with a modern, Asian twist.