Celebrate the season with fun and festive cocktails that take your holiday entertaining to the next level. All perfect for adding the spirit of the season to your Christmas and other holiday celebrations. Cheers!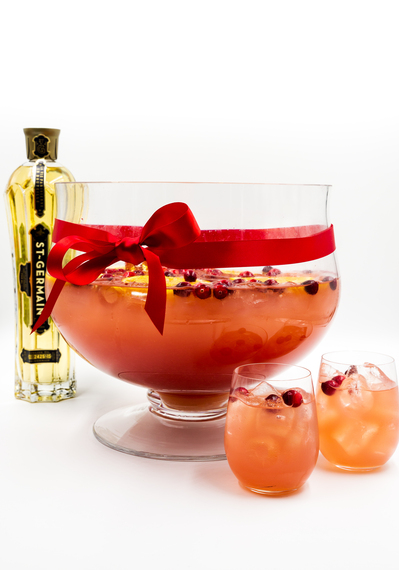 Carlyle Punch
Rich in tradition and full of festive flavor, this take on the famous Carlyle Punch from the New York Landmark hotel is a perfect batch of holiday cheer.
Serves 10
10 oz. Southern Comfort
6 oz. Raspberry Vodka
8 oz. Cranberry Juice
6 oz. Orange Juice
6 oz. St-Germain liqueur
4 oz. Freshly squeezed limejuice
4 oz. Simple Syrup
10 dashes Angostura Bitters
1 bottle (750ml) Moet Brut Champagne to top

In a large pitcher or punch bowl filled halfway with ice, pour Southern Comfort, vodka, St. Germain liqueur, juices, and simple syrup. Mix well, add bitters and top with champagne. Garnish with cranberries and raspberries and serve.
The Madison
Light and refreshing, ideal for a pre-dinner or as a pick me up après holiday shopping with girlfriends.
Serves 4
1 bottle (750ml) Martini & Rossi Prosecco
6 oz. St-Germain liqueur
2 oz. Pear liqueur
4 oz. Sparkling water
Lemon twist for garnish
In a bar glass mix St. Germain, pear liqueur, and sparkling water. Stir gently and pour to fill one-third of each champagne glass. Top with Prosecco, twist lemon over cocktail to release oils, drop in glass and serve.
Holiday HO HO
What better time than the holidays to indulge in a decadently rich beverage? This version of the timeless heavenly holiday beverage adds a twist to tradition, enjoy!
Serves 10
24 oz. Casamigos Añejo Tequila
24 oz. Amontillado Sherry
1 Dozen Whole Eggs
3 tsp. Freshly Grated Nutmeg
16 oz. Superfine Sugar
32 oz. Whole Milk
24 oz. Heavy Cream

In a large bowl using an electric mixer beat the eggs and sugar and blend until smooth. Slowly add tequila and sherry, blend well. Add all other ingredients and mix until sufficiently blended. Refrigerate and let sit 4 hours or overnight. Pour into punch bowl, sprinkle with nutmeg, and serve.
Sangria Bonita
Light and airy, perfect to mix up a pitcher for brunching and lunching these holidays with your family and friends.
Serves 8
1 bottle (750ml) Taittinger Brut Champagne
6 oz. Grand Marnier
6 oz. passionfruit nectar
2oz. Freshly squeezed lemon juice
Diced fruit for garnish
In a pitcher mix together Grand Marnier, passionfruit nectar, and lemon juice. Slowly pour in champagne. Add fruit and serve.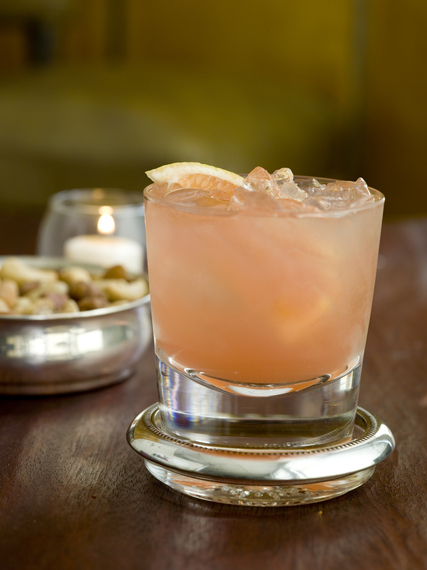 Photo by Jack Deutsch
Under the Mistletoe
A holiday favorite that's thirst quenching and not too fruity, have these simple ingredients on your bar cart so you're cocktail ready!

Serves 4
8 oz. Grey Goose Vodka
4 oz. apricot brandy
8 oz. Fresh tangerine juice
4 dashes orange bitters
Two pinches ground cloves
In a bar glass or small pitcher, filled with ice, mix all ingredients. Strain into glasses, and serve.
Rudolph's Ride
Shiny and bright, just like his nose this libation will light up your celebration!
Serves 4
4 oz. Campari
4 oz. peach schnapps
2 dashes orange bitters
Soda water to top
Lemon zest, orange slice
In a bar glass or small pitcher, pour the Campari and peach schnapps, stir, and top with bitters and soda water.
Pour into ice filled glasses, over each glass, squeeze the oil from the lemon zest over the drink and discard. Garnish with orange slice and serve.
Polar Espresso
There's nothing like an afternoon coffee cocktail enjoyed leisurely over the holidays. So delicious it makes a perfect substitute for dessert too!
Serves 4
8 oz. Patron XO Café
4 oz. Vanilla vodka
4 oz. Kahlua
4 oz. espresso or strong black coffee
In a pitcher filled halfway with ice, mix all ingredients. Let chill and strain into a martini glass. Garnish with fresh whipped cream if desired.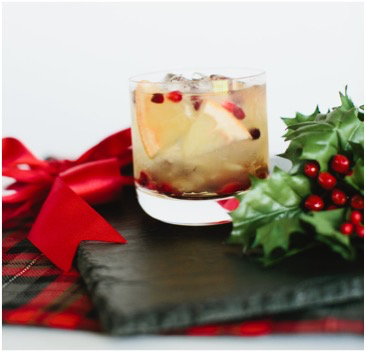 Holiday Crush
As most of us are overindulging in the cookie tin, here is a refreshing drink that is light on the calories, you have to make up for it somehow, it might as well be the cocktails.
Serves 4
6 oz. Svedka vodka
3 oz. St. Germain liqueur
8 oz. Zevia Grapefruit Citrus
3 heaping teaspoons pomegranate seeds
Grapefruit chunks
In a pitcher, muddle pomegranate seeds and grapefruit with the elderflower liqueur, add vodka and Zevia Grapefruit Citrus, top with ice and serve.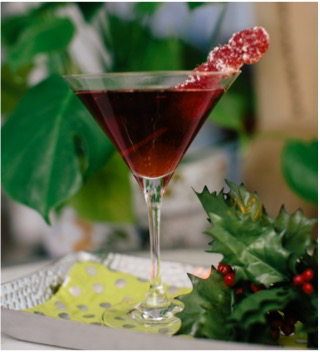 Peppermint Delight
Super indulgent, great for those office and ugly sweater parties.
Serves 4
8 oz. Kahlúa Peppermint Mocha
4 oz. ABSOLUT Vodka
4 oz. Espresso
2 oz. half & half
Shake all ingredients in a cocktail shaker with ice. Strain into a chilled martini glass. Garnish with peppermint stick or espresso bean, serve.