As a child I remember spending endless hours creating the perfect homemade gift for my parents. Now, when I return home for the holidays I find these gifts displayed with pride all over the house. Cracked noodle ornaments made from lids adorn the Christmas tree. A scraggly turkey made from prunes graces the dining room table. Numerous "works of art" proudly hang in frames.
Each year we throw away enough plastic to circle the earth 4 times. Between Thanksgiving and New Year's, an extra million ton of waste is generated each week. This season we can revisit our inner child and reuse what we have. The best gift we can give is something healthier for us and our environment.
Everyone can save glass and plastic jars, boxes, and items such as bottle caps, twisty ties, bubble wrap, take home containers. With a little research and some creativity here are some fun ideas for gifts, crafts, and decorating.
Vanilla. Who doesn't love the scent of vanilla baking through the house? Those old spice jars are perfect to make your own vanilla. It is a simple recipe that only requires a jar, alcohol and vanilla beans. Split open vanilla beans and place inside a jar. Add vodka or rum and secure lid. Store in a cool, dark place for at least 6 weeks and you have homemade vanilla at a fraction of the cost of store-bought. Tidymom has a great homemade label for your jars along with detailed instructions.
Granola. Often around the holidays you will see cookie ingredients in a jar. I have adapted this popular gift to make a healthy granola version. This no bake gift is perfect for little helpers who want to participate in the kitchen. Using a large glass jar fill with the ingredients. Cut a piece of fabric 2 inches large than the jar lid. Place fabric on the lid and secure with ribbon. Print the recipe tag and attach to the ribbon. For those that don't bake this is the perfect "homemade" gift that allows others to do the baking. You give them the ingredients ready to go and they can prepare anytime.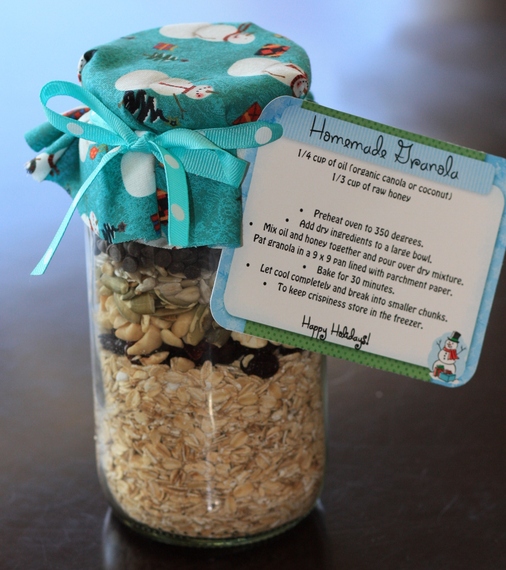 Snow globes. Baby and spice jars are great for this. Collect small items such as miniature trees, animals, and beads. If you have children this should be no problem as there are always small toys lying around. Rather than waiting for the vacuum to suck them up collect them in a shoe box and save for this project. Simply attach the decorations to the inside of a lid with a glue gun. If you like, paint the jar lid or glue a piece of ribbon around the side. Fill the jar ¾ of the way with water. Add a few drops of glycerin, mineral oil, or light corn syrup to add density. This will allow the "snow" to float more slowly. Place a pinch of glitter and/or snowflakes (you can find this in a craft store) in the water. We added beads from an old necklace. Attach the lid (use glue if you are worried about little ones opening up). Voila, you now have a snow globe.
Ornaments. I saw a cute snowman handprint ornament kit in a magazine and realized anyone could re-create using materials already on hand. In addition the grandparents will go crazy over this gift. Using white craft (acrylic) paint, paint the first 3 or 4 fingers of your child's hand. Extend the paint slightly below the fingers to the knuckles. This will create the mound of snow. Keeping fingers slightly spread apart have your child grab the ornament like gripping a baseball. Apply slight pressure on the fingers and release. Let dry completely then use a permanent marker to make the eyes, mouth, buttons and a hat. You could also use paint for the hat and scarf. Experiment by adding stars with glitter glue or sequins, or whatever you have hidden in those drawers.
Tin cans. Create beautiful vases, luminaries and planters from something you would normally toss away. I love this idea because it only requires tin cans and paint, all of which I have. After painting the cans place fresh-cut flowers to use as a vase. For the holidays a beautiful poinsettia or small pine tree makes a lovely gift. Later this can serve as an indoor herb container. If you have a little more patience you can drill holes (or use a hammer and nail) to create a design. Place a tea light inside and you have created a luminary.
Organizing. This may not be a gift for someone else, but it's certainly a gift to you. Opening an organized cabinet can create a sense of joy for many of us. In our house most of our glass jars are used for organizing and storage. I buy beans, rice and flour in bulk and store them in glass jars. I use a vis-a-vis pen or sharpie to label the contents on the outside. It's that simple. In my daughter's room old shoe boxes store crayons, hair accessories, Legos, and puzzle pieces.
Before the craze of the holidays spend a little time cleaning out your closets and cabinets to see what you might be able to reuse rather than toss. A homemade gift may not be around forever (or maybe it will!), but it is sure to bring joy and gratitude for the thought and time you put into it.
Dawn Wynne is a best-selling children's author, award-winning teacher, and certified health coach. Combing her love for the environment, passion for nutrition, and teaching talents she works with children and families to help them make healthy lifestyle choices. For information on her books visit her at www.dawnwynne.com.