This year's hot holiday trend for home décor is ilex. What's ilex? It is a beautiful red berry that is used in wreaths, flower arrangements and other holiday creations. The berries form in dense clusters on a rigid stem creating a burst of color whether woven into a wreath, trimmed down as part of a table centerpiece or by themselves in a vase.
Tall branches of ilex go stunningly with white Oriental lilies which are a holiday tradition for many families. The combination of green Port Orford cedar, red ilex and a white lily is a gorgeous, yet simple arrangement.
Well-known floral designer, J Schwanke of uBloom.com just completed this wonderful "how to" video, which has three easy and impressive arrangements that can be done with ilex. Have a look.
Ilex is grown throughout the United States, this makes it a great American grown choice for your home. Some varieties have been bred specifically for floral designing such as Oosterwijk, this is what you want to look for at your florist or flower market. The scientific name is Ilex Verticillata and the common name is Winterberry. You will see bunches with stems ranging from 18 inches to 36 inches.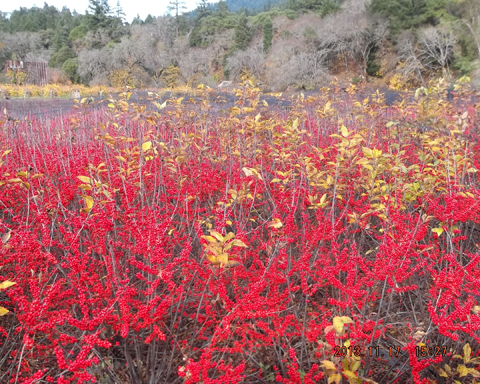 Ilex field ready for harvest.
For care and handling: Cut off the bottom inch of stem at a 45 degree angle. Use a sharp knife or bunch-cutter, since you want a nice clean cut so the stem will absorb as much water as possible. Make sure to remove any foliage that gets in the water. This is the same advice for any floral item, foliage in the water leads to dirty water. (Yuck!)
This branch is seriously festive, so brighten up your holiday by tracking down some ilex to add cheer to your home or office.