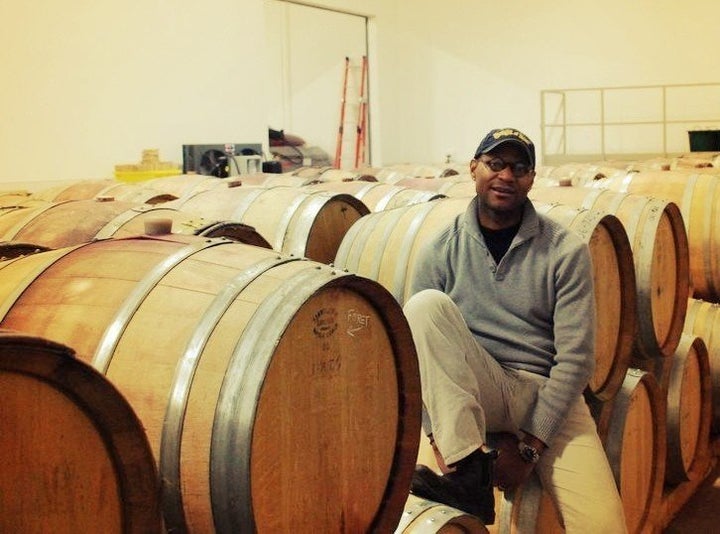 Hang all the mistletoe and get to know Andre Mack, sommelier, family man and purveyor of good times.
Mack is a black sheep in the wine world. He's not only one of the only black sommeliers to win national recognition, he's got a collection of his own called Mouton Noir (translation: black sheep) and an approach to alcohol that is ... well, different.
For starters, Mack grew up with parents who didn't drink. "They didn't know anything about wine. When I told my mom what I did, what my job title was, she's like, 'What is that?'" Mack says. And though he traveled with them as a military kid, he says that wasn't his key influence either.
Instead, Mack recalls an experience as a waiter in San Antonio, Texas, as the defining moment in his career as a sommelier. "I realized that the most expensive thing on the menu was $50 and the most expensive wine on the wine list was like $5,000," he says. "So I thought, 'I probably should know a little more about that than the food.'"
Several certification courses later and a few rounds in a young sommelier contest, and Mack was ready to trade in his life as a waiter (and a stint in investment banking) for the rolling hills of the Napa Valley, where he had a sommelier job at Thomas Keller's French Laundry restaurant lined up.
With access to the country's top vineyards (along with a type-A personality bent on seeing things through), Mack says his next career move was clear -- to produce a wine of his own.
His first batch paid homage to his family and their beloved summer home on Montgomery Place in Trenton, New Jersey. "I spent the first 15 summers of my life there. So no matter where we were, I always spent the summers at Montgomery Place," he says.
Mack also laughs at his use of a fake family crest on the wine's label and the notion that his collection is rooted in some highfalutin' lifestyle. "There was nothing regal about Montgomery Place," he says. "I mean, it's the ghetto. But the whole idea is to ... marry the two," he says, referring to duality of his life's path, in which hip-hop, world travels and summers in the 'hood all blended seamlessly into his gigs at some of the most prestigious restaurants of all time.
"I don't come with a legacy like the Mondavis, or a certain status that I have to uphold, so that makes it easier for me to think outside the box and to be quick and nimble," he says. "I'm trying to dispel the myth that you have to live a certain lifestyle to be in the wine business. At every part of your lifestyle, you can incorporate wine, whether you make $30,000 a year or you make $300,000 a year," he says.
His Montgomery Place wine, a California cabernet, opened the door to the other reds, whites and roses that he's sold to restaurants and retailers across the country -- like one he called "Love Drunk," to acknowledge his "break-up" with his restaurant career or a red called O.P.P. ("Other People's Pinot -- and furthered Mack's reputation as a go-to expert on wine and what to eat with it. (McDonald's french fries and champagne, anyone?)
Here, Mack shares his favorite drinks for holiday entertaining.
Popular in the Community