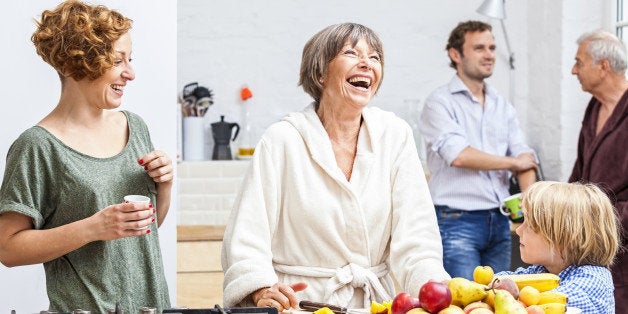 When you are entertaining over the holidays, there are certain things a host prepares for in advance to ensure her guests arrive comfortably, without feeling rushed through the evening. Here are six tips that come directly from a savvy holiday host:
Make it easy for guests to find your house. Turn on the front light and make sure your entryway is illuminated to guide and protect your guests as they travel a snowy or slippery walkway. If your home is in a dark or rural area, and your neighborhood permits, make directional signs that lead to your front door. Refer to my Holiday/Winter Entertaining board on Pinterest for creative ways to add seasonal fun to your front porch and décor.
Don't let them see you sweat. You may be running late and feeling stressed out because things aren't going as planned, but don't let your guests know you are frazzled. Keep your negative comments about the catering staff and complaints about your husband to yourself. A few deep breaths will help you feel more at ease.
Allow your guests to open the wine bottles. Have you ever noticed that certain guests enjoy being in charge of opening a bottle of wine? Don't refuse the help. Supply several easy to use wine openers and a stack of cocktail napkins. Ask different guests throughout the night to do the honor, with the last person being in charge of asking the next person to fill in. Don't forget to request a glass for yourself. This small gesture will free you up to mix and mingle while keeping an eye on other party details.
Wash dishes later. The minute your guests see your rubber gloves go on and hear the sound of running water, it puts everyone in a work and clean up mode. While it's fine to carry the appetizer plates to the kitchen, or remove the plates from the table to make room for the next course, return to the table quickly. Stay present and focused on your guests and worry about clean up duty once the evening has come to an end.
Clear out the sink and counter top. If you are influenced by clutter, use an empty oven, dishwasher, or even a spare tub to hide the large pots, pans, and serving pieces until you can get to them. I have a friend that starts to soak large roasters in soap and water outside in an oversized cooler. It works. She just rinses out the pots and the cooler with dishwashing liquid all in one swoop.
Retire to another part of the house for dessert. Instead of going directly into the dessert course, ask guests what after dinner drink they would enjoy. Brew a pot of coffee, have steaming mugs of hot chocolate on hand, and invite guests to relocate to the living room, or an outdoor patio where there are warm blankets and a roaring fire. Enjoy the last course away from the table in a relaxed and informal atmosphere.
For more of my holiday entertaining tips, you may also enjoy my
.